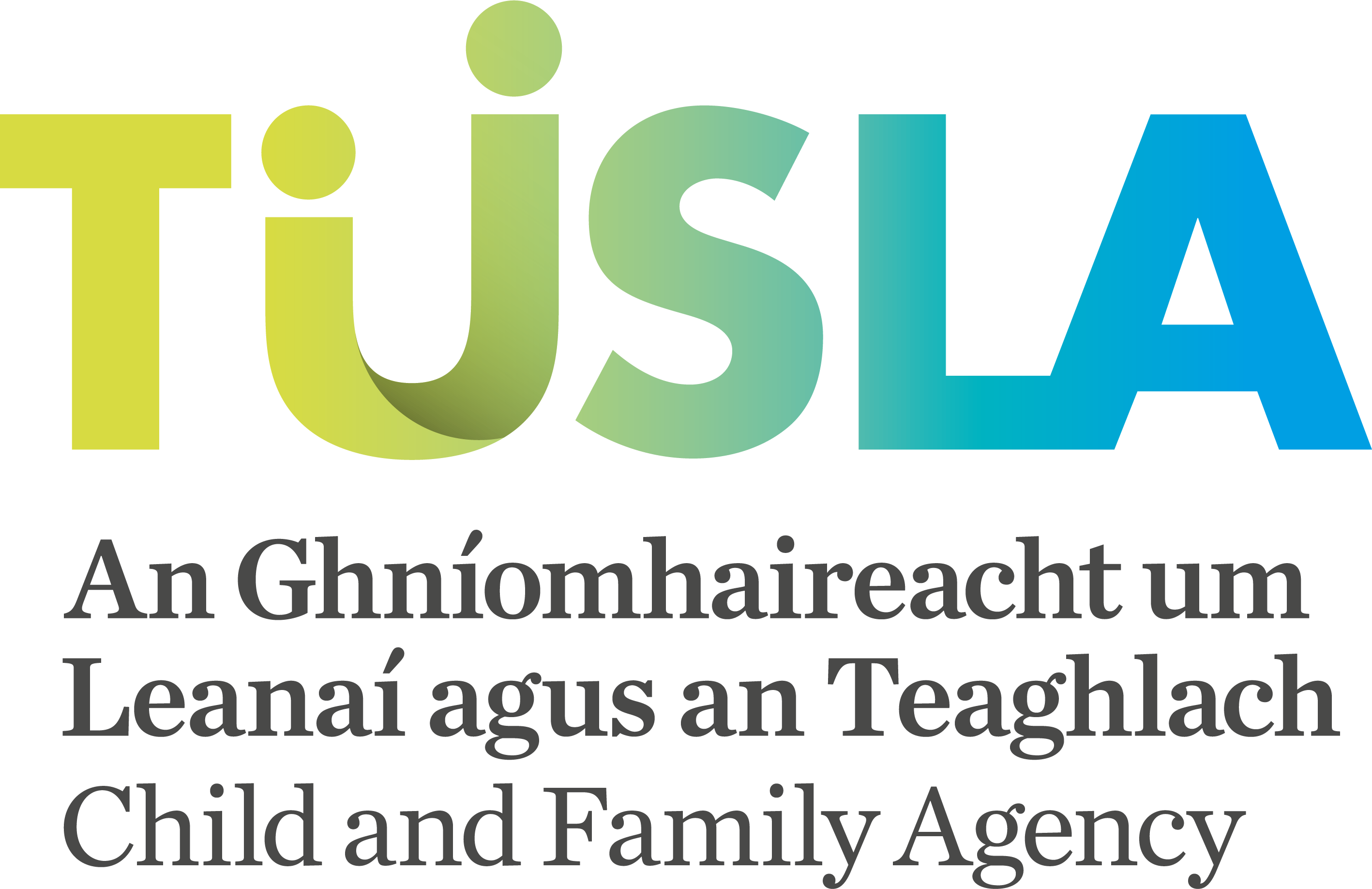 Grade VI, Tusla South Region
| | |
| --- | --- |
| Please See Job Specification | Permanent |
| Closing Date: 15/02/2018 12:00 | Administrative and Clerical |
| Salary: See Description for Details | |
Job Description
The Child and Family Agency was established on 1st January 2014 and is responsible for improving wellbeing and outcomes for children. It represents the most comprehensive reform of services for the development, welfare and protection of children and the support of families ever undertaken in Ireland. It is an ambitious move which brings together some 4,000 staff who were previously employed within Children and Family Services of the Health Service Executive, the National Educational Welfare Board and the Family Support Agency.

The Child and Family Agency has responsibility for the following range of services:
• Child Welfare and Protection Services, including family support services
• Family Resource Centres and associated national programmes
• Early years (pre-school) Inspection Services
• Educational Welfare responsibilities including School completion programmes and Home School Liaison
• Domestic, sexual and gender based violence services
• Services related to the psychological welfare of children
• Alternative Care and Adoption

Further information is available on www.tusla.ie


Purpose of Role:
As a senior administrative post you will be required to work within the regional structure or at Corporate Level and across all service areas.

Job Objectives
Administration
• Support the monitoring and control of resources in accordance with Tusla's Financial Regulations.
• Ensure appropriate records are maintained as may be required by Tusla.
• Promote good working practices and uniformity of standards.
• Work with HR and Finance Specialists to ensure adherence to the legislative framework and internal Tusla policies and procedures
• Undertake all duties assigned in line with relative policy, procedure and legislation.

Policy, Research & Quality
• Assist with the development of policy documentation on policy, procedure and guideline development and review processes.
• Set a programme of work to review each policy to ensure it is aligned to the agreed template or format.
• Work with the relevant departments to identify policies which are used on shared basis with the HSE and to support the process in development of these documents to Tusla specific documents (content, references, structures, branding, formatting/template etc.).
• Support a programme of work of periodic quality audits to ensure consistent implementation of policies.
• Liaise with workforce learning and development to ensure training on new policies and/or key policies requiring refresher courses.
• Lead on the Quality Assessment Framework and Risk Management Policy Procedures for the Service.
• To support the research and information requirements of the Service.
• To oversee the reporting requirements of the Service.

Information Management
• Assist in preparation of service planning and business planning process and other planning processes as required
• Develop and maintain processes for monitoring the implementation of business plans
• Liaise with other units to promote inter-department knowledge sharing
• Co-ordinate responses to PQ's, FOI, Public Representatives, complaints on request from appropriate chanels
• Contribute to policy development and implementation
• Establish, maintain processes for the collation, analysis and reporting of data and collation of associated reports.
• Support the development of integrated management reports across performance indicators, human resources, finance, and risk management.
• Have a working knowledge of the Health Information and Quality Authority (HIQA) Standards as they apply to the service for example National Standards for Child Protection and Care and comply with associated Tusla – Child and Family Agency protocols for implementing and maintaining these standards as appropriate to the role.


Please refer to the Candidate Information pack attached to this campaign for full and further detail.


Skills Required
Applicants must by the closing date of application have the following:

• Candidates must be in direct employment with Tusla – Child and Family Agency, the HSE or within other statutory health agencies, or a body which provides services on behalf of the HSE under Section 38/39 of the Health Act 2004 or within a body that provides services on behalf of Tusla under Section 56 or Section 59 of the Child and Family Act 2013.
and
• Have at least two years experience in a designated office within the Services
and
• Possess sufficient administrative capacity to discharge the functions of the grade/post.

Health
A candidate for and any person holding the office must be fully competent and capable of undertaking the duties attached to the office and be in a state of health such as would indicate a reasonable prospect of ability to render regular and efficient service.

Character
Each candidate for and any person holding the office must be of good
character

Age
Age restrictions shall only apply to a candidate where he/she is not classified as a new entrant within the meaning of the Public Services Superannuation Act, 2004). A candidate who is not classified as a new entrant must be under 65 years of age.


Attachment:

Grade VI, Tusla South Region Attachment

| | |
| --- | --- |
| Already a member of our Talent Pool? Login here | Join our Talent Pool + submit your application |