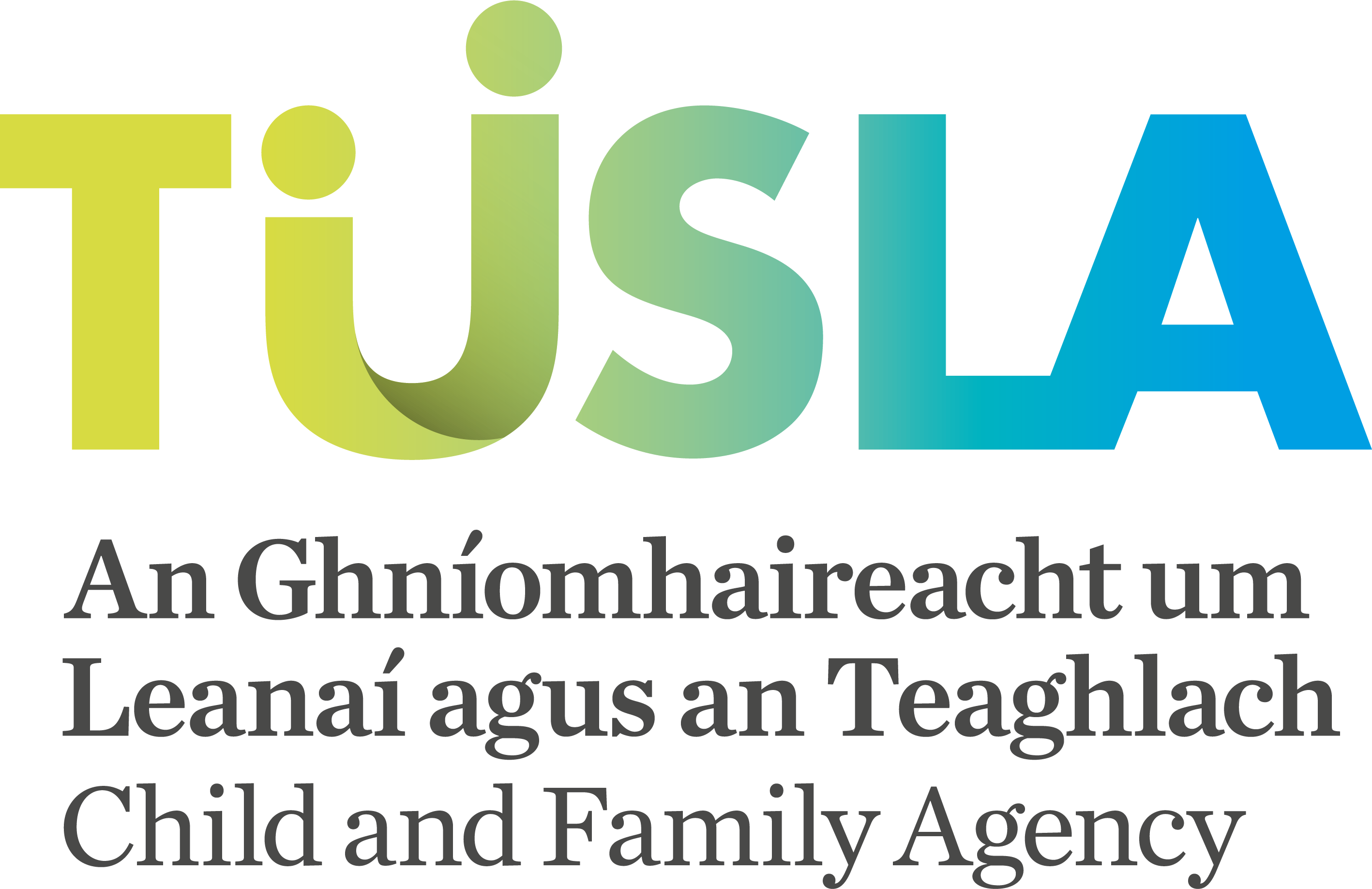 Research Officer - Grade VII
| | |
| --- | --- |
| Consideration may be given for the Grade VII, Research Officer to work outside of Dublin, from Tusla Offices around the country. If located outside of Dublin, it should be noted that the Research Officer will be required to attend meetings in Dublin, Heuston South Quarter, on a regular basis. | Permanent |
| Closing Date: 22/02/2018 12:00 | R&D and Science |
| Salary: See Description for Details | |
Job Description
The Child and Family Agency was established on 1st January 2014 and is responsible for improving wellbeing and outcomes for children. It represents the most comprehensive reform of services for the development, welfare and protection of children and the support of families ever undertaken in Ireland. It is an ambitious move which brings together some 4,000 staff who were previously employed within Children and Family Services of the Health Service Executive, the National Educational Welfare Board and the Family Support Agency.

The Child and Family Agency has responsibility for the following range of services:
• Child Welfare and Protection Services, including family support services
• Family Resource Centres and associated national programmes
• Early years (pre-school) Inspection Services
• Educational Welfare responsibilities including School completion programmes and Home School Liaison
• Domestic, sexual and gender based violence services
• Services related to the psychological welfare of children

Further information is available on www.tusla.ie

The purpose of the National Research Office is to achieve the most effective and efficient arrangements for the development of a research function and the promotion of a research culture across the organisation in support of corporate strategy.

The National Research Office has responsibility for managing and coordinating all research activity across Tusla, contributing to the development of Tusla services (including commissioned services) that are built on robust evidence and informed policy.

One of the specific functions of the Agency, as set out in the Child and Family Agency Act, 2013 Part 2 Section 8 (1)(f) is to "Undertake or commission research relating to its functions".
-Tusla Strategic Objective 7 is to "Build on our research strategy to develop policy and enable evidence-based decision-making and high quality service delivery"

The objectives of this strategy are set out below and provide short-term and medium-term goals that Tusla is seeking to accomplish within the timescale of the Corporate Plan 2015 – 2017.
These objectives will provide a framework within which Tusla can progress its overall strategic goals in regard to research:
• Co-ordinating all research activity of Tusla – Child and Family Agency;
• Establishing and maintaining relationships with all those engaged in research activities within Tusla and those within the wider research community including academic institutions, public and private research departments and independent researchers;
• Reviewing ethical standards of research proposals that affect Agency personnel, service users and their families;

Scope and Purpose of the Post:
As a key member of the National Research Office, the Research Officer will support the Research Manager and the National Manager with responsibility for Research in ensuring the effective operation of the National Office through a line management and team-based approach.




Job Objectives
Research and Analysis

• Support the research and information structures of the National Office such as the Research Ethics Committee, the Research Advisory Group, Research and Information Mentors, research and information dissemination strategies, communications role and the PPPG Research Policy Working Group.
• Contribute to the development, implementation and review of Tusla's research and evaluation work programme by promoting the use of best evidence in Tusla services.
• Consult and work in partnership with Tusla staff and stakeholders to develop, design and deliver research projects and activities through to final output to ensure delivery on time, cost and quality.
• Develop and maintain links with academic institutions and research bodies involved in child care, educational and related research.
• Provide ongoing communication to academic institutions and research bodies involved in child care, educational and related research on developments within Tusla Research and ensure that developments in academia inform learning within the Agency.
• Develop procedures in support of Tusla Research structures such as the Tusla Research Ethics Committee (REC) and other relevant structures, as identified.
• Develop procedures for Tusla local research and information structures and support the work plan in allocated areas.
• Support the effective operation and development of Tusla's research advisory structures.
• Be responsible for authoring written reports, ensuring that they accurately reflect the research findings, and using background secondary research to set results in a wider Tusla context.
• Provide specialist research knowledge and information on international best practice in designated national services.
• Support and provide training on research and related activities with staff;
• Contribute to the dissemination of research findings through the production of evidence summaries, case studies, reports and briefings.
• Contribute ideas for future activities and suggestions for improvement within the Research Office and across Tusla.
• Maintain effective working relationships and clear communication with project stakeholders (internal and external).
• Represent and promote Tusla at relevant meetings and conferences.

Administration

• Ensure the efficient administration of area of responsibility.
• Execute assignments in accordance with agreed plans, time budgets and deadlines;
• Effectively discharge the day to day operations, including compliance with Tusla Financial regulations and all Tusla policies and procedures.
• Prepare regular reports on the progress of work against the operational plan.
• Promote and participate in the implementation of change.
• Participate in and lead project working groups.
• Represent Tusla on committees and groups as required.

Please refer to the Candidate Information Pack attached to this campaign for full and further detail.
Skills Required
At the closing date for receipt of completed application forms for the post each candidate must have the following:

• Be currently in direct employment with Tusla – Child and Family Agency, the HSE or within other statutory health agencies, or a body which provides services on behalf of the HSE under Section 38/39 of the Health Act 2004 or within a body that provides services on behalf of Tusla under Section 56 or Section 59 of the Child and Family Act 2013.

• At least two years experience in a designated office within the Services.

• A minimum QQI Level 8 in a relevant field (e.g. psychology, sociology, social work, social care, education, business, economics, law, public health and allied health, librarian, statistician, implementation science) that has included a research component (e.g. research thesis, dissertation, project, research ethics and/or research skills modules).

• Have significant experience of qualitative research methodologies and evaluation methods including social research which have involved large data sets and data analysis.

Health
A candidate for and any person holding the office must be fully competent and capable of undertaking the duties attached to the office and be in a state of health such as would indicate a reasonable prospect of ability to render regular and efficient service.

Character
Each candidate for and any person holding the office must be of good
Character.

Age
Age restrictions shall only apply to a candidate where he/she is not classified as a new entrant within the meaning of the Public Services Superannuation Act, 2004). A candidate who is not classified as a new entrant must be under 65 years of age.

Attachment:

Research Officer - Grade VII Attachment

| | |
| --- | --- |
| Already a member of our Talent Pool? Login here | Join our Talent Pool + submit your application |