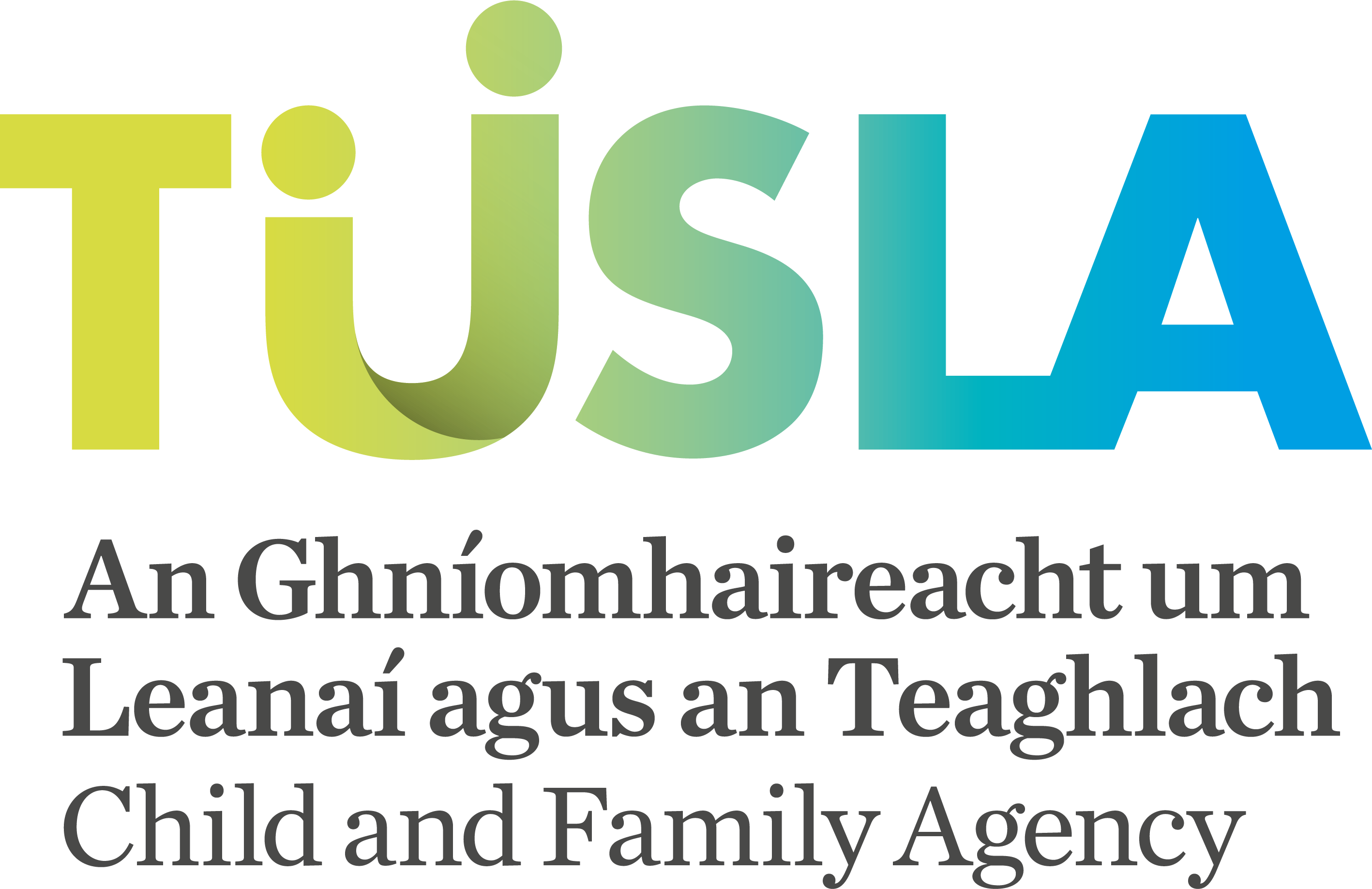 Chair of Special Care Committee / National Residential Court Liaison***Extended Application Deadline***
| | |
| --- | --- |
| Brunel Building, Heuston South Quarter, Dublin 8 | Permanent |
| Other | Salary: See Description for Details |
| Closing Date: 15/07/2019 | Recruitment start: 13/06/2019 |
Job Summary
The Child and Family Agency was established on 1st January 2014 and is responsible for improving wellbeing and outcomes for children. It represents the most comprehensive reform of services for the development, welfare and protection of children and the support of families ever undertaken in Ireland. It is an ambitious move which brings together some 4,000 staff who were previously employed within Children and Family Services of the Health Service Executive, the National Educational Welfare Board and the Family Support Agency.
The Child and Family Agency has responsibility for the following range of services:
Child Welfare and Protection Services, including family support services

Family Resource Centres and associated national programmes

Early years (pre-school) Inspection Services

Educational Welfare responsibilities including School completion programmes and Home School Liaison

Domestic, sexual and gender based violence services

Services related to the psychological welfare of children

Adoption & Alternative Care
The Children's Residential Services (CRS) is part of the alternative car provision for children in care. Special care sits within this service and is bound by regulation and legislation.
Further information is available on www.tusla.ie
To implement the accepted recommendations of the external review on transitions in special care
To have responsibility for the governance and oversight of the special care referrals, intervention and transition process including chairing the revised Committee
To act as the Court liaison in all national residential care matters before the Courts including Out of State matters (and other court matters as requested by the Service Director)
To work collaboratively with all relevant internal and external stakeholders to ensure effective governance and oversight of the young person's special care journey, including representing special care and residential care on internal Tusla committees.
To represent Tusla at strategic planning level including representation and membership of high level groups to ensure collaborative multi-disciplinary responses
To support the Service Director for CRS to ensure effective governance and oversight of the special care service delivery

National CRS operational lead for working in partnership with the Office of Legal Services (OLS) to ensure governance and oversight of national legal services including court matters.

To fully implement the recommendations of the external review of the Special care transition process.

To create a single point of authority and accountability for the safe and effective operational delivery of performance of the Special Care Committee, including out of state placements, and to be responsible for any matters pertaining to court for these services.

To support the National children's residential services (CRS) in matters pertaining to legal, DCYA and other departmental involvement.

To lead and develop inter-departmental collaborative approaches and interventions

.
Job Objectives
Main Duties and Responsibilities
Leadership and Direction
To lead the development and implementation of appropriate management and

controls system that will improve responsibility and accountability throughout the

Special care services.

To take a lead role in the performance management process that uses logistics

management, operations management and analytics to optimize performance.

To assist in the development of the annual Service Plan for CRS to ensure the

Plan is implemented within resources and targets are met.

To implement the corporate strategy and National annual service plan as directed by the Service Director CRS.
Operational Excellence and Managing and Delivery of Results/Performance
To hold budgetary responsibility and be accountable for ensuring that services operate with agreed service levels and budgets are delivered to the highest best practice standards and level of efficiency possible, demonstrably providing value for money.

To ensure access to Special care is managed appropriately at the level commensurate with young people's needs and rights at all times.

To continuously review operational processes with a view to ensuring efficiency and effectiveness while benchmarking against best practice.

To be responsible and accountable for the efficient, effective governance of services as set out in the service plan.

Ensure the processes and procedures in place make certain that service users and are cared for in a child and person centred environment.

In conjunction with other Child and Family Services be responsible for holding referral agents to account for their responsibilities pertaining to a young person in special care.

To have oversight of the transition arrangements both step up and step down for young people in special care.

Lead out in the delivery and reconfiguration and performance of services and ensuring that there are robust quality and safety systems in place.
Organisation Change and Development
To lead on implementation of national change programmes with the view to optimising the opportunities for improved service provision.

To lead and implement the Special care committee development programme to include evaluation scheme.

To contribute significantly and commit to the development and implementation of the strategic development of children's residential services.

To be responsible for promoting a culture of excellence in the delivery of services.
Working with and through others – Influencing to Achieve
To ensure and fully demonstrate that all Corporate policies, procedures, standards etc. Relevant to Special care are implanted at operational level.

To play a key role in developing inter-departmental collaborative approaches and interventions particularly in relation to the following:

Mental Health

Juvenile Justice

An Garda Siochána

Disability services
Building and Maintaining Relationships – Communications
Assist in the development and management of effective relationship between and across relevant external agencies at regional and local levels including the relevant services in health, education, An Garda Síochána, funded agencies.

To act as a spokesperson for the organisation in line with the Agencies Communications Plan.

To act for and represent the Service Director CRS in matters pertaining to his/her area of responsibility as directed delegates by him/her from time to time.
Health & Safety
Comply with and contribute to the development of policies, procedures, guidelines and safe professional practice and adhere to relevant legislation, regulations and standards.

Have a working knowledge of the Health Information and Quality Authority (HIQA) Standards as they apply to the service for example National Standards for Child Protection and Care and comply with associated Tusla – Child and Family Agency protocols for implementing and maintaining these standards as appropriate to the role.

To support, promote and actively participate in sustainable energy, water and waste initiatives to create a more sustainable, low carbon and efficient health service.
The above Job Description is not intended to be a comprehensive list of all duties involved and consequently, the post holder may be required to perform other duties as appropriate to the post which may be assigned to him/her from time to time and to contribute to the development of the post while in office.
Please refer to the Candidate Information pack attached to this campaign for full and further detail.
Skills Required
Applicants must by the closing date of application have the following:
A minimum QQI Level 8 Qualification as relevant to the requirements of the role.
Have a minimum of 5 years' experience at senior management level in the

delivery of social care or health services in a comparable size organisation to the remit of this role.
Proven professional

experience of

working collaboratively with multiple stakeholders to ensure effective governance and oversight

of a Service or Process

as relevant to this role.
A working knowledge and strategic understanding of legislation, policy, research and best practice relevant to Tusla.
Health
A candidate for and any person holding the office must be fully competent and capable of undertaking the duties attached to the office and be in a state of health such as would indicate a reasonable prospect of ability to render regular and efficient service.
Character
Each candidate for and any person holding the office must be of good
character
Age
Age restrictions shall only apply to a candidate where he/she is not classified as a new entrant within the meaning of the Public Services Superannuation Act, 2004). A candidate who is not classified as a new entrant must be under 65 years of age.
| | |
| --- | --- |
| Already a member of our Talent Pool? Login here to Apply | Join our Talent Pool + submit your application |