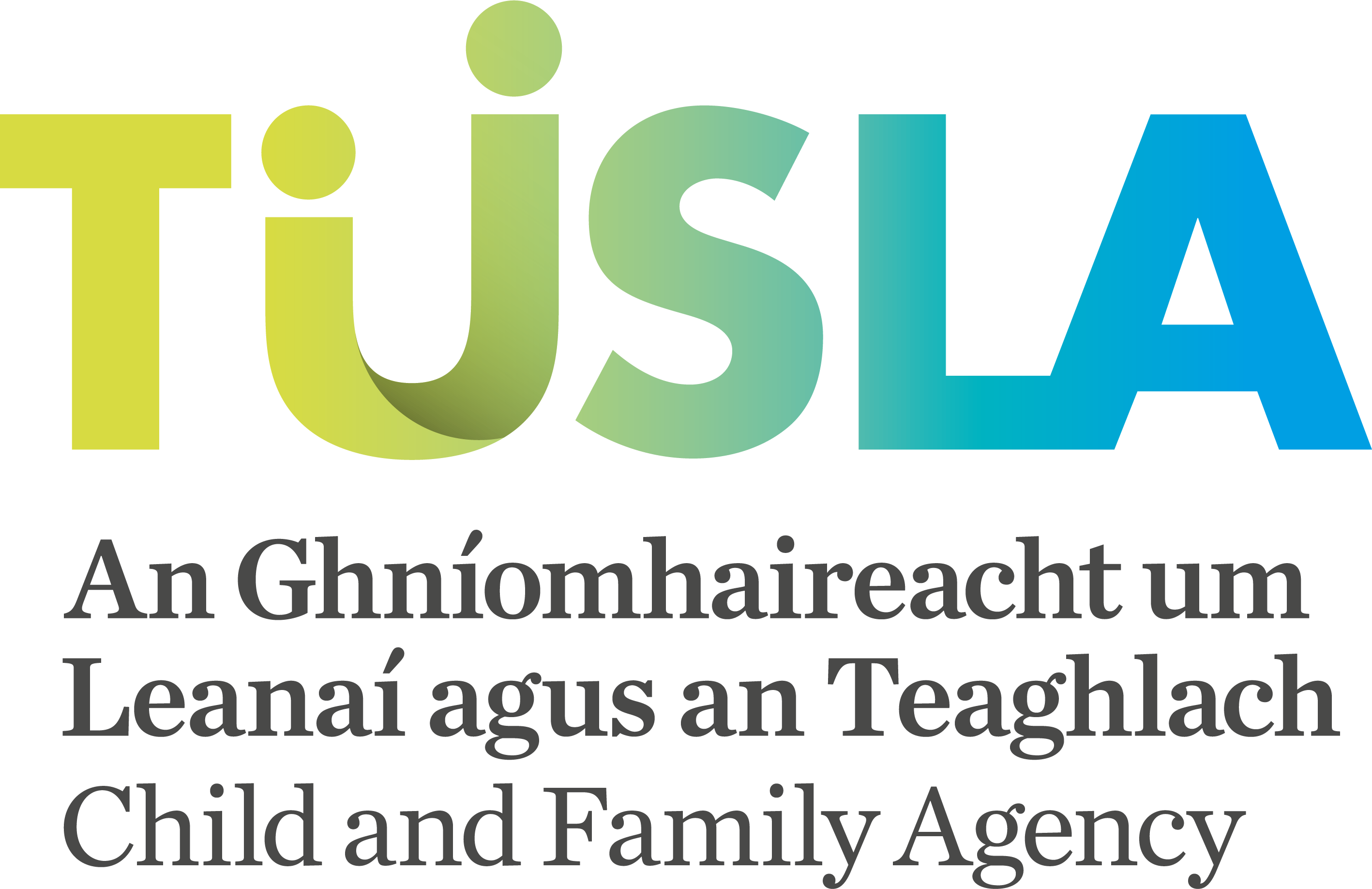 Corporate Human Resource Grade VII
National and Corporate - The location of the post is Brunel Corporate Office at Heuston South Quarter, Dublin.

Salary: See Description for Details
Other
Permanent

Closing Date: 19/08/2019

Closing Time: 12:00

Recruitment start: 25/07/2019
Job Summary
The Child and Family Agency was established on 1st January 2014 and is responsible for improving wellbeing and outcomes for children. It represents the most comprehensive reform of services for the development, welfare and protection of children and the support of families ever undertaken in Ireland. It is an ambitious move which brings together some 4,000 staff who were previously employed within Children and Family Services of the Health Service Executive, the National Educational Welfare Board and the Family Support Agency.
The Child and Family Agency has responsibility for the following range of services:
Child Welfare and Protection Services, including family support services

Family Resource Centres and associated national programmes

Early years (pre-school) Inspection Services

Educational Welfare responsibilities including School completion programmes and Home School Liaison

Domestic, sexual and gender based violence services

Services related to the psychological welfare of children
Further information is available on www.tusla.ie
Job Objectives
Purpose of Role:
The post holder is responsible for the delivery and implementation of a range of generalist HR services within their area and the provision of advice and guidance on HR and IR issues in order to support the corporate and national services in achievement of its strategic and business objectives.
Main Duties and Responsibilities:
Manage and advise on the implementation of HR Policies and workplace procedures and legislative requirement e.g. Dignity at Work Policy, Grievance Policy etc ensuring line managers are aware and understand their responsibilities.

Provide day to day advice to line managers on all human resource issues.

Work proactively to build positive relationships with key internal and external stakeholders.

Ensure compliance with legislation and statutory requirements as relevant to the role.

Ensure a high level of accuracy and attention to detail in relation to operational procedures, in a timely manner.

Ensure appropriate records are maintained as may be required by Tusla.

Ensure that accurate HR data and analysis is made available to management to support key business decisions.

Promote good working practices and uniformity of standards.

Supervise and make provisions for the well-being of staff within your remit.

Manage the performance of staff, dealing with underperformance in a timely and constructive manner.

Manage, develop and build the capability of a HR team/Unit.

Take responsibility for improving employee engagement as required.

Drive and shape the organisational culture that supports best performance and which contributes to better organisational effectiveness.

Manage the employee/industrial relations environment and represent your Department/Office at third party fora as appropriate.

Represent the HR function to the Corporate team, National services and colleagues.

Participate in cross Departmental working groups/fora as appropriate.

Initiate continuous improvement and quality assurance across a range of areas.

Collaborate with other organisations to develop good practice in the management of human resources across a range of areas.

Manage the relationship with shared service providers in accordance with the Memorandum of Understanding.

Contribute to policy development and implementation.

Be aware of risk management issues, identify risks and plan for appropriate action.

Empower individuals within the team to take responsibility for their own performance.
Education and Training
Complete all mandatory training programmes.

Pursue continuous professional development in order to develop professional knowledge and keep updated with current and relevant HR legislation.

Provide training with the team and region to share knowledge of relevant HR Procedures/ Processes.

Where appropriate, provide supervision and assist in the development of knowledge, skills of relevant staff under your supervision.
Health & Safety
Comply with and contribute to the development of policies, procedures, guidelines and safe professional practice and adhere to relevant legislation, regulations and standards.
The above Job Description is not intended to be a comprehensive list of all duties involved and consequently, the post holder may be required to perform other duties as appropriate to the post which may be assigned to him/her from time to time and to contribute to the development of the post while in office.
Please refer to the Candidate Information pack attached to this campaign for full and further detail.
Skills Required
Applicants must by the closing date of application have the following:
Candidates must be in direct employment with Tusla – Child and Family Agency, the HSE or within other statutory health agencies, or a body which provides services on behalf of the HSE under Section 38/39 of the Health Act 2004

or within a body that provides services on behalf of Tusla under Section 56 or Section 59 of the Child and Family Act 2013.

Have at least 2 years' administrative experience in a designated office within the services mentioned above.

A minimum of 3 years experience in a Human Resources role to include knowledge of HR policies and employment legislation and a proven ability to manage and deliver effective HR strategies.
A record of delivering change, working in a complex environment through strong interpersonal and communications ability.
Experience of achieving results through engagement with multiple internal and external stakeholders and competing demands as relevant to the role.
Have the requisite knowledge and ability for the proper discharge of the duties of the office.
Health
A candidate for and any person holding the office must be fully competent and capable of undertaking the duties attached to the office and be in a state of health such as would indicate a reasonable prospect of ability to render regular and efficient service.
Character
Each candidate for and any person holding the office must be of good character
Age
Age restrictions shall only apply to a candidate where he/she is not classified as a new entrant within the meaning of the Public Services Superannuation Act, 2004). A candidate who is not classified as a new entrant must be under 65 years of age.
Attachment:


Candidate Information Pack Grade VII.pdf

| | |
| --- | --- |
| Already a member of our Talent Pool? Login here to Apply | Join our Talent Pool + submit your application |