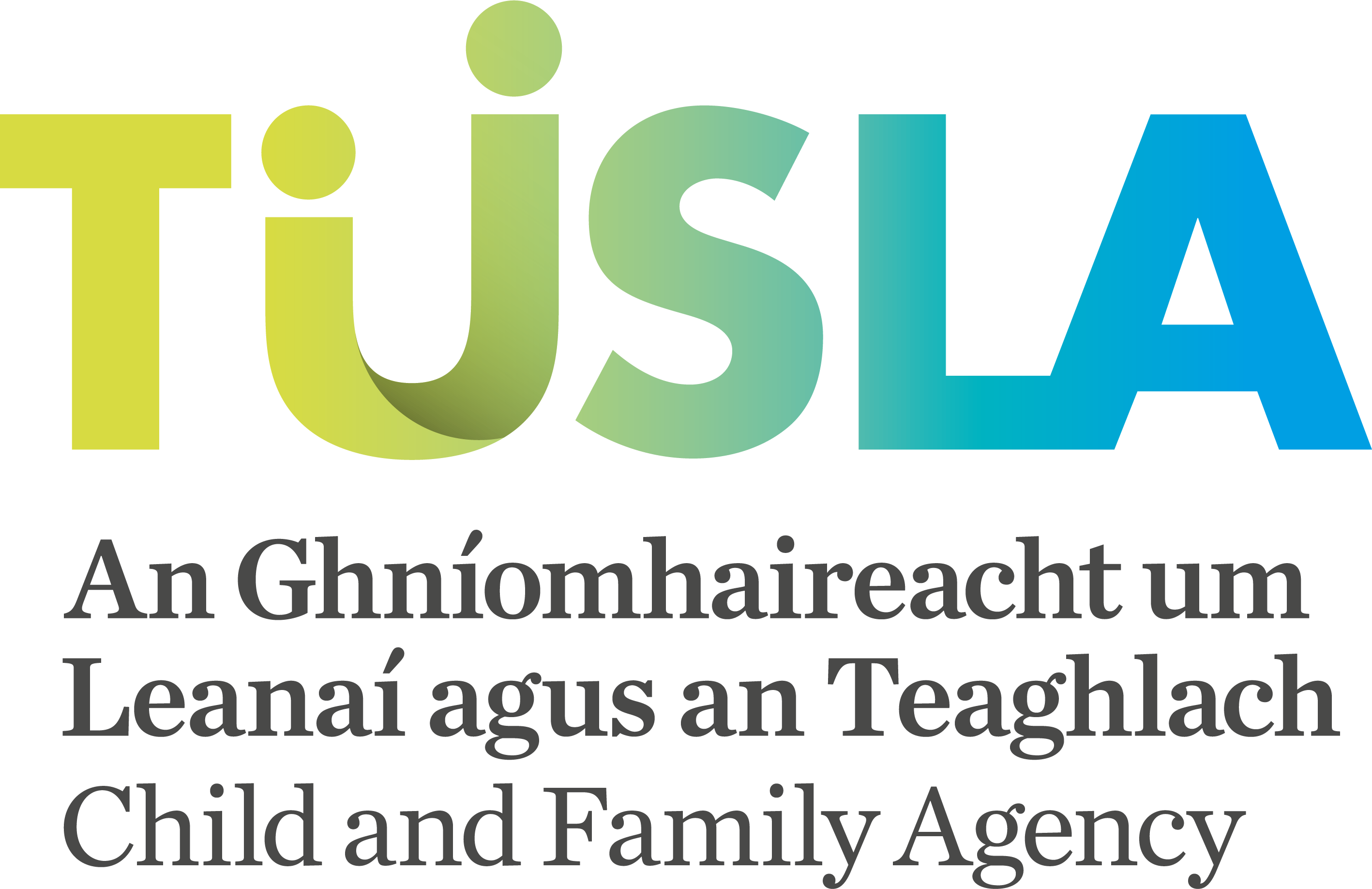 Regulatory Support Officer Grade V, Quality Assurance Directorate
| | |
| --- | --- |
| National Office Early Years Inspectorate, Estuary House, Henry Street, Limerick | Salary: See Description for Details |
| Other | Permanent |
| Closing Date: 26/08/2019 | Recruitment start: 01/08/2019 |
Job Summary
The Child and Family Agency was established on 1st January 2014 and is responsible for improving wellbeing and outcomes for children. It represents the most comprehensive reform of services for the development, welfare and protection of children and the support of families ever undertaken in Ireland. It is an ambitious move which brings together some 4,000 staff who were previously employed within Children and Family Services of the Health Service Executive, the National Educational Welfare Board and the Family Support Agency.
The Child and Family Agency has responsibility for the following range of services:
Child Welfare and Protection Services, including family support services

Family Resource Centres and associated national programmes

Early years (pre-school) Inspection Services

Educational Welfare responsibilities including School completion programmes and Home School Liaison

Domestic, sexual and gender based violence services

Services related to the psychological welfare of children
Further information is available on www.tusla.ie
About Tusla's Quality Assurance Directorate
Tusla's Quality Assurance Directorate is concerned with promoting continuous improvement and effective risk management in services for children and families. It delivers its functions though the following teams:
Early Years' Inspectorate
The Early Years' Inspectorate is the independent statutory regulator of Early Years' Services and is responsible for registering and inspecting pre-schools, playgroups, crèches, day care and similar services. Its role is to promote the quality, safety and appropriate care of children by robust regulation of the sector.
Children who are educated at home or who attend a non-recognised school (i.e. a school that is not funded by the Department of Educational and Skills) must be registered with Tusla by their parents/guardians. The registration process requires that an assessment or assessments be carried out to determine whether the child is receiving a certain minimum education and therefore can be placed on the statutory register of children educated outside of a recognised school.
Risk and Incident Management
The team is responsible for the corporate risk register, and all aspects of risk and incident management systems within the Agency. The team aims to ensure Tusla is aware of the nature of its risks, their status and how they are being managed.
Performance Reporting and Information
The Performance Reporting and Information team collates analyses and reports on quality and risk data relevant to the child and services. It identifies trends and performance data to support accountability and transparency, inform policy development and legislative reform, to demonstrate where standards and targets are being met, and identify risk and support decision-making at all levels of the organisation.
Quality Assurance and Monitoring
The team monitors and reports on service delivery against standards, regulations and legislative requirements, and seeks to ensure that service improvement activity takes place in response to reviews.
Service Experience and Feedback
Part 9 of the Child and Family Agency Act 2013 governs complaints procedures and reviews, complainants' rights, referral to the Ombudsman, and annual report requirements. "Tell Us" is Tusla's policy governing feedback and complaints. The team is responsible for managing Tell Us, including training other Tusla staff nationwide, collecting metrics, channelling complaints and feedback, and dealing with individual complaints. The team is also involved in encouraging participation of children and listening to the voice of the child in Tusla and Tusla-funded services.
Alternative Care and Commissioned Services
The team monitors and reports on alternative care settings for children who cannot live with their families. It aims to deliver purposeful intelligence-led regulation with a view to service improvement in commissioned services.
Job Objectives
Purpose of the Post
The Children's Services Regulation Registration office is responsible for the receipt and processing of applications for registration of early years and school age childcare services made under Part 58D of the Child Care Act, 2013. The office is also responsible for the receipt and processing of notifiable events as required, and the processing of unsolicited information received to the office in respect of certain regulated services. This role involves the management of administrative work and at present does not require supervision of staff.
Children's Services Regulation is a new and developing division of Tusla's Quality Assurance Directorate, and therefore the purpose and duties of the post may develop in time.
The successful candidate will be required to:
Professional
To assist in the administration of the registration process in accordance with the Child and Family Agency Act 2013 and any regulations made there under.

To maintain records and systems for information retention and analysis.

To collate all documentation required for regulatory purposes.

To carry out screening and assessment of the documentation received.

To assist the office in the verification of all information received.

To answer queries from applicant services in respect of their registration.

To provide agreed information to the general public.

To maintain and collate data where required.

Support and administer the registration and application process of regulated services.

Support in the receipt, logging, and processing of notifiable incidents, change in circumstances and unsolicited information.

Prepare service files and documents for presentation at Registration Panels.

Prepare service files and reports for presentation at Unsolicited Information screening meetings.
Communications
Ensuring that all communications are professional, accurate, informed and clear.

Help to create a positive working environment, which contributes to maintaining and enhancing effective working relationships.

Ensure that any identified administration errors or failings are brought to the immediate attention of management.
Education & Training
Maintain standards of practice and levels of professional knowledge by participating in continuous professional development initiatives and attendance at courses as appropriate.

Engage in career and professional development planning.

Participate in the delivery of a framework for the promotion of staff development and training by making recommendations with regard to the ongoing education, mentoring, training and in-service needs of the regulatory support team.
Health & Safety
Comply with and contribute to the development of policies, procedures, guidelines and safe professional practice and adhere to relevant legislation, regulations and standards.
The above Job Description is not intended to be a comprehensive list of all duties involved and consequently, the post holder may be required to perform other duties as appropriate to the post which may be assigned to him/her from time to time and to contribute to the development of the post while in office.
Please refer to the Candidate Information pack attached to this campaign for full and further detail.
Skills Required
Applicants must by the closing date of application have the following:
Have at least two years relevant administrative experience

Have at least one years' experience in working in a quality assurance or similar role.

Have experience of evaluating information and providing sound judgement in the assessment of received information

Possess sufficient administrative capacity to discharge the functions of the

grade/post, including excellent ICT skills in Microsoft Office, Word, Excel, PowerPoint or similar software
Health
A candidate for and any person holding the office must be fully competent and capable of undertaking the duties attached to the office and be in a state of health such as would indicate a reasonable prospect of ability to render regular and efficient service.
Character
Each candidate for and any person holding the office must be of good character
Age
Age restrictions shall only apply to a candidate where he/she is not classified as a new entrant within the meaning of the Public Services Superannuation Act, 2004). A candidate who is not classified as a new entrant must be under 65 years of age.
| | |
| --- | --- |
| Already a member of our Talent Pool? Login here to Apply | Join our Talent Pool + submit your application |