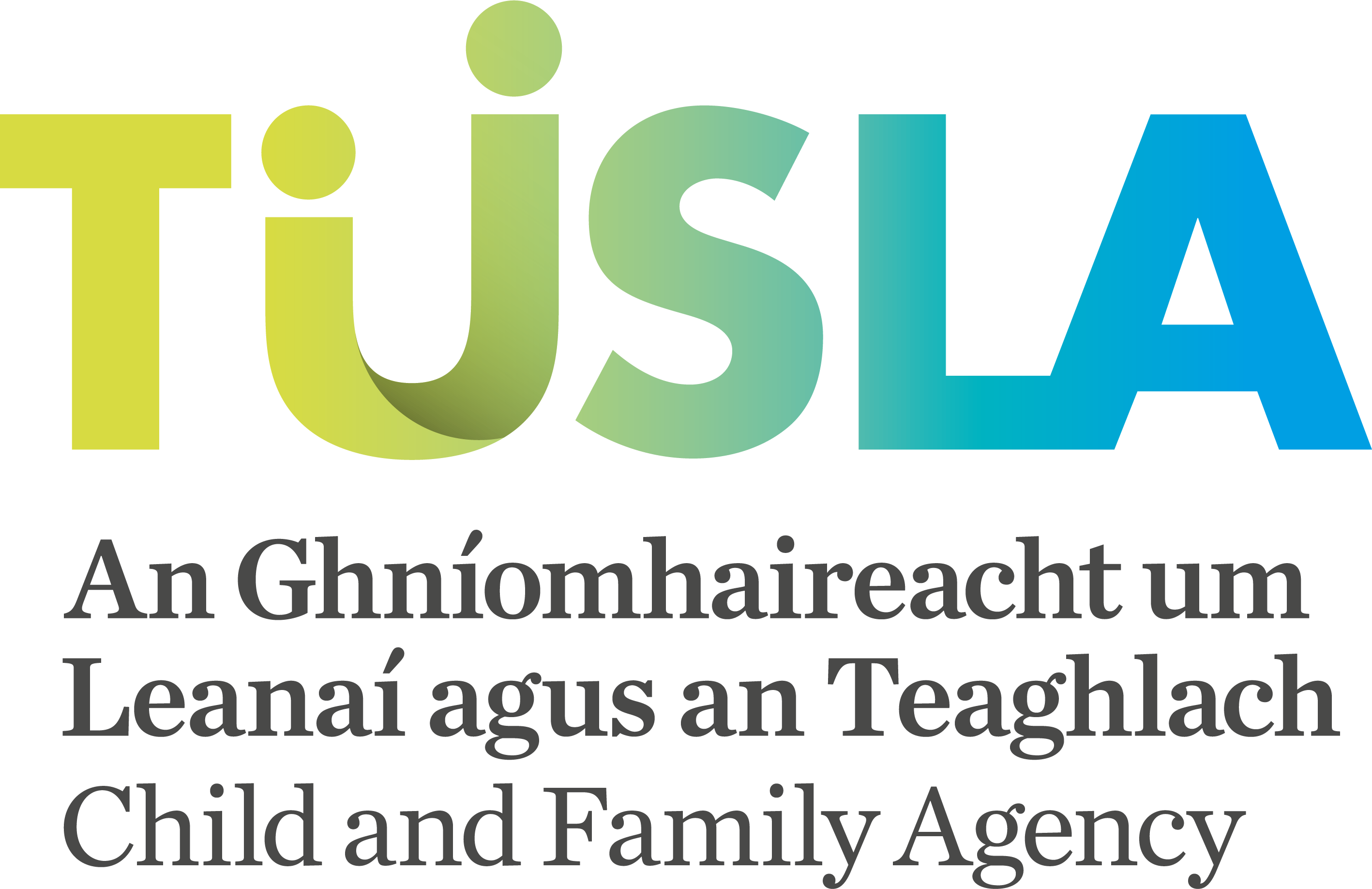 Grade V - (Grade Code 0566) – Dublin North City .5 WTE
| | |
| --- | --- |
| .5 WTE Dublin North City A panel may be created for the purpose of filling this position the panel will cease on the filling of the post. | Salary: See Description for Details |
| Other | Permanent |
| Closing Date: 07/10/2019 | Recruitment start: 12/09/2019 |
Job Summary
The Child and Family Agency was established on 1st January 2014 and is responsible for improving wellbeing and outcomes for children. It represents the most comprehensive reform of services for the development, welfare and protection of children and the support of families ever undertaken in Ireland. It is an ambitious move which brings together some 4,000 staff who were previously employed within Children and Family Services of the Health Service Executive, the National Educational Welfare Board and the Family Support Agency.
The Child and Family Agency has responsibility for the following range of services:
Child Welfare and Protection Services, including family support services

Family Resource Centres and associated national programmes

Early years (pre-school) Inspection Services

Educational Welfare responsibilities including School completion programmes and Home School Liaison

Domestic, sexual and gender based violence services

Services related to the psychological welfare of children
Further information is available on www.tusla.ie
Scope and Purpose of the Post
To deliver a cohort and cohesive administrative and clerical support to the Senior Management Team
Job Objectives
Duties
Administration:
To deliver a cohort and cohesive administrative and clerical support to the Senior Management Team

Organizing teleconferences and multi- media meetings

Resource allocation and management

Management of FOI, Complaints and other Administrative duties

Effectively co-ordinate responses to all general enquiries received

The efficient day-to-day administration of area of responsibility

Collection and management of required data and metrics

Recording of meetings as required

Provide practical help with training events, regional workshops etc.

Carry out any other tasks as directed by the Line Manager

Management of the relevant managers diary, meeting requests, associated briefing material, issue of correspondence / circulars from the relevant manager

Maintain own knowledge of relevant procedures, practices and legislation to perform the role effectively and to ensure standards are met

Use appropriate technology to ensure work completed to a high standard

Ensure that archives and records are accurate and readily available

Maintain confidentiality of documentation, records etc

Ensure consistent adherence to procedures within area of responsibility

Ensure that service-users are treated with dignity and respect

Management of Petty Cash and/or procurement card systems

Maintain confidentiality and a high level of professionalism at all times
Human Resources:
To supervise, allocate and oversee the work of assigned administrative staf

Encourage and support staff through change processes

Pay close and accurate detail to own personal work

Support the preparation and issuing of office documentation (correspondence, reports etc) to the highest possible standard

Co-operate and work in harmony with other teams and disciplines

Ensure line management is kept informed of all issues
Education and Training:
To maintain continuous personal development and participate in team based development, education, training and learning

To complete all mandatory training

Where appropriate, arrange for the induction and training for assigned staff, as required to maximise skill resources, (to include workplace experience placements where applicable)

Where appropriate, provide supervision and assist in the development of knowledge, skills of relevant staff under your supervision

To participate in performance evaluation / review, identifying areas for improvement and appropriate plans / measures to achieve them

To ensure policies and procedures exist for all areas
Health & Safety :
Comply with and contribute to the development of policies, procedures, guidelines and safe professional practice and adhere to relevant legislation, regulations and standards

Have a working knowledge of the Health Information and Quality Authority (HIQA) Standards as they apply to the service for example National Standards for Child Protection and Care and comply with associated Tusla – Child and Family Agency protocols for implementing and maintaining these standards as appropriate to the role

To support, promote and actively participate in sustainable energy, water and waste initiatives to create a more sustainable, low carbon and efficient health service
The above Job Description is not intended to be a comprehensive list of all duties involved and consequently, the post holder may be required to perform other duties as appropriate to the post which may be assigned to him/her from time to time and to contribute to the development of the post while in office.
Please refer to the Candidate Information pack attached to this campaign for full and further detail
Skills Required
Applicants must by the closing date of the campaign have the following:
Be currently in employment with Tusla – Child and Family Agency.
OR
Be currently in direct employment with the HSE or within other statutory health agencies, or a body which provides services on behalf of the HSE under Section 38/39 of the Health Act 2004 or within a body that provides services on behalf of Tusla under Section 56 or Section 59 of the Child and Family Act 2013.
AND
Have at least two years administrative experience within the services as outlined above
AND
Strong IT skills particularly in Microsoft Outlook, Powerpoint, Excel and Word
AND
Possess sufficient administrative capacity to discharge the functions of the grade/post.
Health
A candidate for and any person holding the office must be fully competent and capable of undertaking the duties attached to the office and be in a state of health such as would indicate a reasonable prospect of ability to render regular and efficient service.
Character
Each candidate for and any person holding the office must be of good character
Age
Age restrictions shall only apply to a candidate where he/she is not classified as a new entrant within the meaning of the Public Services Superannuation Act, 2004). A candidate who is not classified as a new entrant must be under 65 years of age.
Attachment:


Candidate Campaign Information Pack DNC.pdf

| | |
| --- | --- |
| Already a member of our Talent Pool? Login here to Apply | Join our Talent Pool + submit your application |