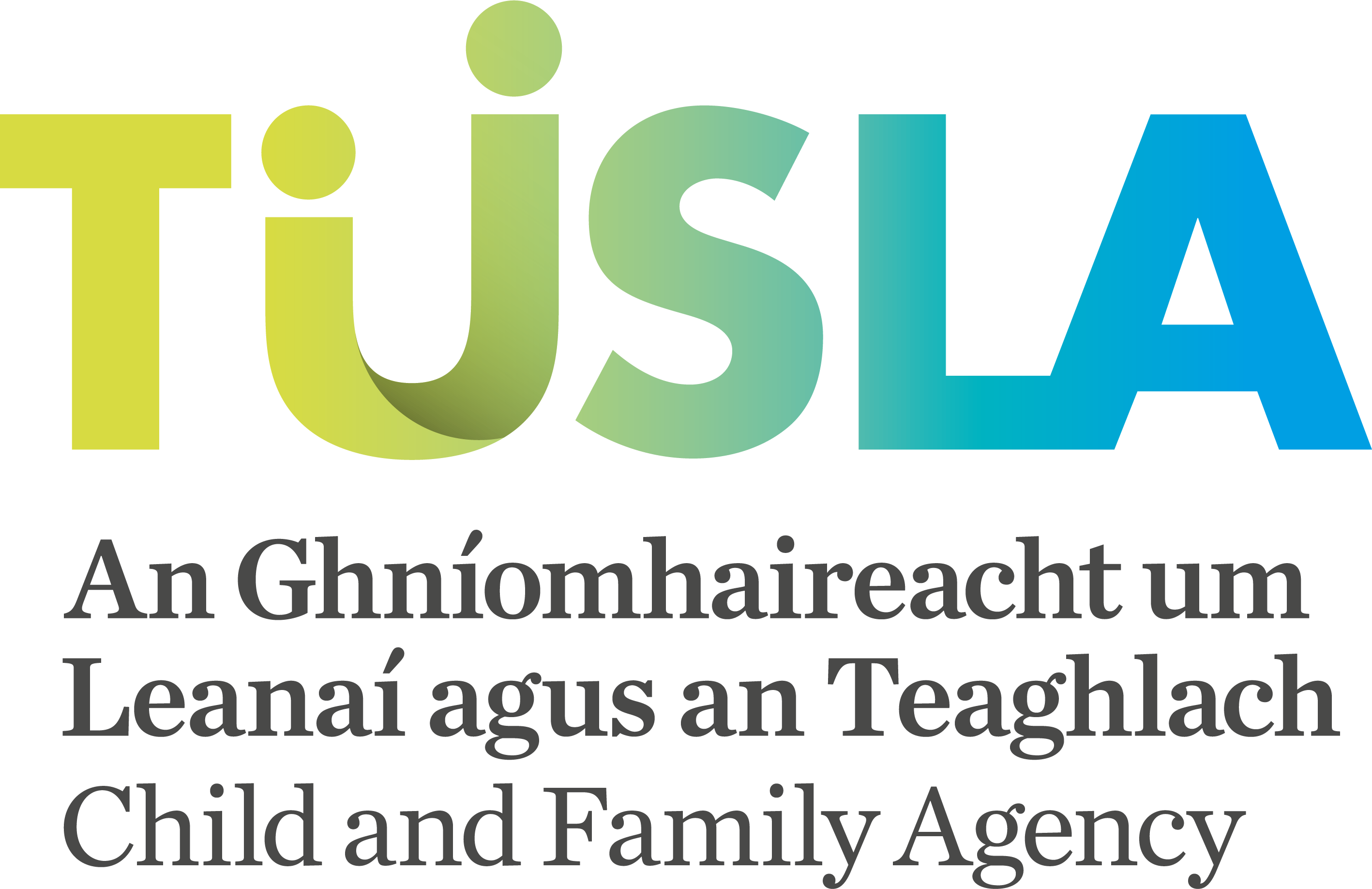 Privacy Network Manager, Grade VIII
Heuston South Quarter, Dublin 8

Salary: See Description for Details
Other
Permanent

Closing Date: 25/11/2019

Closing Time: 12:00

Recruitment start: 31/10/2019
Job Summary
The Child and Family Agency was established on 1st January 2014 and is responsible for improving wellbeing and outcomes for children. It represents the most comprehensive reform of services for the development, welfare and protection of children and the support of families ever undertaken in Ireland. It is an ambitious move which brings together some 4,000 staff who were previously employed within Children and Family Services of the Health Service Executive, the National Educational Welfare Board and the Family Support Agency.
The Child and Family Agency has responsibility for the following range of services:
Child Welfare and Protection Services, including family support services.

Family Resource Centres and associated national programmes.

Early years (pre-school) Inspection Services.

Educational Welfare responsibilities including School completion programmes and Home School Liaison.

Domestic, sexual and gender based violence services.

Services related to the psychological welfare of children.
Further information is available on www.tusla.ie
Key relationships / interfaces
The Data Protection Officer, General Managers within the Data Protection Unit (DPU) and broader staff within the DPU

Tusla's GDPR+ Programme Strategic Partner

Tusla Service Directors and Operational Staff

Tusla's Governance Board

Legal Department

IT Department

FOI / Parliamentary Affairs Units

Workforce Learning and Development

Communications Department

Commissioning

Finance & Procurement

Policy

External data protection / IT security vendors
Job Objectives
Data Protection Operations
Manage the Helpdesk team and evaluate its performance.

Ensure responses to incoming queries relating to GDPR are timely and accurate on a daily basis.

Train and upskill Helpdesk support staff.

Develop and implement training and development tools for Privacy Officers.

Support the development of appropriate technical and organisational measures to support GDPR compliance within Tusla.

Support the implementation of appropriate technical and organisational measures to support GDPR compliance within Tusla.

Act as escalation point for Privacy Officers Nationally within the Data Protection Unit

Carry out training needs analysis and implement appropriate training solutions for the Helpdesk Team and Privacy Officers.
Team Effectiveness
Establish best practices for the helpdesk process.

Set tangible service standards for the DPU Helpdesk.

Develop daily, weekly and monthly reports on productivity of Helpdesk and Privacy Officers as required.

Implement standard processes and procedures to support regional resources.

Operationalise Standard Operating Procedures as relate to the helpdesk.
Stakeholder Engagement
Contribute to improving customer support by actively responding to queries.

Follow up with customers to identify areas of improvement.

Coordinate the network of Privacy Officers operating across the regional areas, acting as a liaison

and point of contact, and ensuring the appropriate roll-out of training and organisation of events.
Data Protection Advisory
Act as an escalation point for regional Privacy Officers on data protection related issues.

Manage and support the Privacy Officers in advisory and communications functions.

Support operational position & briefing materials for the Privacy Council.
Health & Safety
Comply with and contribute to the development of policies, procedures, guidelines and safe professional practice and adhere to relevant legislation, regulations and standards.

Have a working knowledge of the Health Information and Quality Authority (HIQA) Standards as they apply to the service for example National Standards for Child Protection and Care and comply with associated Tusla – Child and Family Agency protocols for implementing and maintaining these standards as appropriate to the role.

To support, promote and actively participate in sustainable energy, water and waste initiatives to create a more sustainable, low carbon and efficient health service.
The above Job Description is not intended to be a comprehensive list of all the duties involved and consequently, the post holder may be required to perform other duties as appropriate to the post which may be assigned to him / her from time to time and to contribute to the development of the post while in office.
Please refer to the Candidate Information pack attached to this campaign for full and further detail.
Skills Required
Applicants must by the closing date of application have the following:
Have a minimum Level 8 qualification on the National Framework of Qualifications in Ireland (or equivalent in another jurisdiction) in a relevant discipline, and / or have a formal Data Protection certification / qualification

Have at least 3 years' management experience – managing staff, budgets and general administration

Experience of managing and working collaboratively cross functionally with multiple

internal and external stakeholders, as relevant to this role

Have the requisite knowledge and ability (including a high standard of suitability and management ability) for the proper discharge of the duties of the office
Health
A candidate for and any person holding the office must be fully competent and capable of undertaking the duties attached to the office and be in a state of health such as would indicate a reasonable prospect of ability to render regular and efficient service.
Character
Each candidate for and any person holding the office must be of good character
Age
Age restrictions shall only apply to a candidate where he/she is not classified as a new entrant within the meaning of the Public Services Superannuation Act, 2004). A candidate who is not classified as a new entrant must be under 65 years of age.
| | |
| --- | --- |
| Already a member of our Talent Pool? Login here to Apply | Join our Talent Pool + submit your application |