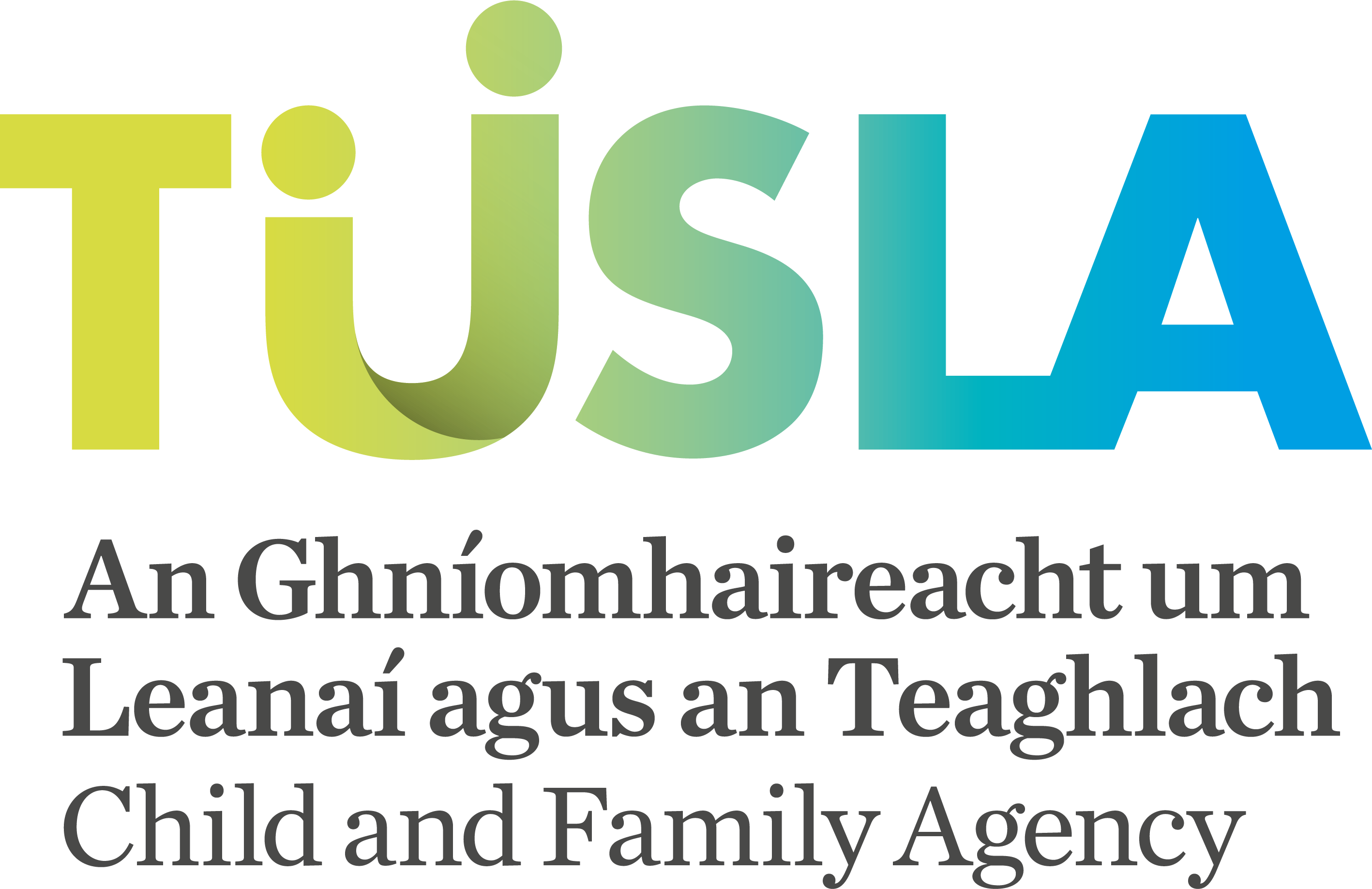 User Liaison Team Leader, National Child Care Information System (NCCIS)
Naas, County Kildare, Ireland

Salary: See Description for Details
Other
Permanent

Closing Date: 20/07/2020

Closing Time: 12:00

Recruitment start: 25/06/2020
Job Summary
The Child and Family Agency was established on 1st January 2014 and is responsible for improving wellbeing and outcomes for children. It represents the most comprehensive reform of services for the development, welfare and protection of children and the support of families ever undertaken in Ireland. It is an ambitious move which brings together some 4,000 staff who were previously employed within Children and Family Services of the Health Service Executive, the National Educational Welfare Board and the Family Support Agency.
The Child and Family Agency has responsibility for the following range of services:
Child Welfare and Protection Services, including family support services

Family Resource Centres and associated national programmes

Early years (pre-school) Inspection Services

Educational Welfare responsibilities including School completion programmes and Home School Liaison

Domestic, sexual and gender based violence services

Services related to the psychological welfare of children

Adoption & Alternative Care
Further information is available on www.tusla.ie
Purpose of Role:
The purpose of the post is to support Child & Family agency workers in their use of NCCIS and its alignment with the standard business processes thereby enabling the continual development of proficiency amongst system users and the on-going improvement of NCCIS system efficiency. The role will involve identifying and resolving user issues, aligning local policies and procedures with national policy as reflected in NCCIS and engaging with the Practice and Operations Lead, NCCIS National Manager, Tusla ICT Dept and the area NCCIS Data Quality and Reporting Worker in the resolution of complex user issues as well as NCCIS application improvement projects.
The post-holder work will work closely with the NCCIS Data Quality and Reporting Worker to support the integration of new users to the NCCIS system and the efficient application of the NCCIS for operations and reporting.
Job Objectives
Main Duties and Responsibilities
This is a dedicated role for support and administration of the NCCIS and promoting workers best use of the system in the designated area.
The principal duties will include the following:
Provide leadership in the designated area promoting the use of NCCIS as an effective case management system. Promote the NCCIS as the central recording system for all social work data and to provide information on the review and development of services locally and nationally.

Provide expertise on recording and accessing key information for best practice that promotes the welfare and safety of children. Mindful of the CORU Standards of Proficiency for social work identify in liaison with the national practice and operations lead best practice in this area.

Acquire and maintain an effective working knowledge of the Tusla Standard Business Processes and Workflows and ensure users compliance with them in their use of the system.

Acting as area Point of Contact for NCCIS users regarding business process queries and supporting users to address issues related to social work practice arising from the use of NCCIS.

Maintaining an on-going liaison with the local area regarding issues impacting on the optimal use of the system and reporting this back to the national NCCIS team.

Provide coaching and mentoring support at the User's place of work where required.

Be a point of contact for Users to diagnose and solve / escalated issues in conjunction with the National Help desk.

Promote awareness and compliance with documentation/guides/tutorials to enable social workers become confident NCCIS users. This should be done through individual or group meetings, presentations, lunchtime learning sessions or other means as appropriate.

Empower and enable staff to confidently apply the agreed data quality and records management standards and work with the local information and data quality colleagues to extend these on an on-going basis.

Proactively monitor the data being recorded on the system identifying key areas of difficulty and/or staff where further training is required.

Enable staff to directly record faults/requests for assistance via the ICT Service Desk software

C

apacity and experience to explain and communicate technical concepts in language accessible to NCCIS users.

Meet with the relevant NCCIS Data Quality and Reporting Worker on a regular basis to discuss ongoing problems and developmental issues and agree joint approaches to how these are to be solved/progressed.

Contribute to a regional network consisting of local NCCIS, Operational and ICT staff to co-ordinate information and data management initiatives including reporting, data quality improvement, records management and support for data owners

Work with the relevant NCCIS Data Quality and Reporting Worker, National NCCIS and Tusla ICT Team in the investigation and resolution of more technical NCCIS issues which have arisen locally and support bring these to a resolution.

Monitor, review, resolve and/or reassign issues logged relating to NCCIS on the ICT Service Desk. This will involve gathering further information from service users relating to such calls and following up with them after resolution.

Monitor, review, calls logged by users in the local area on the national service desk to identify problem\need trends and put in place solutions to resolve in liaison with the National NCCIS and ICT teams as required.

Working in co-operation with Tusla ICT, alert the Data Quality and Reporting worker on the arrival and departure of staff and assist such staff in setting up a local network user login and e-mail account.

Work with the Data Quality & Reporting/ National NCCIS, National ICT and other Tusla staff on identifying/producing protocols to allow for management and/or practice of tasks within the NCCIS

Action tasks in NCCIS as assigned to the Local User Liaison Team Leader.

Play a key role in User Acceptance testing of any upgrades helping to evaluate the software from the perspective of the local service and practitioner.

Assist National Workforce Development staff in the delivery of formal class based and ongoing refresher NCCIS training courses and in the evaluation and application of National Training Documentation

In consultation with local management, actively identify, specify and provide training for NCCIS Users who require more detailed training.

Meet regularly with the Users and groups of use to ensure their knowledge, skills and expertise in NCCIS is maintained at the level required for their role

Play an active role in the National User Support and Local Area Team Forum

Work with the Local Data Quality and Reporting colleagues and/or National Manager to support local reporting requirements through NCCIS

Work with Data Quality and Reporting colleagues to facilitate the production and validation of regular local or national management performance reports and others as needed

Meet with the Local Senior Management on a regular basis to discuss system issues and bringing these to the National User Support Forum as required.

Facilitate access to the NCCIS for external users as required.

Assist with social work team leader functions in ensuring cases are managed appropriately in the area.
Health & Safety
Comply with and contribute to the development of policies, procedures, guidelines and safe professional practice and adhere to relevant legislation, regulations and standards.

Have a working knowledge of the Health Information and Quality Authority (HIQA) Standards as they apply to the service for example National Standards for Child Protection and Care and comply with associated Tusla – Child and Family Agency protocols for implementing and maintaining these standards as appropriate to the role.

To support, promote and actively participate in sustainable energy, water and waste initiatives to create a more sustainable, low carbon and efficient health service.
The above Job Description is not intended to be a comprehensive list of all duties involved and consequently, the post holder may be required to perform other duties as appropriate to the post which may be assigned to him/her from time to time and to contribute to the development of the post while in office.
Please refer to the Candidate Information pack attached to this campaign for full and further detail.
Skills Required
Applicants must by the closing date of application have the following:
Be registered in the Social Workers Register maintained by the Social Workers Registration Board at CORU

Maintain live annual registration on the Social Workers Register maintained by the Social Workers Registration Board at Coru

At least three

years post qualification experience.

Must have the requisite knowledge and ability (including a high standard of suitability, professional and managerial ability) for the proper discharge of the duties of the office.

including

high level of competency in the use of ICT tools regularly used within the service
Health
A candidate for and any person holding the office must be fully competent and capable of undertaking the duties attached to the office and be in a state of health such as would indicate a reasonable prospect of ability to render regular and efficient service.
Character
Each candidate for and any person holding the office must be of good character
Attachment:


Candidate Information Pack - NCCIS.pdf

| | |
| --- | --- |
| Already a member of our Talent Pool? Login here to Apply | Join our Talent Pool + submit your application |