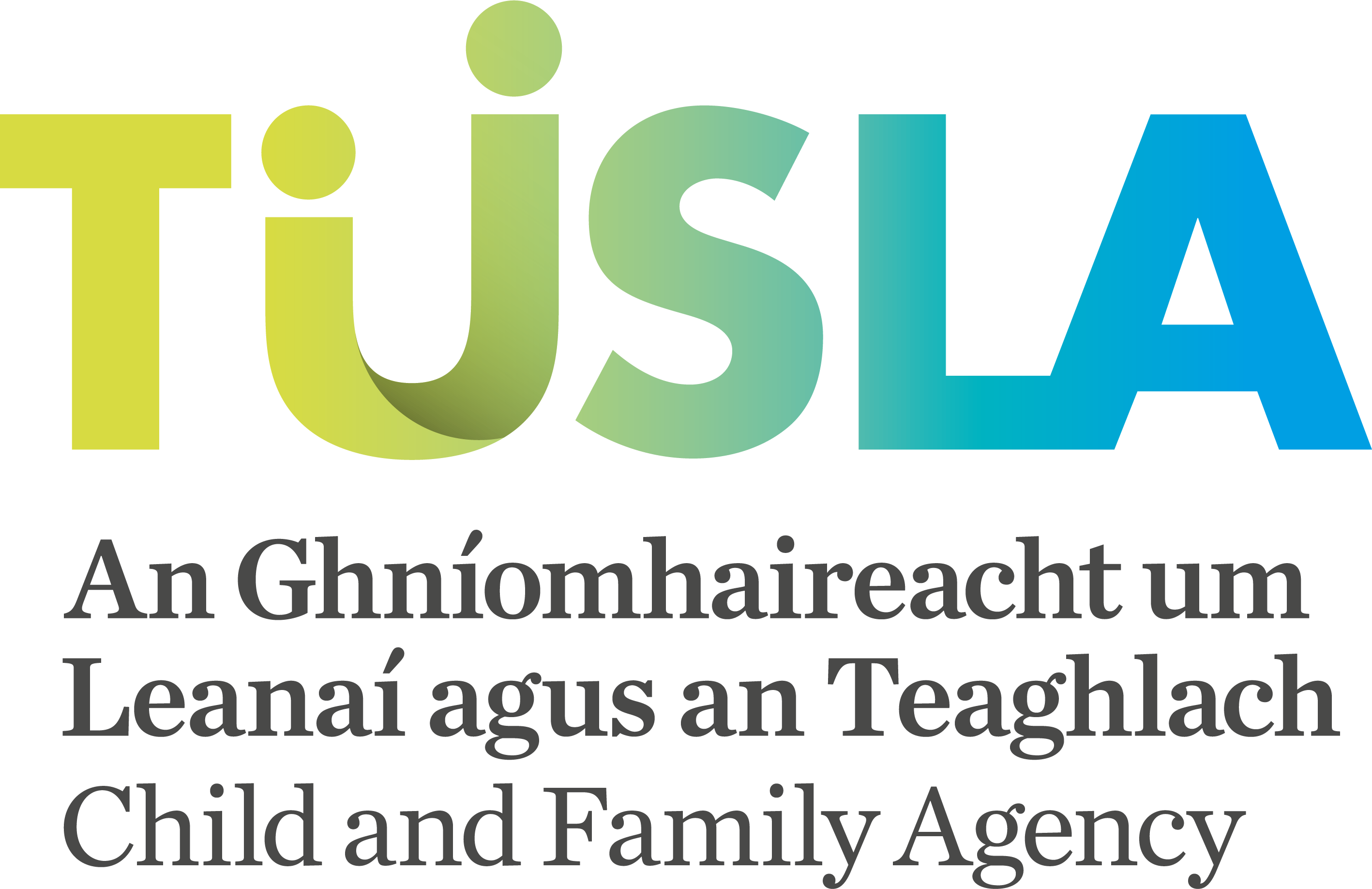 Counsellor/Therapist Children in Care Services Dublin North City
Dublin North City

Salary: See Description for Details
Other
Permanent

Closing Date: 30/11/2020

Closing Time: 12:00

Recruitment start: 05/11/2020
Job Summary
The Child and Family Agency was established on 1st January 2014 and is responsible for improving wellbeing and outcomes for children. It represents the most comprehensive reform of services for the development, welfare and protection of children and the support of families ever undertaken in Ireland. It is an ambitious move which brings together some 4,000 staff who were previously employed within Children and Family Services of the Health Service Executive, the National Educational Welfare Board and the Family Support Agency.
The Child and Family Agency has responsibility for the following range of services:
Child Welfare and Protection Services, including family support services
Family Resource Centres and associated national programmes
Early years (pre-school) Inspection Services
Educational Welfare responsibilities including School completion programmes and Home School Liaison
Domestic, sexual and gender based violence services
Services related to the psychological welfare of children
Adoption & Alternative Care
Further information is available on www.tusla.ie
This Counsellor/Therapist post is based at the Therapeutic Hub in Park House under the management of the Principal Psychologist, Clinical Lead of the DNC Therapeutic Hub. The role involves providing therapeutic support to children and families within the Child and Family Agency in Dublin North City and supervision of the trainees on the UCD Child Art Therapy post-master's programme supported by the local Area Management. Consultation to the local Social Work Teams on suitability of referrals and scope of Child Art Psychotherapy in the overall care plan of the referred child may also be required.
Job Objectives
Main Duties and Responsibilities
In conjunction with other team members and reporting to the Principal Psychologist , the Counsellor/Therapist will
Be professionally responsible for all aspects of the post holders own work.
Co-Assess with the other senior members of the therapeutic Hub the therapeutic needs of children and families referred to the Therapy Service.
Formulate therapy plans according to the needs identified, including art therapy specific interventions.
Manage and oversee varied clinical caseloads and complex clinical presentations.
Offer individual therapy, brief or long-term to children and adolescents when appropriate.
Facilitate therapeutic support work with parent / carers as part of the therapeutic package offered to families.

Recognise and manage the limits of confidentiality in the work and to appropriately address any child protection matters which arise

Ensure that clinical records are properly and accurately maintained as required and that statistical information is available when requested.
Ensure records of work activity are accurately kept and inputted on service electronic data-base system in a timely fashion
Attend meetings and case conferences as required.
Deliver training and presentations as may be required and appropriate.
As a member of the multi-disciplinary team, participate in team meetings, case discussions, service development initiatives and on-going professional development and training.
Independent of their own therapeutic orientation, this post holder will help develop an understanding of child art psychotherapy and the specific contribution it can make in the work of the therapy team.
Case presentations to team members.
Recommend needed art supplies / equipment and in consultation with line manager, co-ordinate their requisition when required.
Deliver a high quality service in an efficient, effective and ethical manner.
Oversee the public display or presentation of any client art work produced in psychotherapy work /group art work is carried out in a respectful and ethical manner (consent/risk of exposure).
Ensure the safe and confidential storage of artwork produced.
Advise on and adhere to an agreed policy on the retention of artwork post therapy.
Be accountable to the Principal Psychologist particularly through active participation in self-reflective clinical supervision and line management.
Continuous Professional Development
Take responsibility for ensuring that clinical professional needs are met by attending regular clinical and line management supervision

Be responsible for one's on-going professional development in the field of psychotherapy in accordance with membership of a professional therapy body under the umbrella of the Irish Council of Psychotherapy and as required by the ICP aligned profession.

Ensure compliance with any necessary on-going psychotherapy registration requirements.

Adhere to the Codes of Ethics of the ICP.

To keep informed of on-going developments in the field of Child Protection and Welfare, alternative care and prevention partnership and family support and acquire training as provided and/or mandated by the Child and Family Agency

Keep informed of developments in national policies, strategies and legislation and offer advice on any perceived impact on practice.
Contribute to the teaching and training functions of the Hub presentations /case studies.
Ensure the development, maintenance and dissemination of professional standards of practice through active participation in internal and external CPD training and development programmes.
Research /Information Technology
Participate in audit and research as required.
Maintain an interest in current research and literature on child oriented psychotherapy and child protection matters, including internet safety.
Maintain appropriate clinical records, databases and statistics as required by Tusla.
Comply with legal and local guidelines in respect of the Freedom of Information Act, Data Protection Act and other such requirements.
Be ICT competent, having experience in the use of MS Word, Excel and Powerpoint, along with other desktop software.
Quality, Risk & Safety Responsibilities
It is the responsibility of all staff to:
Participate and cooperate with TUSLA Quality and Risk and Safety initiatives as required.
Participate and cooperate with internal and external evaluations of child protection structures, services and processes as required, including but not limited to:
Safety Audits and other audits specified by TUSLA or other regulatory activities.
It is the responsibility of all managers to ensure compliance with regulatory requirements for Quality, Safety and Risk within their area/ department.
Health & Safety
Comply with and contribute to the development of policies, procedures, guidelines and safe professional practice and adhere to relevant legislation, regulations and standards.
Have a working knowledge of the Health Information and Quality Authority (HIQA) Standards as they apply to the service for example National Standards for Child Protection and Care and comply with associated Tusla – Child and Family Agency protocols for implementing and maintaining these standards as appropriate to the role.

To support, promote and actively participate in sustainable energy, water and waste initiatives to create a more sustainable, low carbon and efficient health service.
The above Job Description is not intended to be a comprehensive list of all duties involved and consequently, the post holder may be required to perform other duties as appropriate to the post which may be assigned to him/her from time to time and to contribute to the development of the post while in office.
Skills Required
Applicants must by the closing date of application have the following:
A recognised qualification at Level 7 or higher on the NQAI framework in Medicine, relevant Health and Social Care Professionals (e.g. Psychology, Social Work, Occupational Therapy, Speech & Language Therapy) or registered or eligible to be registered as a nurse with An Bord Altranais.
AND

An Accredited qualification in counselling or psychotherapy recognised by the Irish Association for Counselling and Psychotherapy, a relevant body within the Irish Council for Psychotherapy, or an equivalent body in another jurisdiction, of which there is sufficient theoretical content, clinical placements, skills training and personal development as part of the qualification.
OR

Hold Chartered Membership with the PSI and be a full member of the Clinical or Counselling Psychology Division of the Psychological Society of Ireland (PSI).
AND
Have a minimum of three years' experience after accreditation of working clinically with children /adolescents and their parents / carers and families.
ICP accredited qualification in Supervision




Experience of working with children and families involved with the Child and Family Agency / Protection and Welfare issues. Experience of working in a multi-disciplinary setting i.e. CAMHS, PPFS etc
Health
A candidate for and any person holding the office must be fully competent and capable of undertaking the duties attached to the office and be in a state of health such as would indicate a reasonable prospect of ability to render regular and efficient service.
Character
Each candidate for and any person holding the office must be of good
character
Attachment:


Candidate Information Pack November 2020.pdf

| | |
| --- | --- |
| Already a member of our Talent Pool? Login here to Apply | Join our Talent Pool + submit your application |