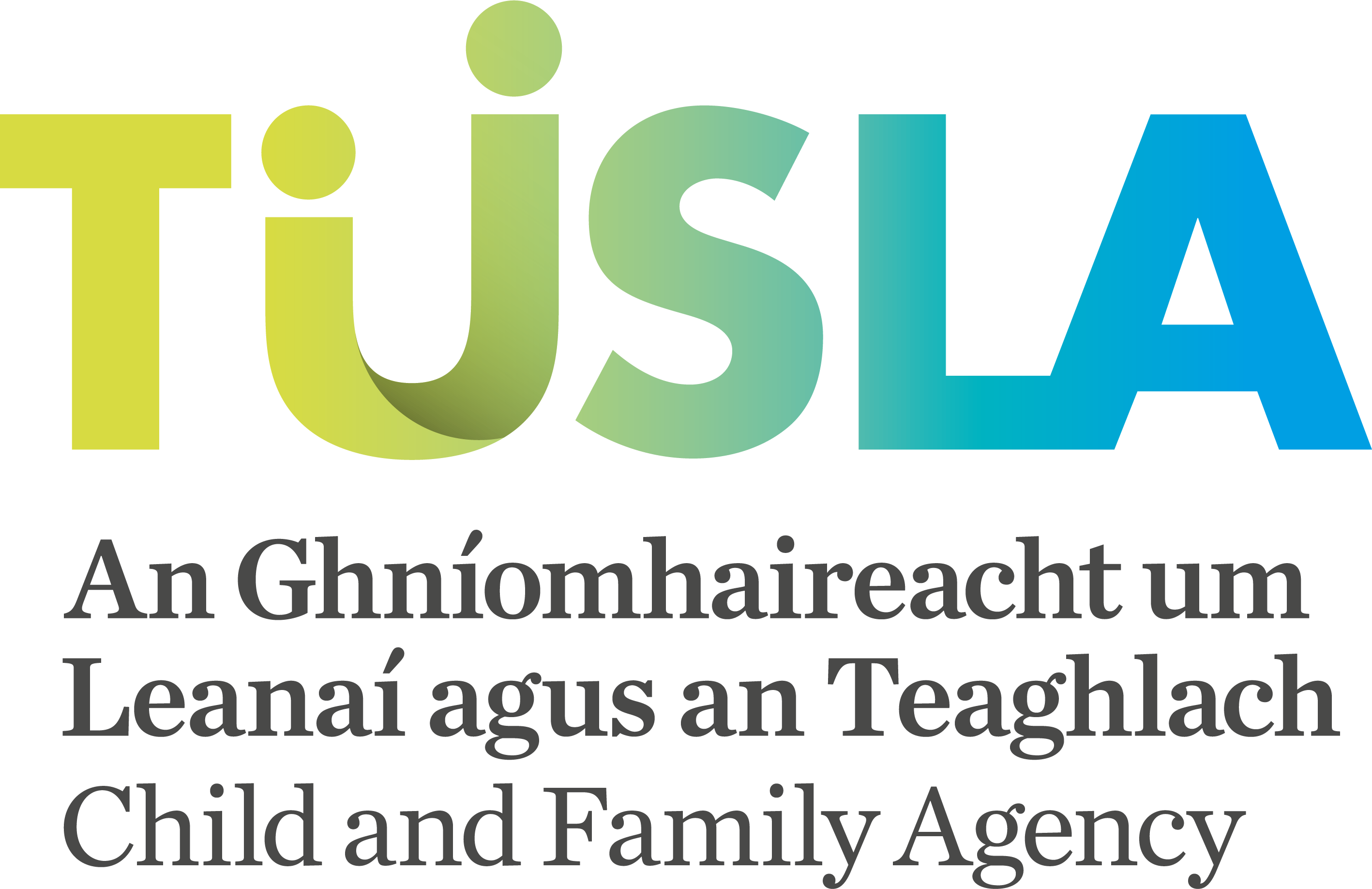 Inspection Registration Manager Early Years Inspectorate
West Region

Salary: See Description for Details
Other
Permanent

Closing Date: 14/12/2020

Closing Time: 12:00

Recruitment start: 19/11/2020
Job Summary
The Child and Family Agency was established on 1st January 2014 and is responsible for improving wellbeing and outcomes for children. It represents the most comprehensive reform of services for the development, welfare and protection of children and the support of families ever undertaken in Ireland. It is an ambitious move which brings together some 4,000 staff who were previously employed within Children and Family Services of the Health Service Executive, the National Educational Welfare Board and the Family Support Agency.
The Child and Family Agency has responsibility for the following range of services:
Child Welfare and Protection Services, including family support services

Family Resource Centres and associated national programmes

Early years (pre-school) Inspection Services

Educational Welfare responsibilities including School completion programmes and Home School Liaison

Domestic, sexual and gender based violence services

Services related to the psychological welfare of children
Further information is available on www.tusla.ie
The Early Years Inspectorate is responsible for the supervision and the inspection of all prescribed Early Years Inspectorate under Part 12 of the Child & Family Agency Act 2013.
The person appointed to this post will work within the Quality Assurance Directorate: Early Years Inspectorate.
The Inspection Registration Manager, will be responsible for the implementation of the requirements of Part 12 of the Child & Family Agency Act 2013. The post holder will be responsible for a geographical area and will manage and support the inspection and administrative team in that area.
Job Objectives
Main Duties and Responsibilities:
Manage the statutory inspections of Early Years Inspectorate in their operational area.

Manage the investigation of complaints received in respect of all registered Early Years Services in collaboration with the registration office.

Monitor performance and attainment of performance indicators in their operational area against benchmarks set by the National Office.

Work closely with the lead Inspection and Registration Manager and Early Years management team, Inspectors and others as appropriate.

Liaise as appropriate with the NGO (Non-Government Organisations) sector, service providers and the other statutory bodies in relation to service improvement.

Line management of Early Years Inspection Team.

Oversee the planning of Inspection Schedules.

Lead, motivate, support and supervise teams of inspectors to deliver high quality inspections that promote the safeguarding and well-being of children.

Ensure quality assurance processes are in place that support the delivery and implementation of an effective inspection service.

Manage external relationships with other regulatory bodies and key stakeholders

Provide editorial oversight, guidance and advice to inspectors regarding the production of Inspection Reports and ensure all reports are prepared to the highest standards for public dissemination.

Ensure compliance with all relative HR policies, procedures and guidelines.

Take a lead role in the implementation of all policy, procedures and Standard Operating Procedures as agreed by the National Office.

Assist the Senior Management Team and the Early Years Management team within the Early Years Inspectorate in the programme of service improvement of the National Early Years Inspection Services

Convene regional interagency meetings to identify impediments at local and regional levels to the effective and efficient progress of the inspection service.

Ensure and maintain all data collection as a basis for driving high quality statistics and database.

Be responsible for and maintain the areas register.

Monitor and evaluate service provision.

Be responsible for the overall management and performance of work activity within the designated Early Years' service area in keeping with good professional practice and subject to agreed policy directives and priorities.

Ensure the implementation of current and evolving legislation, policies and procedures, guidelines, protocols and standardised operation procedures.

Provide professional leadership in the delivery of a high quality service.

Ensure anti-discriminatory practice and cultural competence, at individual and service levels.

Ensure the provision of appropriate professional supervision to all relevant staff in your area.

Avail of appropriate supervision to ensure own on-going competency to supervise other staff.
Education and Training
Maintain standards of practice and levels of professional knowledge by participating in continuous professional development initiatives and attendance at courses as appropriate.

Engage in career and professional development planning.

Oversee the provision of a framework for the promotion of staff development and training by making recommendations with regard to the on-going education, mentoring, training and in-service needs of Early Years Inspectors.
Management
Report and advise on staffing needs.

Ensure the Early Years' service complies with relevant early years inspectorate SOPS and other policies, procedures and guidelines.

Contribute to the development of policies, procedures and guidelines in relation to the Early Years' Service, engaging staff as appropriate.

Participate in and contribute to service planning and development.

Provide service delivery reports as required e.g. service plan, annual report

Ensure that there are appropriate systems in place to gather relevant information.

Ensure compliance with a high standard of documentation, including service user files in accordance with local guidelines and the Freedom of Information (FOI) Act and Data Protection Act.

Oversee service user and data confidentiality.

Collaborate with Lead Inspection and Registration Manager Early Years Services in the developing the role of the Inspection Registration Manager and the team e.g. through planning, audit, production of standards, continuing education, quality improvement initiatives and research.

Any other duties that may be assigned to him/her by the Lead Inspection and Registration Manager, Early Years Services or designated Manager.

Ensure allocated team complies with HR policies as appropriate
Finance
To assist in ensuring expenditure is controlled within budget and identify potential for savings through improved practice and innovation.
Health & Safety
Comply with and contribute to the development of policies, procedures, guidelines and safe professional practice and adhere to relevant legislation, regulations and standards.

Have a working knowledge of the Health Information and Quality Authority (HIQA) Standards as they apply to the service for example National Standards for Child Protection and Care and comply with associated Tusla – Child and Family Agency protocols for implementing and maintaining these standards as appropriate to the role.

To support, promote and actively participate in sustainable energy, water and waste initiatives to create a more sustainable, low carbon and efficient health service.
The above Job Description is not intended to be a comprehensive list of all duties involved and consequently, the post holder may be required to perform other duties as appropriate to the post which may be assigned to him/her from time to time and to contribute to the development of the post while in office.
Skills Required
Applicants must by the closing date of application have the following:
A relevant 3rd level qualification at QQI level 8 or equivalent in psychology, social care, education, social work, nursing or other relevant qualifications

Experience of planning and managing performance, policy implementation and delivering results within a complex multi stakeholder environment

Experience of inspection or quality assurance models.

Experience, understanding and knowledge of inter-agency, cross sectoral and multidisciplinary working.

Have the requisite knowledge and ability (including a high standard of suitability and management ability) for the proper discharge of the duties of the office.
Health
A candidate for and any person holding the office must be fully competent and capable of undertaking the duties attached to the office and be in a state of health such as would indicate a reasonable prospect of ability to render regular and efficient service.
Character
Each candidate for and any person holding the office must be of good
character
| | |
| --- | --- |
| Already Registered? Log in here | Join our Talent Pool + submit your application |