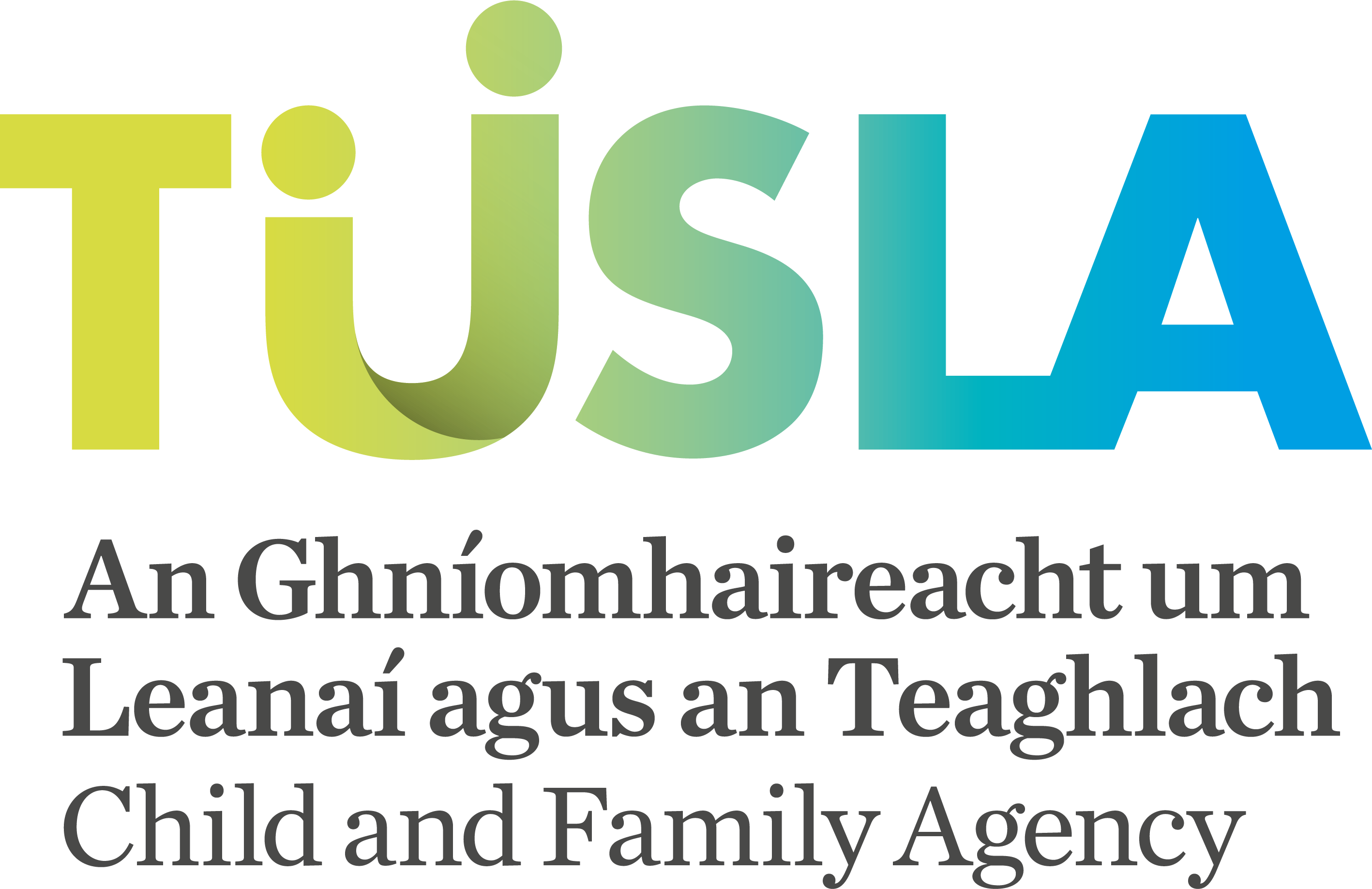 Principal Social Worker, Child Abuse Substantiation – Regional Team, South
South Region

Salary: See Description for Details
Other
Permanent

Closing Date: 19/04/2021

Closing Time: 12:00

Recruitment start: 25/03/2021
Job Summary
The Child and Family Agency was established on 1st January 2014 and is responsible for improving wellbeing and outcomes for children. It represents the most comprehensive reform of services for the development, welfare and protection of children and the support of families ever undertaken in Ireland. It is an ambitious move which brings together some 4,000 staff who were previously employed within Children and Family Services of the Health Service Executive, the National Educational Welfare Board and the Family Support Agency.
The Child and Family Agency has responsibility for the following range of services:
Child Welfare and Protection Services, including family support services

Family Resource Centres and associated national programmes

Early years (pre-school) Inspection Services

Educational Welfare responsibilities including School completion programmes and Home School Liaison

Domestic, sexual and gender based violence services

Services related to the psychological welfare of children

Adoption & Alternative Care
Further information is available on www.tusla.ie
The post holder will be responsible for establishing and co-ordinating regional child abuse substantiation teams. These teams will develop on a phased basis, with Retrospective being Phase 1, and Child Abuse Team being phase 2. They will provide clinical leadership, oversight and some line management to the designated social workers on the team within the region.
These Child Abuse Substantiation Teams main function is to substantiate allegations of child abuse, where there is a potential risk to children, however there are a number of other functions:
Training and consultation with local area teams.

Garda Vetting requests;

Management of the pre-release notifications from Irish prison service

Representative at local SORAM's

Joint working with local social work teams

Responds and assesses aspects of current concerns, such as online offending, i.e. adults under investigation of possession and/or distribution of child exploitation.

Self-disclosing adults- admissions of sexual abuse of children and/or sexual interest in children.
This position will lead the teams to ensure high quality timely investigations and case management for cases where substantiation is required, under the guidance of Section 3 and relevant policies and procedures.
The position may at times have to present testimony for cases in the Court system, prepare reports and keep accurate and timely case notes.
The post holder will have a lead role in developing close working relationships with statutory and community services, and will have a responsibility in developing joint-working with An Garda SÍochána.
The post holder may also be responsible for the operation of the SORAM policy in relation the release of conflicted perpetrators into the community.
The post holder will be responsible for establishing, developing and governance of a working policy with local social work teams
Job Objectives
Main Duties and Responsibilities
Professional / Clinical
The Principal Social Worker will:
Have overall responsibility for the management and delivery of clinical and administrative services of the Regional Child Abuse Substantiation Team

Have oversight of all cases both retrospective and current.

Participate in the National Oversight and Governance Committee to ensure national consistency

Participate in the National Technical Advisory Group

Provide clinical and professional leadership in the delivery of a high quality service.

As required, take direct responsibility for a defined caseload.

Keep up to date and informed on National Standards and reports around the area of child sexual abuse.

Liaise with other professionals /agencies re delivering an effective service

Ensure the legislative requirements relating to Data protection and freedom of Information are adhered to.

Ensure the implementation of current and evolving legislation, policies and procedures, guidelines and protocols.

Ensure anti-discriminatory practice and cultural competence, at individual and service levels.

Avail of appropriate clinical supervision to ensure own on-going competency to supervise other staff.
Management
Manage and supervise staff.

Review training and development needs of staff. Identify the requirements needed to ensure the project can deliver a high quality of service to its clients.

Ensure that all staff are aware of and compliant with the Tusla Quality Safety and Risk management framework and other relevant practice standards.

Liaise with Human Resources Department in matters of resourcing and other employee issues as necessary.

Co-ordinate staff performance Review and Continuous Professional development (CPD) Programme.

Oversee the implementation of appropriate induction and probationary systems.

Keep updated on current and impending legislation and the perceived impact on practice.

Promote effective team working and encourage an environment of open communication and constructive feedback.

To ensure all client data is confidentiality maintained in line with data protection and information governance regulations.
Health & Safety
Comply with and contribute to the development of policies, procedures, guidelines and safe professional practice and adhere to relevant legislation, regulations and standards.
Have a working knowledge of the Health Information and Quality Authority (HIQA) Standards as they apply to the service for example National Standards for Child Protection and Care and comply with associated Tusla – Child and Family Agency protocols for implementing and maintaining these standards as appropriate to the role.

To support, promote and actively participate in sustainable energy, water and waste initiatives to create a more sustainable, low carbon and efficient health service.
The above Job Description is not intended to be a comprehensive list of all duties involved and consequently, the post holder may be required to perform other duties as appropriate to the post which may be assigned to him/her from time to time and to contribute to the development of the post while in office.
Skills Required
Applicants must by the closing date of application have the following:
Must be registered in the Social Workers Register maintained by the Social Workers Registration Board at CORU.
And
Maintain live annual registration on the Social Workers Register maintained by the Social Workers Registration Board at CORU.
And
Have 5 years' relevant post – qualification experience.
And
Must have the requisite knowledge and ability (including a high standard of suitability, professional and managerial ability) for the proper discharge of the duties of the office.
Health
A candidate for and any person holding the office must be fully competent and capable of undertaking the duties attached to the office and be in a state of health such as would indicate a reasonable prospect of ability to render regular and efficient service.
Character
Each candidate for and any person holding the office must be of good character
| | |
| --- | --- |
| Already a member of our Talent Pool? Login here to Apply | Join our Talent Pool + submit your application |