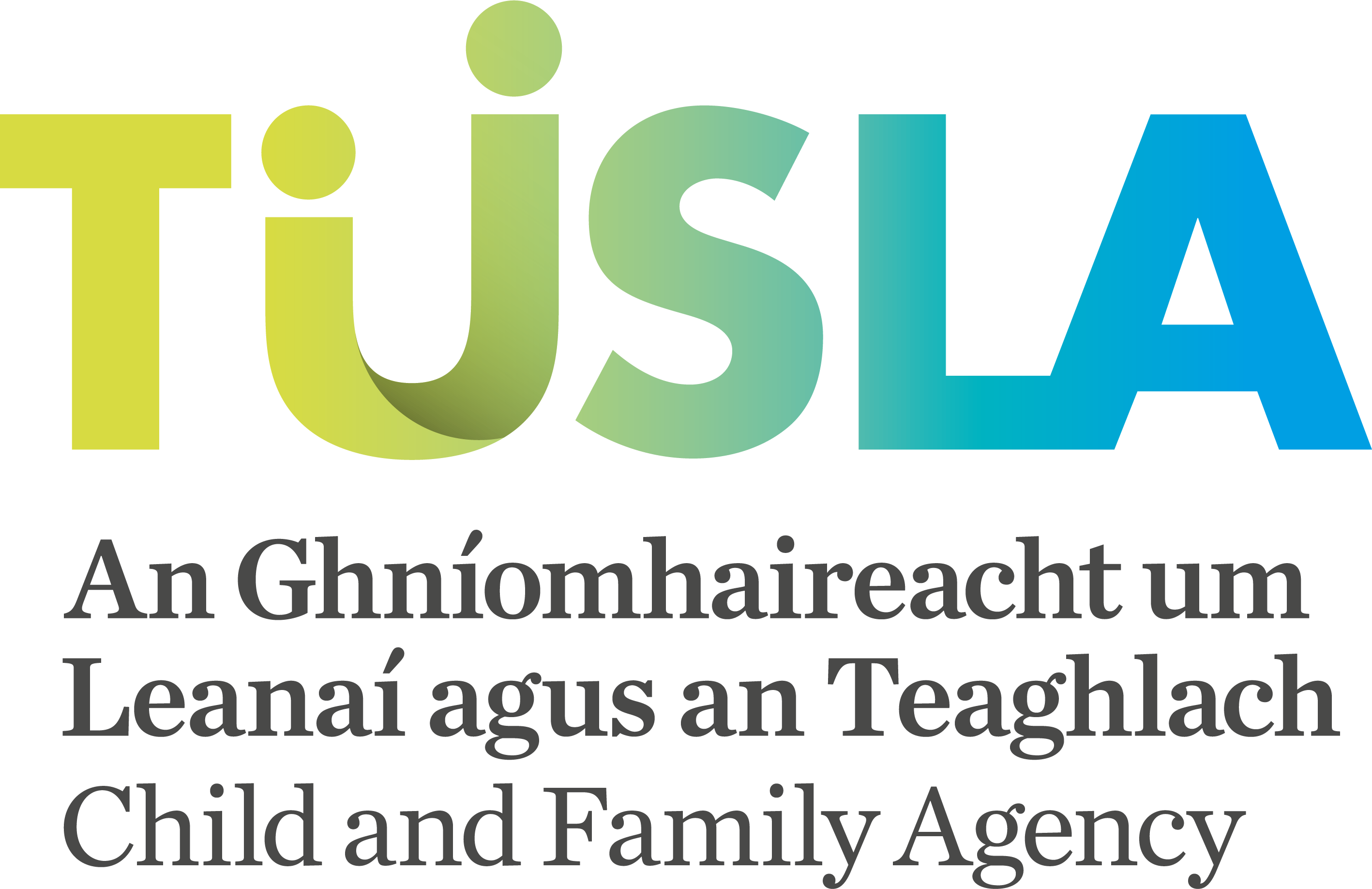 Data Analyst - Grade VI
Children's Services Regulation, Estuary House, Henry Street, Limerick

Salary: See Description for Details
Other
Permanent

Closing Date: 24/05/2021

Closing Time: 12:00

Recruitment start: 29/04/2021
Job Summary
The Child and Family Agency was established on 1st January 2014 and is responsible for improving wellbeing and outcomes for children. It represents the most comprehensive reform of services for the development, welfare and protection of children and the support of families ever undertaken in Ireland. It is an ambitious move which brings together some 4,000 staff who were previously employed within Children and Family Services of the Health Service Executive, the National Educational Welfare Board and the Family Support Agency.
The Child and Family Agency has responsibility for the following range of services:
Child Protection and Welfare

Family Support

Alternative Care

Adoption

Tusla Education Support Services (TESS)

Domestic Sexual and General Based Violence (DSGBV)

Children's Service Regulation

Counselling and Therapeutic Supports
Further information is available on www.tusla.ie
Post Specific Service: Tusla's Quality Assurance Directorate is concerned with promoting continuous improvement and effective risk management in services for children and families. Children's Service Regulation is located within the QA Directorate
Early Years' Inspectorate: The Early Years' Inspectorate is the independent statutory regulator of Early Years' Services and is responsible for registering and inspecting pre-schools, playgroups, crèches, day care and similar services. Its role is to promote the quality, safety and appropriate care of children by robust regulation of the sector.
Alternative Education Assessment: Children who are educated at home or who attend a non-recognised school (i.e. a school that is not funded by the Department of Educational and Skills) must be registered with Tusla by their parents/guardians. The registration process requires that an assessment or assessments be carried out to determine whether the child is receiving a certain minimum education and therefore can be placed on the statutory register of children educated outside of a recognised school. Children who are educated in an independent school setting can also be placed on the register where it is determined that the school is providing a minimum education to the pupils who are enrolled there.
Alternative Care Regulation: The team monitors and reports on alternative care settings for children who cannot live with their families The service is responsible currently for the registration and inspection of non-statutory residential care settings for young people, as well as the monitoring and audit of non-statutory foster care providers.
School Age Care Regulation: The Child & Family Agency is the independent statutory regulator of School Age Care Services and is responsible for child and youth school age care & similar services. Its role is to promote the quality, safety and appropriate care of children by robust regulation of the sector.
Child Safeguarding Statement Compliance: The agency promotes proactive compliance with the requirement for all relevant children's services to have a child safeguarding statement in place, and maintains a register of services who do not following the application of enforcement protocols
management best practice across CSR. This new data officer role will further increase the data management capability of CSR and will provide support in managing CSRs data catalogue, reference data and data sites as well as working as part of a team in delivering data migration, data quality improvement and other data management related services.
Assist in defining and executing methods for collecting, cleansing and analysing data

Assist with the collection, collation and validation of data for the multiple reporting requirements of the Agency on a monthly, quarterly, bi-annual and annual basis within specified deadlines

Support the CSR Business Manager in the preparation of and reconciliation of performance management information / metrics across the full range of CSR services

Facilitate accurate processing and importing of data from internal and external stakeholders
Ensure the quality and integrity of current data is of the highest standard and put procedures in place to correct identified errors
Job Objectives
Define system / data requirements for proposed Case Management system to support the functions of CSR

Liaise with the Tusla ICT team to provide the business related subject matter expertise required throughout the software development lifecycle

Work with the Tusla ICT team in shaping the ICT service within the Inspectorate

Lead on data migration projects from legacy systems, file shares and document management systems

Be able to take responsibility for managing aspects of projects, managing resources, timelines and delivering status reports feeding into the overall projects

In line with the data quality framework, support data quality improvement initiatives and reporting across the Agency

Manage data non-conformances issues and incidents to resolution

Support data governance process improvement initiatives, including the development of processes documentation

Complete tasks associated with supporting Tusla's business systems, complete status/progress reports relating to business systems support

Manage Change Requests and support CSR staff through the change process.

Assist with the roll out of systems including systems training

Identify business needs, set expectations and identify improvement opportunities

Be able to take responsibility for managing aspects of projects, managing resources, timelines and delivering status reports feeding into the overall project

Be able to document and write reports

Document systems training materials

Successfully engage in multiple initiatives in parallel
Relationship Management and Collaboration
Work as part of a data and analytics team to support the delivery of data management initiatives solutions in CSR

Provide data management guidance and supports to colleagues across CSR
Education and Training
To maintain continuous personal development and participate in team based development, education, training and learning

To complete all mandatory training

Where appropriate, provide supervision and assist in the development of knowledge, skills of relevant staff

To ensure policies and procedures exist for all relevant areas
Health & Safety
Comply with and contribute to the development of policies, procedures, guidelines and safe professional practice and adhere to relevant legislation, regulations and standards

Have a working knowledge of the Health Information and Quality Authority (HIQA) Standards as they apply to the service for example National Standards for Child Protection and Care and comply with associated Tusla – Child and Family Agency protocols for implementing and maintaining these standards as appropriate to the role

To support, promote and actively participate in sustainable energy, water and waste initiatives to create a more sustainable, low carbon and efficient health service

Play a central role in maintaining a safe working environment by undertaking risk
The above Job Description is not intended to be a comprehensive list of all duties involved and consequently, the post holder may be required to perform other duties as appropriate to the post which may be assigned to him/her from time to time and to contribute to the development of the post while in office.
Please refer to the Candidate Information pack attached to this campaign for full and further detail.
Skills Required
Applicants must by the closing date of application have the following:
Be in current and direct employment with Tusla – Child and Family Agency, the HSE or within other statutory health agencies, or a body which provides services on behalf of the HSE under Section 38 or 39 of the Health Act 2004 or within a body that provides services on behalf of Tusla under Section 56 or Section 59 of the Child and Family Act 2013.

Have a minimum of 3 years' experience in IT, preferably with business management experience and preferably in the Health/ Social Care services.

Highly proficient with software systems, databases, business data analytics

and data quality related initiatives

and Microsoft Office Suite of products and Business Intelligence Solutions.

Demonstrated experience on software support and testing.

Possess sufficient administrative capacity to discharge the functions of the grade/post.
Health
A candidate for and any person holding the office must be fully competent and capable of undertaking the duties attached to the office and be in a state of health such as would indicate a reasonable prospect of ability to render regular and efficient service.
Character
Each candidate for and any person holding the office must be of good character.
| | |
| --- | --- |
| Already Registered? Login Here | Join Our Talent Pool & Submit |