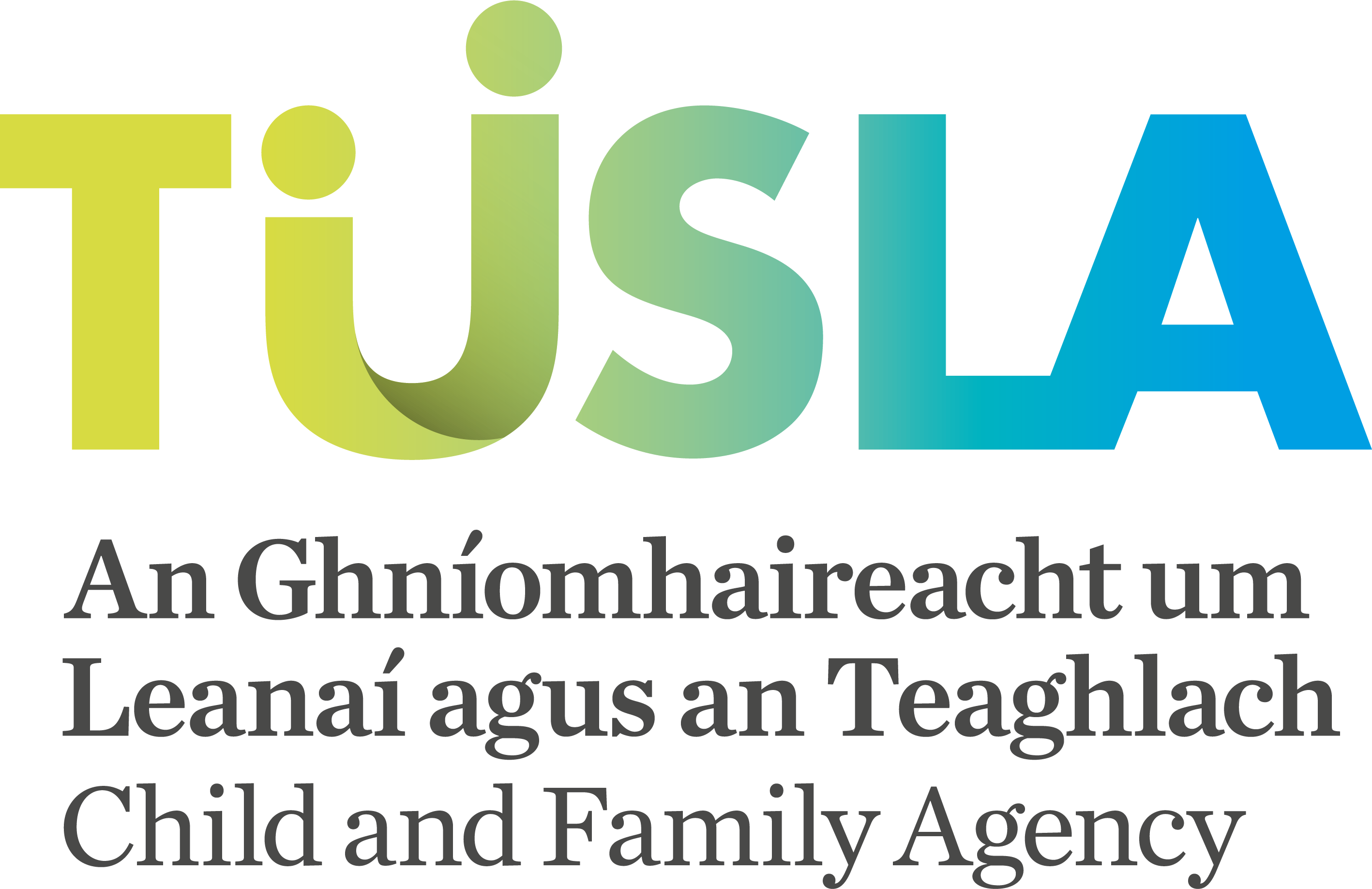 Human Resource Manager, Children's Residential Services - General Manager
Post location Clonmel, Co. Tipperary, however there is flexibility around location

Salary: See Description for Details
Other
Permanent

Closing Date: 20/09/2021

Closing Time: 12:00

Recruitment start: 26/08/2021
Job Summary
The Child and Family Agency was established on 1st January 2014 and is responsible for improving wellbeing and outcomes for children. It represents the most comprehensive reform of services for the development, welfare and protection of children and the support of families ever undertaken in Ireland. It is an ambitious move which brings together some 4,000 staff who were previously employed within Children and Family Services of the Health Service Executive, the National Educational Welfare Board and the Family Support Agency.
The Child and Family Agency has responsibility for the following range of services:
Child Welfare and Protection Services, including family support services

Family Resource Centres and associated national programmes

Early years (pre-school) Inspection Services

Educational Welfare responsibilities including School completion programmes and Home School Liaison

Domestic, sexual and gender based violence services

Services related to the psychological welfare of children

Adoption & Alternative Care
What are Children's Residential Services?
Children's Residential Services aim to provide a physically, emotionally and psychologically safe space in which children and young people can heal, develop and move forward in their lives.

While the majority of children and young people placed in Children's Residential Services are there because of family problems and others have experienced neglect or some other form of abuse, most are placed in Residential Care because of their behaviour is too challenging to be managed in any other care setting.

It is also the case that some young people actually choose a placement in Residential Care because they do not wish to be placed with any family but their own. Other children and young people are placed in Children's Residential Centres while Social Workers work with their families and others to determine where their needs can best be met into the future.

Over 90% of the 142 Children's Residential Centres nationally are community based which means they look like and are situated within the same houses, estates and communities that everybody lives in. For the most part, Children's Residential Centres are also supported by the same range of health services that are available to the rest of the population such as G.P.'s, Speech and Language Therapists, Physiotherapists, Psychologists etc.
Where Children's Residential Services (CRS) differ however, is that Centres are staffed on a 24hr basis by Social Care Workers, Leaders and Managers and are supported in their efforts to look after the children and young people in their care by external Managers, Social Work Services, Inspectors, Monitoring Officers and any others including An Garda Síochána.
Further information is available on www.tusla.ie
The post holder is responsible for the delivery and implementation of best practice HR services within the Children's Residential Services, including management and guidance in relation to HR, IR/ER best practice.
Working with the CRS Team, the HR Manager will provide guidance on HR Strategies, policy and governance on people related matters to influence, monitor and support the changing structure and workforce, with a focus on change management, workforce planning and capability building.
Provide HR, IR/ER management to the CRS teams in the delivery of the organisational strategy in line with legislation, government policy and the HR Strategy to ensure the seamless integrated delivery of services within the agency
Job Objectives
Main Duties and Responsibilities
Leadership & Direction
Ensure that the agreed HR standards, practices, policies and procedures are in operation across the Children's Residential Service

Ensure the implementation of Tusla Corporate and Business Plans and People and Change Strategy in support of

the development and deployment of human resources within the Service to achieve service objectives

Provide leadership to ensure the HR policies, programmes and activities in the Service are aligned to the corporate vision and goals

Assist in the development and implementation of strategies that promote Tusla – Child and Family Agency as an employer of choice to attract highly competent staff with the appropriate skill mix to deliver services

Assist in the development of an organisational culture that values people, their skills, ideas and contributions

Champion change and innovation and communicate the vision of change within the Region to ensure understanding and buy-in

Contribute to the national corporate agenda on HR matters as appropriate
Operational Management
Provide expert HR, Employee Relations and Industrial Relations support, advice, direction and guidance to the residential Services Management Team on all HR policies and procedures in respect of their individual teams to ensure compliance with best practice on employment policies, procedures and relevant legislation

Working with the Regional/National HR teams in implementing HR systems and processes that support corporate objectives through performance achievement and good governance

Assist in the roll-out of HR Strategies across the Service in support of the organisational business plan and strategic goals

Provide communication to and feedback from Corporate HR Directorate on the effectiveness of HR in all areas across the region and work with Regional HR colleagues to action feedback

Work collaboratively with all HR Management colleagues in each of the other Regions and Services to ensure consistency in approach and support to the HR Management Teams

Support the delivery of accurate and up to date reporting through data analysis, HR evidence-based research in line with Corporate and Regional HR Management needs and DCEDIY/DPER requirements
Stakeholder Engagement
Liaise with and develop good relations with other external bodies/agencies in the context of employee relations developments and best practice

Maintain good Irish Industrial Relations systems together by implementing and managing proactive employee relations programmes, including dealing with third parties.
Education and Training
Participate in mandatory training programmes.

Pursue continuous professional development in order to develop professional knowledge and keep updated with current and relevant HR legislation.

Provide training with the team and region to share knowledge of relevant HR Procedures/ Processes.

Identify and roll out appropriate training on HR policies.
Health & Safety
Comply with and contribute to the development of policies, procedures, guidelines and safe professional practice and adhere to relevant legislation, regulations and standards.
Have a working knowledge of the Health Information and Quality Authority (HIQA) Standards as they apply to the service for example National Standards for Child Protection and Care and comply with associated Tusla – Child and Family Agency protocols for implementing and maintaining these standards as appropriate to the role.

To support, promote and actively participate in sustainable energy, water and waste initiatives to create a more sustainable, low carbon and efficient health service.
The above Job Description is not intended to be a comprehensive list of all duties involved and consequently, the post holder may be required to perform other duties as appropriate to the post which may be assigned to him/her from time to time and to contribute to the development of the post while in office.
Skills Required
Applicants must by the closing date of application have the following:
Hold a third level qualification as relevant to the role.

At least 3 years senior management experience in a Human Resource management role with experience of delivery and implementation of a range of HR strategies and the provision of advice and guidance on HR, IR/ER best practice.

Have an excellent working knowledge of all aspects of HR (both policy and operational) preferably in a large and complex organisation comparative to Tusla

Have experience with Irish Industrial Relations systems together with experience of implementing and managing proactive employee relations programmes, including dealing with third parties.

A proven ability to manage and deliver effective HR strategies with a demonstrated capacity to achieve results through cross-sectoral working

A track record of delivering significant change in a complex multi stakeholder environment, as relevant to this role.

Have the requisite knowledge and ability (including a high standard of suitability and management ability) for the proper discharge of the duties of the office.
Health
A candidate for and any person holding the office must be fully competent and capable of undertaking the duties attached to the office and be in a state of health such as would indicate a reasonable prospect of ability to render regular and efficient service.
Character
Each candidate for and any person holding the office must be of good
character
| | |
| --- | --- |
| Already Registered? Log in here | Join our Talent Pool + submit your application |