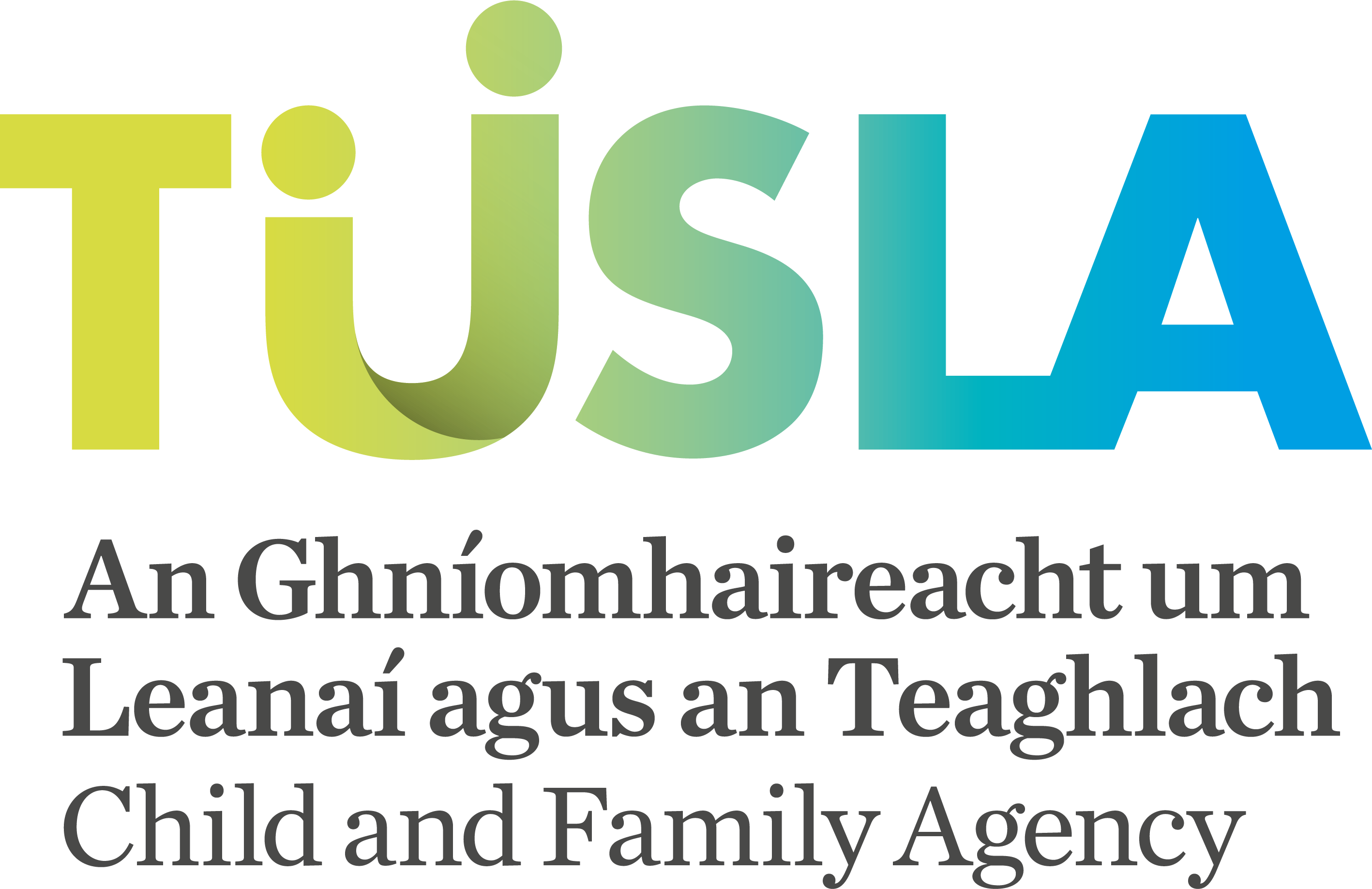 Creative Community Alternatives Co-ordinator - Cork
Cork, Ireland

Salary: See Description for Details
Other
Permanent

Closing Date: 27/09/2021

Closing Time: 12:00

Recruitment start: 02/09/2021
Job Summary
The Child and Family Agency was established on 1st January 2014 and is responsible for a range of statutory functions including provision of child protection, alternative care, specified regulatory services and a range of family support services. The Agency has commenced a major improvement programme with significant focus on Practice, Culture and Structure.
The Agency currently has responsibility for a budget in excess of €800m and delivers its services through circa 5,000 people in 350 locations across the Country.
The Child and Family Agency has responsibility for the following range of services:
Child Protection and Welfare

Family Support

Alternative Care

Adoption

Tusla Education Support Services (TESS)

Domestic Sexual and General Based Violence (DSGBV)

Children's Service Regulation

Counselling and Therapeutic Supports
Creative Community Alternatives to Care is a dedicated preventative programme to support children who are not yet in care, but at imminent risk or significant risk of coming into care unless an appropriate alternative intervention takes place. It is also for children who are already in care (either residential or foster care) but for whom the plan is, or could be, the possibility of returning home or step-down arrangement with the right package of supports being put in place to sustain that arrangement. It provides timely, flexible and targeted supports to strengthen family networks, education and specialised services to the child and their family in the community.
The Model of Delivery for CCA can vary across areas, but the core principles remain the same. Early Intervention & Prevention, Enhancing Safety, Working within the Childs Community and Partnerships
Further information is available on www.tusla.ie
To co-ordinate and manage the Creative Community Alternatives project in Cork.
The main role will involve the day to day management of the programme working closely with Child Welfare and Protection Services, Springboard, Commissioning, Independent Workers and voluntary and community organisations involved in the delivery of CCA.
Job Objectives
Main Duties and Responsibilities
Professional / Clinical
To liaise directly with Tusla Child Welfare and Protection Services on prospective referrals to CCA. To assess all such referrals using CCA criteria for admission to the programme.

To assign cases to CCA designated organisations and independent workers through our partner agencies and ensure proper records and feedback is provided to Tusla services involved in such cases.

To ensure children and parents are kept appropriately informed at all times of interventions that concern them in the spirit and guidance of the CCA programme.

To work closely with our community-based partner agencies or other statutory services to assess prospective referrals to CCA or to arrange service delivery from such services to CCA.

To enter into joint community-based service delivery arrangements with community based partner agencies for users of CCA including services to parents and children who use CCA.

To work closely with and support the Area Lead for Commissioning on the financial and contractual management of CCA.

To support our partner agencies in developing, managing and assessment of workers for the CCA panel of workers.

To provide regular one to one supervision and group supervision where required.

To supervise and maintain excellent working relationships between the staff of CCA and other agencies both statutory and non-statutory.

To engage and develop new partnerships with community-based partners to support the delivery of CCA.

To ensure that all work undertaken by the CCA is in line with the spirit and guidance of Children First and Tusla policies and procedures.

To take part and participate in inter-agency groups identified by the Tusla Area Office.

To research and develop the CCA project in line with stated aims and objectives and to keep up to date on relevant research and policy development in this area.
Education & Training
Maintain continuous professional development and participate in team-based development, education training and learning.

Complete all mandatory training

Where appropriate, arrange for the induction and training for staff as required (including work experience placements where applicable)
Administrative
To develop a template and put in place a process that will ensure that Child Welfare and Protection staff involved in CCA are kept regularly informed by regular written reports on cases worked under CCA.

Ensuring that all CCA panel workers are suitably qualified, experienced and Garda Vetted prior to commencing work and that relevant documentation is in place.

To keep and maintain data on service users and the service in general to the highest standards and in line with Data Protection legislation and guidance.

To provide regular updates on progress of the CCA programme to the Area Lead for Commissioning and Tusla Area Manger's office.

To prepare reports and case studies on CCA for end of year reporting to Tusla local and National office.
Health & Safety
Comply with and contribute to the development of policies, procedures, guidelines and safe professional practice and adhere to relevant legislation, regulations and standards.
Have a working knowledge of the Health Information and Quality Authority (HIQA) Standards as they apply to the service for example National Standards for Child Protection and Care and comply with associated Tusla – Child and Family Agency protocols for implementing and maintaining these standards as appropriate to the role.

To support, promote and actively participate in sustainable energy, water and waste initiatives to create a more sustainable, low carbon and efficient health service.
The above Job Description is not intended to be a comprehensive list of all duties involved and consequently, the post holder may be required to perform other duties as appropriate to the post which may be assigned to him/her from time to time and to contribute to the development of the post while in office
Skills Required
Applicants must by the closing date of application have the following:
A relevant degree in Social Work, Social Care, Community Work, Family Support, Youth Work, or other relevant discipline.
Significant experience of working in the area of direct children and family services provision with a proven track record of working with vulnerable children and families who present with complex needs.
Have three years relevant post qualification experience.
The requisite knowledge and ability for the proper discharge of the duties of the office.
Health
A candidate for and any person holding the office must be fully competent and capable of undertaking the duties attached to the office and be in a state of health such as would indicate a reasonable prospect of ability to render regular and efficient service.
Character
Each candidate for and any person holding the office must be of good
character
| | |
| --- | --- |
| Already Registered? Log in here | Join our Talent Pool + submit your application |