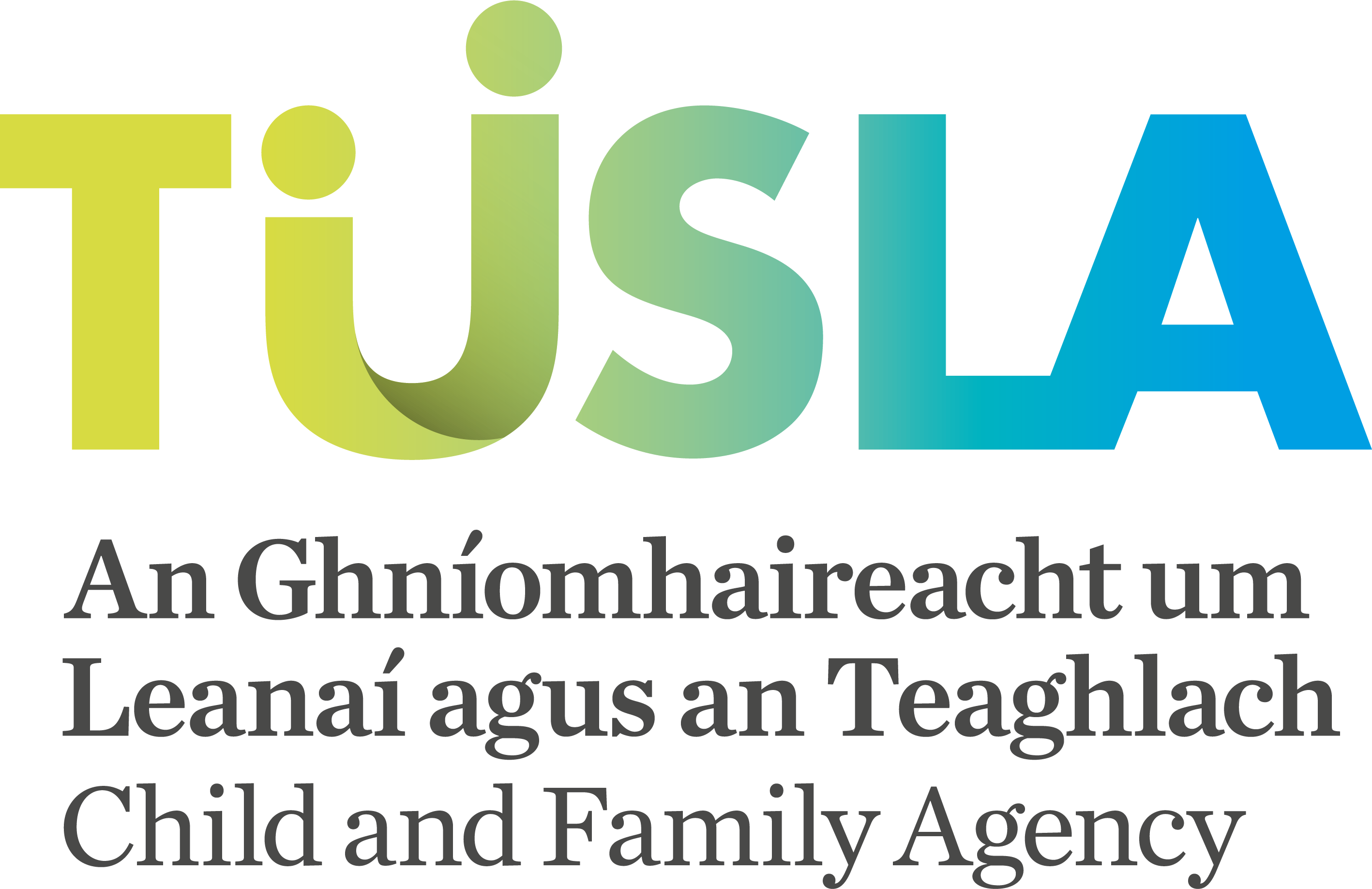 Senior Addiction Counsellor ACTS - Co. Dublin
Dublin

Salary: See Description for Details
Other
Permanent

Closing Date: 18/10/2021

Closing Time: 12:00

Recruitment start: 23/09/2021
Job Summary
The Child and Family Agency was established on 1st January 2014 and is responsible for a range of statutory functions including provision of child protection, alternative care, specified regulatory services and a range of family support services. The Agency has commenced a major improvement programme with significant focus on Practice, Culture and Structure.
The Agency currently has responsibility for a budget in excess of €800m and delivers its services through circa 5,000 people in 350 locations across the Country.
The Child and Family Agency has responsibility for the following range of services:
Child Protection and Welfare

Family Support

Alternative Care

Adoption

Tusla Education Support Services (TESS)

Domestic Sexual and General Based Violence (DSGBV)

Children's Service Regulation

Counselling and Therapeutic Supports
Further information is available on www.tusla.ie
The Senior Addiction Counsellor is part of a regional multi-disciplinary team who holds a clinical caseload under the line management of a Clinical Team Manager.
The post holder will provide a professional counselling, therapy, education and information service in the area of addiction and substance misuse to young people who have been referred to the ACTS service. The post holder will provide and manage substance misuse interventions to young people and their families alongside a multi-disciplinary team within Tusla Therapy.
Job Objectives
Main Duties and Responsibilities
Counseling, Case Management and Treatment Services
Lead the development of appropriate evidence-based assessments and interventions for young people where substance misuse is contributing to their overall difficulties.
Provide consultation for interventions being undertaken by other ACTS disciplines where the focus of the intervention is substance misuse.
Provide training and guidance to the MDT ACTS team regarding substance misuse problems.
Develop close links on behalf of the ACTS MDT with addiction services being run by the HSE and voluntary sector to ensure interagency collaboration and care-planning for young people transitioning in and out of care placements and transitioning into adulthood.
As part of a multi-disciplinary team, to participate in the assessment of young people and their families and concerned persons where relevant.
Participation in multidisc

i

plinary

intervention and treatment processes.
Lead the implementation and facilitation of appropriate treatment strategies, both individual and group.
Participation in clinical supervision arrangements.
Participate in Addiction Service Development and Clinical Governance
To offer harm reduction information and education to young people, their families, social work teams, social care staff and other relevant stakeholders as appropriate.
Liaison with social work departments

,

CAMHS, residential care staff, schools

,

general practitioners

,

primary health care staff

,

statutory/ voluntary groups and other appropriate personnel.
Referral to appropriate treatment facilities

,

detoxification facilities

,

rehabilitation etc

.
Ensure anti-discriminatory practice and cultural competence at individual and service levels.
Ensure practice is in line with the Tusla Participation Strategy.
Education & Training
Take a lead role in the development of continuous training in the assessment and treatment of substance misuse amongst multi-disciplinary colleagues.
Ensure that there is quality dissemination of information on addiction and substance misuse to young people

,

relatives

,

and other key stakeholders as required.
To lead the development of close collaborative working relationships with addiction services in the community.
To act as a resource person and catalyst to enable other staff in ACTS and Tusla Therapy to work effectively with addiction and substance misuse related issues.
Ensure that there is an effective system to monitor and evaluate intervention outcomes.
A

ttend mandatory Tusla training programmes.
Be informed of advances in professional knowledge and practice and ensure their dissemination to the team.
Build and communicate an understanding of the role and contribution of addiction counselling within TUSLA Services.
Multi-disciplinary team working
Participate in service planning

and change management initiatives in the ACTS service.
Contribute to the development and implementation of information sharing protocols, audit systems

,

referral pathways

,

and individual care plans

.
Hold a clinical caseload within multi-disciplinary team
Develop and maintain close liaison with team members

,

and specialist services to ensure an integrated service for cl

i

ents

.
To provide support, guidance

,

evaluation

,

and management of assessments and interventions aimed at reducing substance misuse difficulties.
Development and evaluation of service
Ensure that the addiction/substance misuse service being offered within ACTS and the wider Tulsa Therapy is supported by evidence based best practice.
Provide yearly audits, service reports and statistics as required.
Participate in the development of systems for ongoing monitoring

,

a

udit

and evaluation.
Professional Development and performance management
To be available to provide supervision as per arrangements about service structures and employment of staff grade addiction counsellors within Tusla if required. To provide guidance to other staff in ACTS engaging

in addiction related interventions with young people and their families.
To engage in regular supervision as agreed wi

t

h the Principal Psychology Manager or designated officer.
To engage in one-to-one line management with Clinical Team Manager
To develop and provide in

-

service training as required.
To ensure, where acting in a supervisory capacity, cooperation of staff with aspects pertain

i

ng

to the operation of new technology

and new systems.
To ensure that staff receive suitable performance management in accordance with Tusla policies and procedures
Research & Service Delivery
To develop and conduct relevant research within the service and the evaluation of such research in order to improve treatment and therapeutic standards

.
To take a leadership role in initiatives to improve the quality of all aspects of the ACTS service and in particular substance misuse interventions.
To ensure, where acting in a supervisory capacity, the co-operation with staff policy and review procedures

.
Health & Safety
Comply with and contribute to the development of policies, procedures, guidelines and safe professional practice and adhere to relevant legislation, regulations and standards.
Have a working knowledge of the Health Information and Quality Authority (HIQA) Standards as they apply to the service for example National Standards for Child Protection and Care and comply with associated Tusla – Child and Family Agency protocols for implementing and maintaining these standards as appropriate to the role.

To support, promote and actively participate in sustainable energy, water and waste initiatives to create a more sustainable, low carbon and efficient health service.
The above Job Description is not intended to be a comprehensive list of all duties involved and consequently, the post holder may be required to perform other duties as appropriate to the post which may be assigned to him/her from time to time and to contribute to the development of the post while in office.
Skills Required
Applicants must by the closing date of application have the following:
Possess a relevant qualification in Counselling or Psychotherapy at a minimum of Level 8 on the QQI qualifications framework accredited by one of following professional bodies: Addiction Counsellors Ireland, Irish Association for Counselling and Psychotherapy, Irish Council for Psychotherapy
Or
A qualification accredited by the Psychological Society of Ireland in Clinical Psychology or Counselling Psychology
Or
Hold an equivalent qualification accredited by an equivalent body in another jurisdiction.
And
Be a fully accredited member with one of the following professional bodies: The Addiction Counsellors of Ireland – ACI, The Irish Association for Counselling & Psychotherapy (IACP), or a relevant body within the Irish Council for Psychotherapy (ICP), or by the Psychological Society of Ireland (PSI) in the case of Clinical or Counselling Psychology qualifications only. A statement from the accrediting body confirming the date of first full accreditation, and the maintenance of continuous accreditation and registration since that date will be required.
And
Have a minimum of 3 years' full time post accreditation clinical experience of managing a case load under supervision in a relevant counselling setting, working with young people, adult individuals, adult couples and families with addiction/substance misuse issues.
Or
Have a minimum of 5 years' full-time employment as a counsellor/psychotherapist within a relevant addiction counselling setting, managing a caseload under supervision, working with young people, adult individuals, adult couples and families with addiction/substance misuse issues.
Health
A candidate for and any person holding the office must be fully competent and capable of undertaking the duties attached to the office and be in a state of health such as would indicate a reasonable prospect of ability to render regular and efficient service.
Character
Each candidate for and any person holding the office must be of good
character
| | |
| --- | --- |
| Already Registered? Log in here | Join our Talent Pool + submit your application |