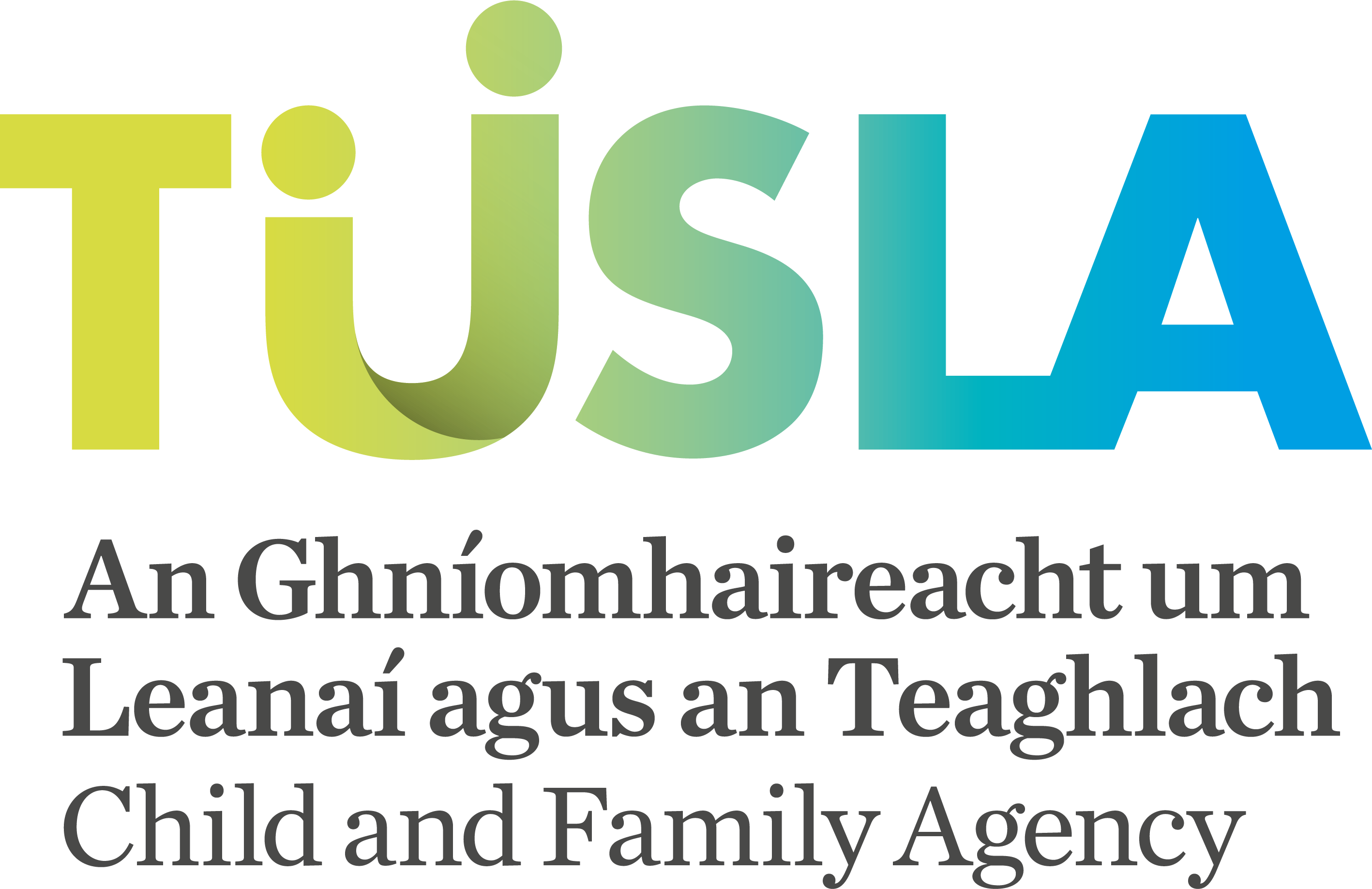 Senior Social Work Practitioner ACTS - Dublin Mid Leinster
Dublin Mid Leinster

Salary: See Description for Details
Other
Permanent

Closing Date: 07/02/2022

Closing Time: 12:00

Recruitment start: 13/01/2022
Job Summary
The Child and Family Agency was established on 1st January 2014 and is responsible for a range of statutory functions including provision of child protection, alternative care, specified regulatory services and a range of family support services. The Agency has commenced a major improvement programme with significant focus on Practice, Culture and Structure.
The Agency currently has responsibility for a budget in excess of €800m and delivers its services through circa 5,000 people in 350 locations across the Country.
The Child and Family Agency has responsibility for the following range of services:
Child Protection and Welfare

Family Support

Alternative Care

Adoption

Tusla Education Support Services (TESS)

Domestic Sexual and General Based Violence (DSGBV)

Children's Service Regulation

Counselling and Therapeutic Support

Further information is available on www.tusla.ie

ACTS is a national specialised clinical service which provides multidisciplinary consultation, assessment and focused interventions to young people who have high risk behaviours associated with complex clinical needs. These therapeutic inputs are provided in a flexible, timely and responsive manner with a focus on improving outcomes for young people and their families.

ACTS also supports other professionals in their ongoing work with young people and their families. This includes:

on-site therapeutic services to the national special care units and the children detention schools

consultation and focused intervention services in the community for children at risk of placement in special care or detention.
The post holder will have responsibility for contributing to the development and maintenance of high standards of professional practice in conjunction with the Principal Social Worker, Clinical Team Manager and the ACTS team.
Job Objectives
Main Duties and Responsibilities
Co-ordination/Management
The Senior Social Work Practitioner will:
Primarily responsible for the direct provision of quality social work service to children and families. He/She will work as a member of a Multi Disciplinary Therapeutic team under direction and will be responsible for the management of a caseload.

The Senior Practitioner remit will require enhanced responsibilities in relation to the case management process and/or involved in the discharge of statutory duties.

Such responsibilities will include the ability to demonstrate enhanced levels of practice, competence/skills in areas such as direct therapeutic practice with children and families, multi-agency working, knowledge of organisational systems and processes and the wider social policy context.

The post holder will be expected to provide support and advice to other team members.
Professional/Clinical
The Senior Social Work Practitioner will:
Provide supportive counselling, emotional and practical support, and information to service users and their families.

Engage in systemic interventions as appropriate with individuals, families, groups and organisations.

Plan and deliver individual, group, organisational and community based capacity building interventions.

Adopt a holistic approach aimed at enhancing the quality of life, health and social well-being of all persons within the designated service area.

Participate and as appropriate take a leadership role in ACTS service development.

Build on the strengths and abilities of the individual/family/groups/community.

Promote independence, self-reliance, self-determination and empowerment with persons in their environment, with families and local groups.

Make it possible for service users to advocate for their own needs, or where appropriate advocate on behalf of service users. Ensure all interventions are in line with Tusla's Youth Participation Policy.

Deliver a quality social work service in collaboration with other disciplines/agencies as required, in appropriate settings reflecting the needs of the service user.

Assess where social conditions are a major factor in health and social wellbeing, consult and plan with the service user, relevant team/service and arrange appropriate social services for those who need them.

Actively participate as a member of the ACTS, in team building and change management initiatives.

Arrange and attend case conferences, meetings and other relevant forums as required.

Attend court, tribunals etc as required.

Work within current legislation, relevant policies and procedures, guidelines and protocols within TUSLA.

Incorporate Social Work values and ethical principals in planning, developing, implementing and reviewing interventions.

Implement models of best practice/evidence based practice.

Take direction from the principal social worker, Clinical Team Manager or the ACTS national manager.

Take an active role in an appropriate level of planned professional supervision, in accordance with the local/national Supervision Policy.

Engage in reflective practice.

Deputise for the Principal Social Worker as agreed/appropriate.

Promote a culture that values diversity and respect in the workplace.

Keep the Principal Social Worker fully informed and up-to-date on all significant matters.

Engage in direct practice with children and families including, where appropriate co-working with other practitioners.

Undertake specific roles in discharging statutory responsibilities and implementing and implementing policies and procedures including a range of court related tasks.

Engage with service users to promote participation.

Provide support and advice to others in relation to their practice and professional development and may include mentoring staff.

Assist in the Induction process for new staff.

Access and participate in, as appropriate, research and other developmental activity relevant to improving standards of practice.

Participate in the development of evidence based practice.

Contribute to the learning and development of students and others as required.

Promote high standards of Social Work practice.

Contribute to the development and delivery of TUSLA's governance framework, audit schedules and quality and service improvement agenda.

Contribute to reviews of TUSLA policies and procedures relating to service for children and families.

Contribute to needs assessment and service development.

Education & Training

The Senior Social Work Practitioner will:

Maintain standards of practice and levels of professional knowledge by participating in continuous professional development initiatives and attendance at courses as appropriate.

Engage in career and professional development planning in collaboration with the Principal Social Worker, Clinical Team Manager or National ACTS Manager.

Keep up to date with advances in social work research, and ongoing review and evaluation of literature relevant to the assigned area.

Keep abreast of developments in national policies and strategies and international best practice.

Actively disseminate specialist knowledge to existing social work staff.

Develop links with the Schools of Social Work.

Provide placements for students with appropriate supervision.

Provide guidance and supervision to student social workers and relevant others.

In collaboration with the Social Worker Team Leader and Principal Social Worker, contribute to the development, provision and implementation of mentoring and individualised training programmes for social worker staff.

Act as a resource by participating in the induction, education and training of social work colleagues, other health professionals and service user groups as required.
Administrative
The Senior Social Work Practitioner will:
Maintain a high standard of documentation, including service user files in accordance with local guidelines, the Freedom of Information (FOI) Act and the Data Protection Acts.

Maintain accurate up to date records and files, and submit activity data as required.

Write accurate, clear, concise and purposeful reports.

Contribute to service developments by monitoring and evaluating emerging needs and trends and in consultation with Social Work Team Leaders/Principal Social Worker and other staff, to propose appropriate service developments.

Conduct internal case reviews when required.

Collaborate with the Principal Social Worker in developing the role of the Senior Social Work Practitioner and the service e.g. through planning, audit, production of standards, continuing education, quality improvement initiatives and research.

Health & Safety

Comply with and contribute to the development of policies, procedures, guidelines and safe professional practice and adhere to relevant legislation, regulations and standards.

Have a working knowledge of the Health Information and Quality Authority (HIQA) Standards as they apply to the service for example National Standards for Child Protection and Care and comply with associated Tusla – Child and Family Agency protocols for implementing and maintaining these standards as appropriate to the role.

To support, promote and actively participate in sustainable energy, water and waste initiatives to create a more sustainable, low carbon and efficient health service.

The above Job Description is not intended to be a comprehensive list of all duties involved and consequently, the post holder may be required to perform other duties as appropriate to the post which may be assigned to him/her from time to time and to contribute to the development of the post while in office.
Skills Required
Applicants must by the closing date of application have the following:
i) Must be directly employed by Tusla, Child and Family Agency
(ii) Must be registered in the Social Workers Register maintained by the Social Workers Registration Board at CORU
AND
(iii) Maintain live annual registration on the Social Workers Register
maintained by the Social Workers Registration Board at CORU
AND
(iv) Have three years' relevant post qualification experience
AND
(v) Must have the requisite knowledge and ability (including a high standard of suitability, professional and managerial ability) for the proper discharge of the duties of the office. Knowledge of legislation, policy, procedures and current issues in Children & Families service. Ability to work in a computer literate environment
Health
A candidate for and any person holding the office must be fully competent and capable of undertaking the duties attached to the office and be in a state of health such as would indicate a reasonable prospect of ability to render regular and efficient service.
Character
Each candidate for and any person holding the office must be of good
character
| | |
| --- | --- |
| Already Registered? Log in here | Join our Talent Pool + submit your application |