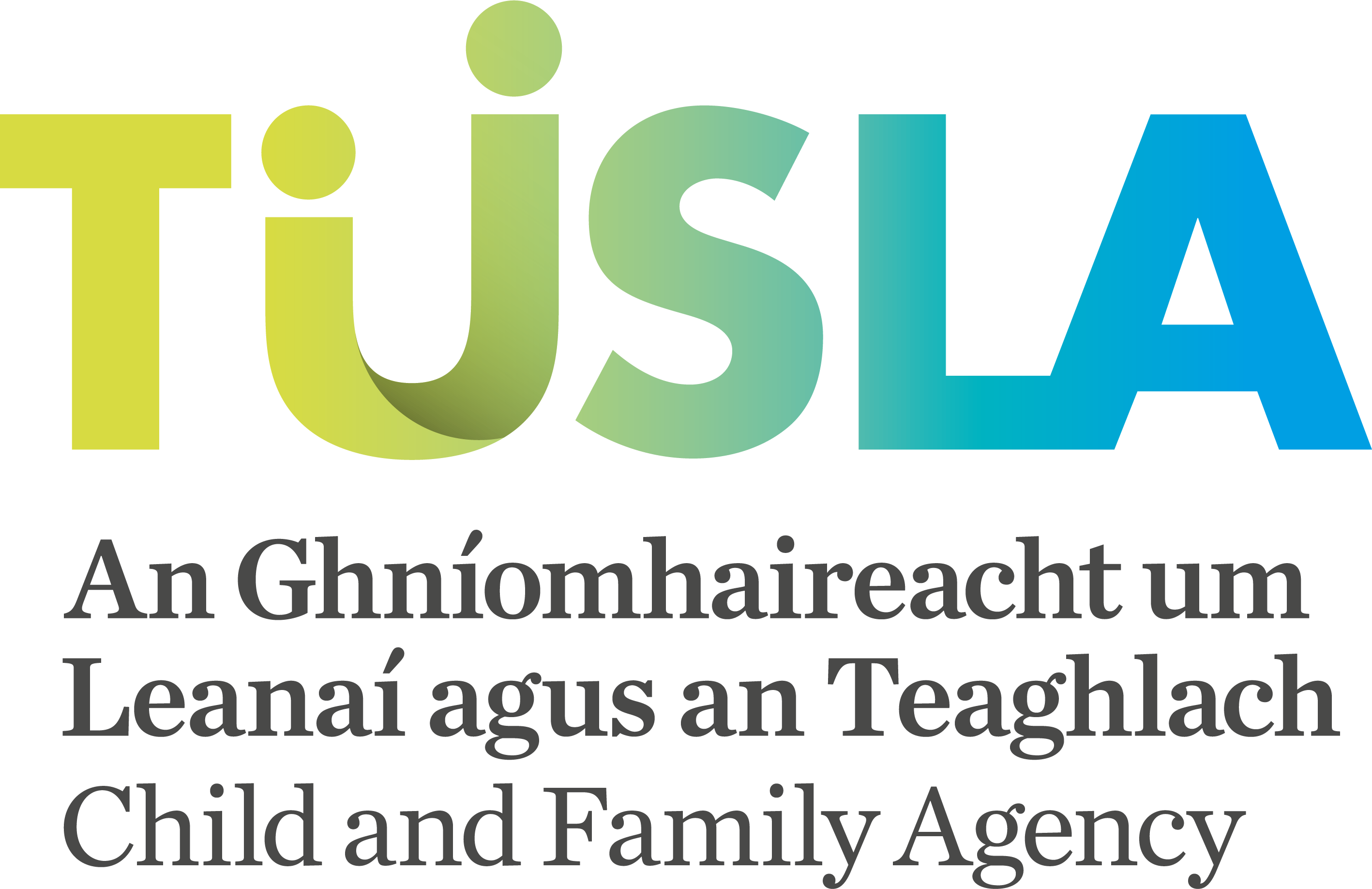 Grade VI, Coovagh House, Co Limerick
Coovagh House, Special Care Unit, St. Joseph's Hospital, Mulgrave Street Co. Limerick

Salary: See Description for Details
Other
Permanent

Closing Date: 16/05/2022

Closing Time: 12:00

Recruitment start: 21/04/2022
Job Summary
The Child and Family Agency was established on 1st January 2014 and is responsible for a range of statutory functions including provision of child protection, alternative care, specified regulatory services and a range of family support services. The Agency has commenced a major improvement programme with significant focus on Practice, Culture and Structure.
The Agency currently has responsibility for a budget in excess of €800m and delivers its services through circa 5,000 people in 350 locations across the Country.
The Child and Family Agency has responsibility for the following range of services:
Child Protection and Welfare

Family Support

Alternative Care

Adoption

Tusla Education Support Services (TESS)

Domestic Sexual and General Based Violence (DSGBV)

Children's Service Regulation

Counselling and Therapeutic Supports
Further information is available on www.tusla.ie
Special Care The policy of the Child and Family Agency to enable children to live with their own families wherever possible and to support parents where necessary in fulfilling that role. In circumstances where this is not possible, Residential Care incl. Special Care remains a valuable option for children who cannot be cared for at home. There are currently three Special Care Units in Ireland, which are buildings designed to allow young people to be detained when the Tusla's National Special Care Committee and the High Court consider a young person needs Special Care and Protection that cannot be otherwise provided. Special Care is a welfare-based Social Care intervention though placements are intensively supported with on-site education, vocational training, therapeutic supports and detailed Programmes of Care aimed at supporting resident young people's timely return to the Agency's community-based Centres, Foster Care or home as soon as this can be achieved. Tusla's policy on the use of Special Care is as a short-term, stabilising intervention that delivers safe therapeutic care in a secure environment and that the restriction of a young person's liberty will always be limited to the shortest possible time
Job Objectives
Main Duties and Responsibilities
Administration
Support the monitoring and control of resources in accordance with Tusla's Financial Regulations.

Ensure appropriate records are maintained as may be required by Tusla.

Promote good working practices and uniformity of standards.

Work with Management to ensure adherence to the legislative framework and internal Tusla policies and procedures.

Undertake all duties assigned in line with relative policy, procedure and legislation.

Responsible for overseeing of Business Support Staff within the area.

Support the development and implementation of integrated management reports across relevant performance indicators, human resources, finance, IT and risk management for Business Support Service.

Provide high level administration support for the business support service for the area including management of staff as required.
Policy, Research & Quality
Assist with the development of policy documentation on policy, procedure and guideline development and review processes.

Set a programme of work to review each policy to ensure it is aligned to the agreed template or format and is updated and implemented across relevant services as applicable.

Work with the relevant departments to implement policies and support the development of these policies to Tusla/Area specific policies and requirements.

Support a programme of work of periodic quality audits to ensure consistent implementation of policies.

Liaise with relevant Tusla Services to ensure training on new policies and/or key policies requiring refresher courses as required.

Support the development of and/or lead on the Quality Assessment Framework and Risk Management Policy Procedures for the Service.

To support the research and information requirements of the Service.
Information Management
Assist in preparation of service planning and business planning process and other planning processes as required

Develop and maintain processes for monitoring the implementation of business plans

Liaise with relevant services to promote inter-department knowledge sharing

Co-ordinate responses to PQ's, FOI, Public Representatives, complaints on request from appropriate channels where required

Contribute to policy development and implementation

Establish, maintain processes for the collation, analysis and reporting of data and collation of associated reports where required.

Support the development of integrated management reports across relevant performance indicators, human resources, finance, and risk management.

Have a working knowledge of the Health Information and Quality Authority (HIQA) Standards as they apply to the service for example National Standards for Child Protection and Care and comply with associated Tusla – Child and Family Agency protocols for implementing and maintaining these standards as appropriate to the role.
Human Resources:
Supervise and make provisions for the well-being of staff within your remit

Create and maintain a positive working environment among staff members, which contributes to maintaining and enhancing effective working relationships

Ensure staff are aware of their responsibilities in line with the relative policies and procedures developed to support the delivery of an effective service

Plan, allocate and evaluate work and performance of teams and individuals.

Management the performance of assigned staff and teams

Provide HR support to assigned team/unit and act as first point of contact for HR issues.

Conduct regular staff meetings to keep staff informed and to hear views

Identify and agree training and development needs of team

Manage the performance of staff, dealing with underperformance in a timely and constructive manner

Implement Performance Achievement and Personal Development Plans in line with the unit and organisation objectives

Embrace change and adapt local work practices accordingly by finding practical ways to make policies work, ensuring team knows how to action changes

Participate in the recruitment, retention and development of staff including training and continual assessment.

Encourage an

Education and Training

To maintain continuous personal development and participate in team-based development, education, training and learning.

To complete all mandatory training.

Where appropriate, arrange for the induction and training for assigned staff, as required to maximise skill resources, (to include workplace experience placements where applicable).

Where appropriate,

provide supervision and assist in the development of knowledge, skills of relevant staff under your supervision.

To participate in performance evaluation / review, identifying areas for improvement and appropriate plans / measures to achieve them.

To ensure policies and procedures exist for all areas.
Health & Safety
Comply with and contribute to the development of policies, procedures, guidelines and safe professional practice and adhere to relevant legislation, regulations and standards.

Have a working knowledge of the Health Information and Quality Authority (HIQA) Standards as they apply to the service for example National Standards for Child Protection and Care and comply with associated Tusla – Child and Family Agency protocols for implementing and maintaining these standards as appropriate to the role.

To support, promote and actively participate in sustainable energy, water and waste initiatives to create a more sustainable, low carbon and efficient health service.

To support staff through transformation and change process.
The above Job Description is not intended to be a comprehensive list of all duties involved and consequently, the post holder may be required to perform other duties as appropriate to the post which may be assigned to him/her from time to time and to contribute to the development of the post while in office.
Skills Required
Applicants must by the closing date of application have the following:
Candidates must be in employment within Tusla – Child and Family Agency, the HSE or within other statutory health agencies, or a body which provides services on behalf of the HSE under Section 38/39 of the Health Act 2004 or within a body that provides services on behalf of Tusla under Section 56 or Section 59 of the Child and Family Act 2013.
and
Have at least two years' experience in a designated office within the Services.
and
Possess sufficient administrative capacity to discharge the functions of the grade/post.
Health
A candidate for and any person holding the office must be fully competent and capable of undertaking the duties attached to the office and be in a state of health such as would indicate a reasonable prospect of ability to render regular and efficient service.
Character
Each candidate for and any person holding the office must be of good character
| | |
| --- | --- |
| Already Registered? Log in here | Join our Talent Pool + submit your application |