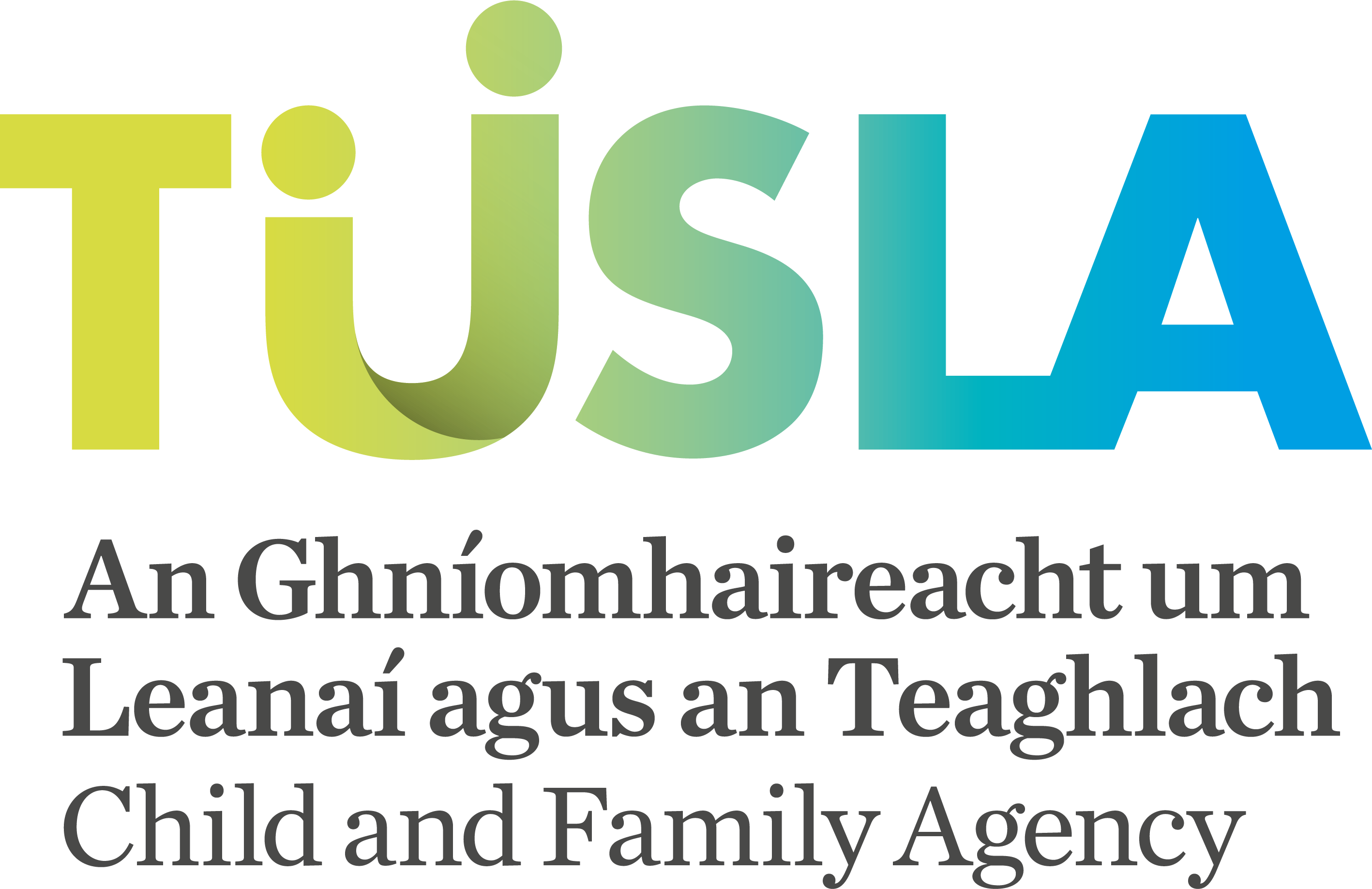 Grade IV – Children's Services Regulation
Estuary House, Henry Street, Limerick, Ireland

Salary: See Description for Details
Other
Permanent

Closing Date: 30/05/2022

Closing Time: 12:00

Recruitment start: 05/05/2022
Job Summary
The Child and Family Agency was established on 1st January 2014 and is responsible for a range of statutory functions including provision of child protection, alternative care, specified regulatory services and a range of family support services. The Agency has commenced a major improvement programme with significant focus on Practice, Culture and Structure.
The Agency currently has responsibility for a budget in excess of €800m and delivers its services through circa 5,000 people in 350 locations across the Country.
The Child and Family Agency has responsibility for the following range of services:
Child Protection and Welfare

Family Support

Alternative Care

Adoption

Tusla Education Support Services (TESS)

Domestic Sexual and General Based Violence (DSGBV)

Children's Service Regulation

Counselling and Therapeutic Supports
Further information is available on www.tusla.ie
Post Specific Service: Tusla's Quality Assurance Directorate is concerned with promoting continuous improvement and effective risk management in services for children and families. Childrens Service Regulation is located within the QA Directorate
Children's Services Regulation (CSR)
Early Years' Inspectorate: The Early Years' Inspectorate is the independent statutory regulator of Early Years' Services and is responsible for registering and inspecting pre-schools, playgroups, crèches, day care and similar services. Its role is to promote the quality, safety and appropriate care of children by robust regulation of the sector.
Alternative Education Assessment: Children who are educated at home or who attend a non-recognised school (i.e. a school that is not funded by the Department of Educational and Skills) must be registered with Tusla by their parents/guardians. The registration process requires that an assessment or assessments be carried out to determine whether the child is receiving a certain minimum education and therefore can be placed on the statutory register of children educated outside of a recognised school. Children who are educated in an independent school setting can also be placed on the register where it is determined that the school is providing a minimum education to the pupils who are enrolled there.
Alternative Care Regulation: The team monitors and reports on alternative care settings for children who cannot live with their families The service is responsible currently for the registration and inspection of non-statutory residential care settings for young people, as well as the monitoring and audit of non-statutory foster care providers.
School Age Care Regulation: The Child & Family Agency is the independent statutory regulator of School Age Care Services and is responsible for child and youth school age care & similar services. Its role is to promote the quality, safety and appropriate care of children by robust regulation of the sector.
Child Safeguarding Statement Compliance: The agency promotes proactive compliance with the requirement for all relevant children's services to have a child safeguarding statement in place and maintains a register of services who do not following the application of enforcement protocols.
Purpose of the Role
To provide administrative support to the department
Job Objectives
Main Duties and Responsibilities
Professional
Demonstrate a clear understanding and knowledge of Tusla's regulatory functions.

Proficient in ICT skills.
Document Control Support- support on documentation management activities such as documenting Standard Operating Procedures, Work Instructions and Guidance
documents and their control / revision / management within the expected Document Management System.

Support with Change Control activities within the group

Support on governance activities

Support on projects / initiatives within the groups and liaising with the other groups as necessary

Ensure the efficient day-to-day administration of area of responsibility.

Maintain own knowledge of relevant procedures, practices and legislation to perform the role effectively and to ensure standards are met by own team.

Ensure the management and maintenance of all records in an orderly and secure manner.

Maintain confidentiality and ensure GDPR protocols are applied.

To plan and organise work of the department/section

To keep informed of relevant regulations and guidelines

To enhance internal and external service delivery by good communications including customer service.

Work as part of a team and to ensure that all members are treated with dignity and respect.

Experience of Data Management Applications
Personnel
Support the preparation and issuing of required documentation (correspondence, reports etc) to the highest possible standard by monitoring and reviewing work to ensure quality and accuracy.

To promote a culture that values diversity and respect in the workplace.

To provide assist with implementation of processes conducive to good staff relations and work performance.

Where appropriate

establish and maintain records of statistical information, annual returns, and any other information as may be requested.

Work as part of a team and to ensure that all members are treated with dignity and respect.
Education and Training
To maintain continuous personal development and participate in team based development, education, training and learning.

To complete all mandatory training.

To participate in performance evaluation / review, identifying areas for improvement and appropriate plans / measures to achieve them.

To ensure policies and procedures exist for all areas.
Health & Safety
Comply with and contribute to the development of policies, procedures, guidelines and safe professional practice and adhere to relevant legislation, regulations and standards.
Have a working knowledge of the Health Information and Quality Authority (HIQA) Standards as they apply to the service for example National Standards for Child Protection and Care and comply with associated Tusla – Child and Family Agency protocols for implementing and maintaining these standards as appropriate to the role.

To support, promote and actively participate in sustainable energy, water and waste initiatives to create a more sustainable, low carbon and efficient health service.
The above Job Description is not intended to be a comprehensive list of all duties involved and consequently, the post holder may be required to perform other duties as appropriate to the post which may be assigned to him/her from time to time and to contribute to the development of the post while in office.
Please refer to the Candidate Information pack attached to this campaign for full and further detail
Skills Required
Applicants must by the closing date of application have the following:
Be currently in employment with Tusla – Child and Family Agency.
OR
• Be in current employment with the HSE or within other statutory health agencies, or a body which provides services on behalf of the HSE under Section 38 or 39 of the Health Act 2004 or within a body that provides services on behalf of Tusla under Section 56 or Section 59 of the Child and Family Act 2013.
AND
• Have at least one year's administrative experience within the Services as outlined above

OR
• Have obtained a pass (Grade D) in at least five subjects from the approved list of subjects in the Department of Education Leaving Certificate Examination, including Mathematics and English or Irish1. Candidates should have obtained at least Grade C on higher level papers in three subjects in that examination.
OR
• Have completed a relevant examination at a comparable standard in any equivalent 5 examinations in another jurisdiction.
OR
• Hold a comparable and relevant third level qualification of at least level 6 on the National Qualifications Framework maintained by Qualifications and Quality Ireland, (QQI).
AND
• Have a good level of proficiency of Microsoft Office - Word, PowerPoint and Excel.
AND
• Possess sufficient and relevant administrative capacity to discharge the functions of the grade/post.
Health
A candidate for and any person holding the office must be fully competent and capable of undertaking the duties attached to the office and be in a state of health such as would indicate a reasonable prospect of ability to render regular and efficient service.
Character
Each candidate for and any person holding the office must be of good character
| | |
| --- | --- |
| Already Registered? Log in here | Join our Talent Pool + submit your application |