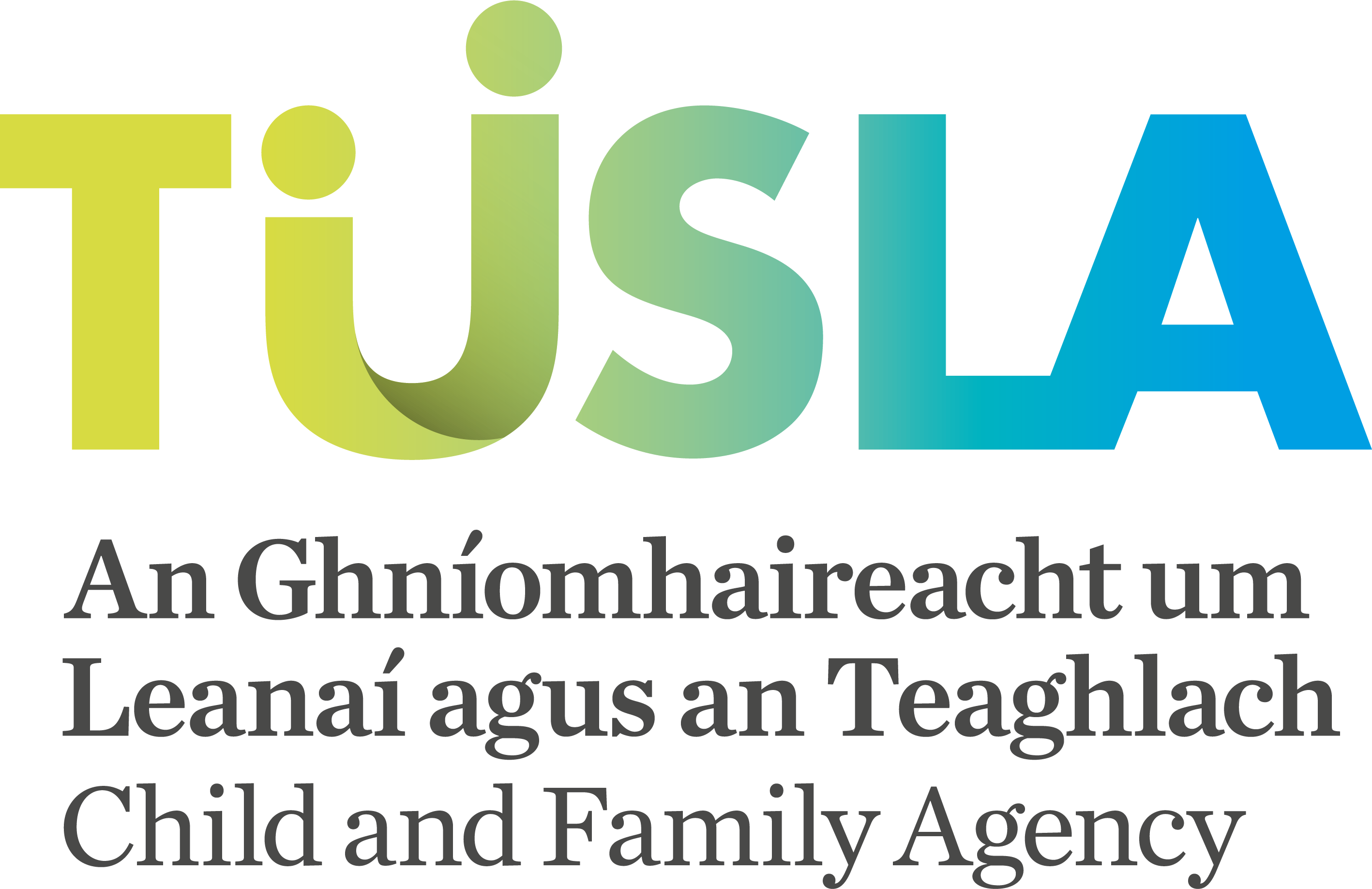 Workforce Learning and Development - Digital Learning Content Developer
Brunel Building, Heuston South Quarter, Dublin 8

Salary: See Description for Details
Other
Permanent

Closing Date: 20/06/2022

Closing Time: 12:00

Recruitment start: 01/06/2022
Job Summary
The Child and Family Agency was established on 1st January 2014 and is responsible for a range of statutory functions including provision of child protection, alternative care, specified regulatory services and a range of family support services. The Agency has commenced a major improvement programme with significant focus on Practice, Culture and Structure.
The Agency currently has responsibility for a budget in excess of €800m and delivers its services through circa 5,000 people in 350 locations across the Country.
The Child and Family Agency has responsibility for the following range of services:
• Child Protection and Welfare
• Family Support
• Alternative Care
• Adoption
• Tusla Education Support Services (TESS)
• Domestic Sexual and Gender Based Violence (DSGBV)
• Children's Service Regulation
• Counselling and Therapeutic Supports
Further information is available on www.tusla.ie
Purpose of Role:
The primary responsibilities of the Content Developer are to develop high-end digital learning experiences and materials for Tusla staff to help them succeed in their job. This position will support content creation for multiple learning modalities (instructor-led, webinars, video, etc.), but will be primarily focused on online content creation.
Job Objectives
Main Duties and Responsibilities
Supporting and playing a hands-on role as a member of the existing, Workforce L

&D Digital team, to aid the production of industry leading digital content and online learning

solutions.

To design and develop engaging, content-rich learning solutions that colleagues interact with as part of their ongoing learning journey and to support learning activities for virtual classrooms, in-person training, e-Learning, video content, mobile learning etc.

To produce highly immersive, interactive, and engaging materials, to include video, web content, PowerPoint Presentations, infographics, diagrams, drawings, 3D content and other media intended for training and assessment.

To support a variety of learning topics including child protection and welfare, family support, leadership, people management, Safety, Health & Welfare, Business Support etc

To interpret business needs effectively, to understand and develop learning briefs, to scope out the end user learning journeys, storyboarding, scripts, and detailed running order creation, in collaboration with subject matter experts, L&D colleagues and other stakeholders.

To quality assure, test and refine digital content and eLearning programmes in preparation for upload of digital content onto learning management system and other learning platforms.

To have knowledge of Learning Object Review Instrument (LORI), or similar and to apply this to evaluate the quality of eLearning resources.

To liaise with Instructional designers and Digital lead to advise on design solutions for programme development and make recommendations as necessary.

To co-ordinate the development and delivery of digital assets for inclusion in an online digital programme, such as audio and video creation, graphic design, voice-overs, music, images etc. whether developed internally or commissioned form external sources.

To apply Tusla's branding guidelines and to work within the parameters of these.

To be aware of and comply with copyrighting and licensing laws and restrictions.

To effectively manage multiple projects and initiatives from analysis, design, creation, development, delivery through to evaluation.

To engage in continued research of emerging trends, tools, software, and best practice in relation to Digital Learning and content production.

To participate in the work planning process and to contribute to relevant reports as required

To contribute to data collection and analytics as appropriate to digital learning and development.

To contribute to the accreditation process for Tusla learning modules

To represent Workforce Development on relevant working groups as required

To contribute to the strategic planning function for Workforce Development in relation to digital learning

To support continuous professional development strategies for staff working in TUSLA

To work with academic and professional bodies and other relevant stakeholders in relation to digital learning where appropriate

To participate in relevant project work as required.

To contribute to research in training and development

To act as a source of technical advice on training and development with particular emphasis on digital learning methods

Continuous development of job critical skills.
Health & Safety
Comply with and contribute to the development of policies, procedures, guidelines and safe professional practice and adhere to relevant legislation, regulations and standards.

Have a working knowledge of the Health Information and Quality Authority (HIQA) Standards as they apply to the service for example National Standards for Child Protection and Care and comply with associated Tusla – Child and Family Agency protocols for implementing and maintaining these standards as appropriate to the role.

To support, promote and actively participate in sustainable energy, water and waste initiatives to create a more sustainable, low carbon and efficient health service.
The above Job Description is not intended to be a comprehensive list of all duties involved and consequently, the post holder may be required to perform other duties as appropriate to the post which may be assigned to him/her from time to time and to contribute to the development of the post while in office.
*Please refer to the Candidate Information pack attached to this campaign for full and further detail.*
Skills Required
Applicants must by the closing date of application have the following:
Be currently in employment with Tusla – Child and Family Agency, the HSE or within other statutory health agencies, or a body which provides services on behalf of the HSE under Section 38 or 39 of the Health Act 2004 or within a body that provides services on behalf of Tusla under Section 56 or Section 59 of the Child and Family Act 2013.
AND
Have at least 2 years' administrative experience in a designated office within the services mentioned above.
AND
A QQI Level 8 (or higher) major academic award (or equivalent qualification) in

training, digital learning, digital technologies

for learning, digital media development,

computer science/ ICT or related field.
AND
Minimum three years' experience creating online and blended learning solutions both instructor-led and self-paced training, to include instructional design experience. This experience should include the following technical elements:

Experience in the use Articulate Storyline 360 for content development as the industry standard e-authoring tool.

Experience in use of Adobe Premier or Wondershare Filmora to produce video content.

Experience of screen casting software for developing video screencasts of systems/webpages etc.

Experience of contributing to the full

training development lifecycle, from initial design through delivery and implementation (ADDIE model)

Experience in the use of Vyond/Sparkol for the design of animated explainer videos and whiteboard animations.

Extensive knowledge of MS Powerpoint as the tool for storyboarding and other applications.
Health
A candidate for and any person holding the office must be fully competent and capable of undertaking the duties attached to the office and be in a state of health such as would indicate a reasonable prospect of ability to render regular and efficient service.
Character
Each candidate for and any person holding the office must be of good character.
| | |
| --- | --- |
| Already Registered? Log in here | Join our Talent Pool + submit your application |