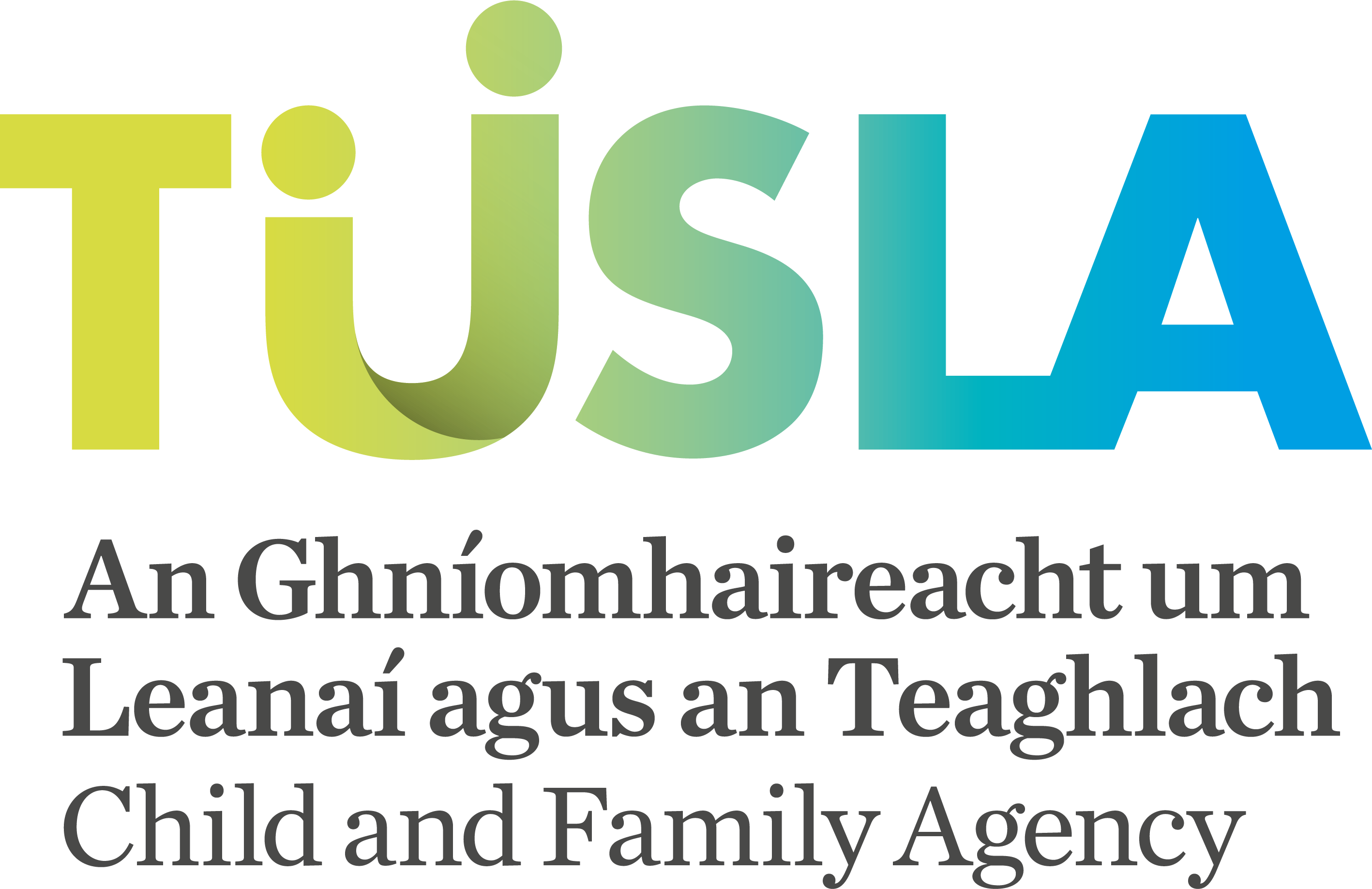 Clinical Nurse Manager 2
The Family Centre, St. Finbarr's Hospital, Douglas Road, Cork

Salary: See Description for Details
Other
Permanent

Closing Date: 20/06/2022

Closing Time: 12:00

Recruitment start: 02/06/2022
Job Summary
Details of Service
The Child and Family Agency was established on 1st January 2014 and is responsible for a range of statutory functions including provision of child protection, alternative care, specified regulatory services and a range of family support services. The Agency has commenced a major improvement programme with significant focus on Practice, Culture and Structure.
The Agency currently has responsibility for a budget in excess of €800m and delivers its services through circa 5,000 people in 350 locations across the Country.
The Child and Family Agency has responsibility for the following range of services:
Child Protection and Welfare

Family Support

Alternative Care

Adoption

Tusla Education Support Services (TESS)

Domestic Sexual and Gender Based Violence (DSGBV)

Children's Service Regulation

Counselling and Therapeutic Supports
Further information is available on www.tusla.ie
Purpose of Role:
The purpose of the post is to participate in the delivery of a Tusla service that currently serves Cork and Kerry in the provision of forensic interviews and medical examination of children where sexual abuse is alleged and/ or suspected. The post holder will achieve this by assisting medical examinations (of children under fourteen years) and, by conducting other required/ancillary work with other team members and by providing Nursing professional knowledge and clinical expertise within an interdisciplinary team.
The Barnahus is an interdisciplinary, multiagency development where services and supports for child sexual and other forms of abuse can be delivered under one roof. The Barnahus is an interagency model comprising, Tusla, HSE and An Garda Síochána.
Job Objectives
Duties and Responsibilities
Main Duties and Responsibilities
To work as part of an Interdisciplinary team to deliver a medical examination service to children, their families or carer(s), where child sexual abuse has been alleged and or is suspected.

To travel external sites to assist at medical examinations when required.

Provide safe, comprehensive nursing care to service users within the guidelines laid out by

Nursing and Midwifery Board of Ireland

.

Practice nursing according to:
NMBI Code of Professional Practice for Nurses and Midwives
Scope of Practice (NMBI)
Professional Clinical Guidelines

National and Area Health Service Executive (HSE) guidelines.

National and local policies, protocols and guidelines

Current legislation

SART guidelines

Manage own caseload in accordance with the needs of the post.

Promote, facilitate and participate in the development of nursing policies and procedures. Monitor as appropriate and lead on practice and service improvement.
Assistance at Medical/Forensic Examinations
Attend and assist at Medical Examinations, which includes: -

Preparation of Examination Room-Ensuring decontamination of unit to provide a forensic environment suitable for the collection of forensic samples.

Preparation of necessary equipment e.g Camera and Colposcope.

Support the forensic clinical examiner during the medical / forensic examination ensuring the child and family member is kept informed of what is happening throughout the procedure.

Ability to assist in the use of the colposcope for the purposes of the medical/forensic examination

Maintain and secure storage of photo documentation i.e DVDs and records.

Offer support to the child and family members
Care of Children and Families:
Welcome children and parents on arrival in Family Centre and at other clinical sites

Support the child through the process e.g. when parent being met / interviewed, engage child in play / non questioning conversation.
Administrative Duties:
M

aintain and update the Referral Record Book in conjunction with Unit Staff and Administrative Staff.

Maintain and manage the appointments Diary for Family Centre in conjunction with Unit Staff and Administrative Staff.

Maintain contemporaneous and appropriate records in respect of work undertaken.

M

aintain a secure record of all consultations to the Unit and manage the filing of records of same consultations.

Make copies of examination DVDs when required by other agencies (An Garda Síochána, etc).

Ensure adequate supply of stock for activity
Clinical Assessment and Diagnostics:
Ensuring a safe comfortable environment for the child while adhering to forensic decontamination guidelines

In conjunction with the FE ensure that the child is medically stable prior to commencing the assessment

Record and document any vital signs as indicated

Complete clinical investigations as indicated e.g. urinalysis, HcG, viral swabbing.

Assist with collection of forensic evidence as per Child and Adolescent Forensic Medical Assessments as laid out in the National Guidelines (See SART Guidelines 2018)

Demonstrate knowledge of best practice in the retrieving of forensic samples from children.

Co-ordinate follow up / referrals as appropriate for the child.

Incorporate nursing values and ethical principles into his/her work within the interdisciplinary team.

Maintain professional standards in relation to confidentiality, ethics and legislation and act in a professional manner at all times.

C

arry out intervention with regard to children, their families or carer(s) in an appropriate manner

.

Liaise and consult with other statutory agencies/professionals in the provision of the Family Centre service

Attend weekly Family Centre team meetings as required.

Act as a resource to Tusla Area Social Work Teams, Nurses, medical practitioners and other allied professionals who work with families where there are concerns of sexual abuse.

Engage in continuous professional development

by keeping up to date with nursing literature, recent nursing research and new developments in nursing management, education and practice and to attend staff study days as considered appropriate.

Develop and maintain a professional relationship with adult SATU services for peer review and clinical supervision and maintain up-to-date information relevant to forensic medical examinations.

P

lay an active role in implementing models of best practice / evidence-based practice in the area of assessing allegations of child sexual abuse.

T

ake direction from his / her line manager and

shall keep his/her line manager and/or the Unit Manager fully informed and up to date on all significant matters.

Operate within the scope of practice - seek advice and assistance from his / her manager with any cases or issues that prove to be beyond the scope of his / her professional competence in line with principles of best practice and clinical governance.

Comply with employer organisational, policies, procedures and guidelines, and adhere to the relevant legislation, regulations and Health & Safety standards and in particular those relating to Safety, Health and Welfare, Infection Control, Hygiene, Risk Management and Decontamination.

Observe, report and take appropriate action on any matter which may be detrimental to staff and/or service user care or wellbeing / may be inhibiting the efficient provision of care.

Ensure completion of incident / near miss forms / clinical risk reporting.

In c

onsultation with other disciplines, implement and assess quality management programmes.
Audit & Research
Carry out clinical audit as appropriate for nurse led service. Leads on service improvement projects and participate as appropriate

.

Participate in nursing and other research studies as appropriate

In c

onsultation with other disciplines, implement and assess quality management programmes.
Health & Safety
Comply with and contribute to the development of policies, procedures, guidelines and safe professional practice and adhere to relevant legislation, regulations and standards.

Have a working knowledge of the Health Information and Quality Authority (HIQA) Standards as they apply to the service for example National Standards for Child Protection and Care and comply with associated Tusla – Child and Family Agency protocols for implementing and maintaining these standards as appropriate to the role.

To support, promote and actively participate in sustainable energy, water and waste initiatives to create a more sustainable, low carbon and efficient health service.
The above Job Description is not intended to be a comprehensive list of all duties involved and consequently, the post holder may be required to perform other duties as appropriate to the post which may be assigned to him/her from time to time and to contribute to the development of the post while in office.
Skills Required
Eligibility Criteria
Qualifications and / or Experience
Applicants must by the closing date of application have the following:
(i)

Be registered in the Relevant Division of the Register of Nurses kept by An Bord Altranais (Nursing and Midwifery Board of Ireland) or have entitlement to be registered and obtain registration prior to appointment.
AND
(ii)

Have at least 5 years post registration experience. Experience in Paediatrics and administration is essential.
AND
(iii)

Have the clinical, managerial and administrative capacity to properly discharge

the functions of the role
AND
(iv)

Demonstrate evidence of continuing professional development at the appropriate level
Health
A candidate for and any person holding the office must be fully competent and capable of undertaking the duties attached to the office and be in a state of health such as would indicate a reasonable prospect of ability to render regular and efficient service.
Character
Each candidate for and any person holding the office must be of good character
| | |
| --- | --- |
| Already Registered? Log in here | Join our Talent Pool + submit your application |