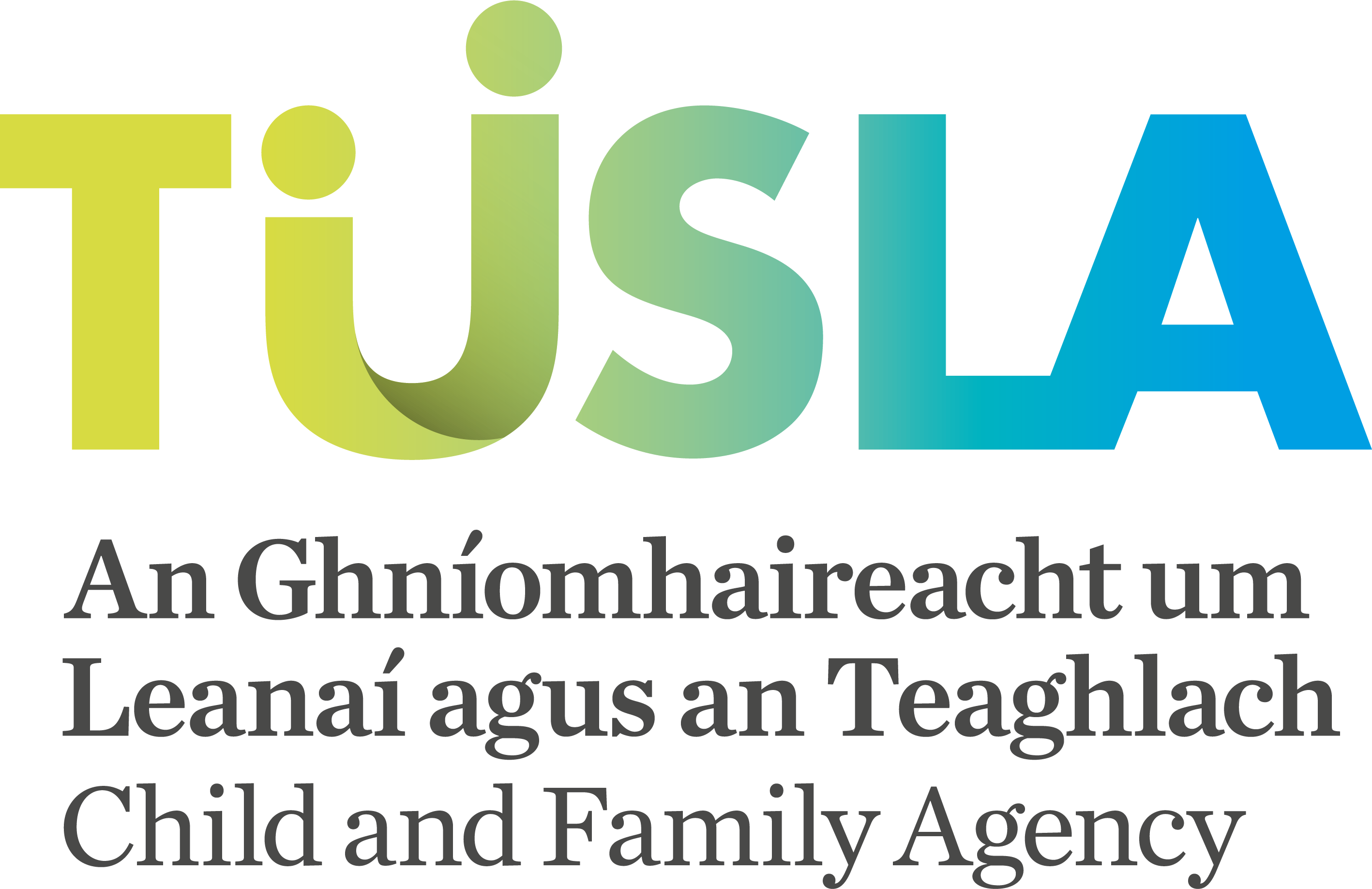 Change Champion Tusla Case Management (TCM) NCCIS2 - Principal Social Worker Temporary 6 Months Contract
Flexible – Post covers Nationwide

Salary: See Description for Details
Other
Temporary/Contract/Project

Closing Date: 15/08/2022

Closing Time: 12:00

Recruitment start: 28/07/2022
Job Summary
The Child and Family Agency was established on 1st January 2014 and is responsible for a range of statutory functions including provision of child protection, alternative care, specified regulatory services and a range of family support services. The Agency has commenced a major improvement programme with significant focus on Practice, Culture and Structure.
The Agency currently has responsibility for a budget in excess of €800m and delivers its services through circa 5,000 people in 350 locations across the Country.
The Child and Family Agency has responsibility for the following range of services:
Child Protection and Welfare

Family Support

Alternative Care

Adoption

Tusla Education Support Services (TESS)

Domestic Sexual and General Based Violence (DSGBV)

Children's Service Regulation

Counselling and Therapeutic Supports
Further information is available on www.tusla.ie
The post holder will support and manage activities related to moving over 2000 Child and Family agency workers from NCCIS to Tusla Case Management (TCM) National Child Care Information System (NCCIS2)
Job Objectives
Main Duties and Responsibilities
Stage I
Communication
Issue relevant content (see 'Content Creation' below) regularly e.g., weekly, fortnightly, via hub, email, newscast etc. to the user base.

Ensure TCM-NCCIS2 a 'standing item' at management meetings and present regular updates or provide local managers with content see below

Act as TCM User subject matter expert, dealing with day-to-day user queries

Provide user view to project team/sponsor
Content Creation
Create (write) 'user-centric' content centred primarily around Social Work and system benefits

Create (write) content 'project updates/progress for use at management team meetings
Stage 2
User Roadshow & Briefing Sessions
Plan and execute with the ULO's to lead in their area a roadshow to each Area to prepare staff for anticipated changes in their work roles, drive awareness, create a 'buzz'
Site Visits (smaller focussed user groups)
Hold other on-site interactive sessions by way of demonstration of the system, based on familiar Social Work Scenarios (especially with specialist teams).

Prime users for training including demonstrating digital content

Facilitate Interactive discussions (

allow users to discuss their views and concerns about the new system and

Q&A)
Support DAT
Identify participants for DAT and manage training/familiarisation with DA Testers and ICT

Provide support during DAT (dealing with user issues, collating test results etc.

Provide input to the Data Acceptance Test Report
Training
Validate training material (accessible, relevant, easy to understand, easy to use etc.)

Communication with users regarding digital and face-to-face training

Support logistics/attendance tasks for face-to-face training session
Support UAT
Participate in 'Pre-UAT'

Identify participants and manage training/familiarisation day with UA Testers and ICT

Provide support during UAT (dealing with user issues, collate test results etc.)

Provide input to the Test Report
Stage 3
Post – Go Live support
Hand-holding onboarding support

Super User/incident resolution

Issue management (collation, analysis, prioritisation, etc.)
Professional/Clinical
The Change Champion TCM will:
Have awareness of children and young people's participatory practice

Be responsible for the overall management and performance of social work activity within the designated area in keeping with good professional practice and subject to agreed policy directives and priorities.

Provide clinical and professional leadership in the delivery of a high quality social work service.

As required, take direct responsibility for a defined caseload.

Provide an initial assessment service to all care groups and to develop referral procedures with other social work networked services.

Ensure the promotion of the social model of care.

Develop good working relationships with other Heads of Service, professionals, specialist services, community and voluntary organisations to provide integrated quality care to service users.

Develop and promote integrated models of service delivery between relevant stakeholders.
Ensure the implementation of current and evolving legislation, policies and procedures, guidelines and protocols.

Ensure anti-discriminatory practice and cultural competence, at individual and service levels.

Seek the development of fair and equitable social policy and where inequalities are identified lobby for change.

Contribute to the overall development of the social work service so as to meet current and emerging trends and unmet needs.

Help and advise the Managers in the planning and provision of social work services.

Facilitate clear channels of communication to relevant management structures in relation to social work service issues.

Be responsible for the delivery of the social work service within the budget allocation.

Provide professional leadership at meetings, committees and/or other fora as required.

Chair and participate in case conferences with the appropriate staff when the need arises.

Ensure that the Social Work service values diversity and respect in the workplace.

Ensure the provision of appropriate clinical supervision to staff.

Avail of appropriate clinical supervision to ensure own ongoing competency to supervise other staff.
Management
The Change Champion TCM will:
Report and advise on social work staffing needs.

Oversee the implementation of appropriate induction and probationary systems.

Oversee the implementation of an appropriate performance management system for the delivery of a high-quality social work service.

Keep updated on current and impending legislation and the perceived impact on practice.

Keep abreast of developments in national policies and strategies and international best practice.

Keep up to date with national and organisational developments within the

Child and Family Agency – Tusla.
Ensure service delivery corresponds to best national and international practice.

Ensure Social Work service complies with relevant HR and other policies, procedures and guidelines.

Contribute to the development of policies, procedures and guidelines in relation to the social work service, engaging staff as appropriate.

Participate in and contribute to service planning and development.

Formulate and review the social work service plan and contribute to the overall

Tusla

plan in consultation with other Heads of Service.

Provide service delivery reports as required e.g. service plan, annual report.

Ensure that there are appropriate systems in place to gather relevant information.

Ensure compliance with a high standard of documentation, including service user files in accordance with local guidelines and the Freedom of Information (FOI) Act.

Oversee service user and data confidentiality.

Negotiation of and monitoring of Service level agreements with community based funded partners on behalf of Tusla.

Collaborate with the Area Manager, Children, Youth and Families or equivalent in developing the role of the Change Champion TCM and the team e.g. through planning, audit, production of standards, continuing education, quality improvement initiatives and research.

Ensure that the social work service makes the most efficient and effective use of developments in IT.
Education & Training
The Change Champion TCM will:
Maintain standards of practice and levels of professional knowledge by participating in continuous professional development initiatives and attendance at courses as appropriate.

Engage in career and professional development planning.

Oversee the provision of a framework for the promotion of staff development and training by making recommendations with regard to the ongoing education, mentoring, training and in-service needs of social workers.

Act as a resource by participating in the education and training of Social Work colleagues and other health professionals as required.

Build and communicate an understanding of the role and contribution of social work within Tusla services.
Health & Safety
Comply with and contribute to the development of policies, procedures, guidelines and safe professional practice and adhere to relevant legislation, regulations and standards.
Have a working knowledge of the Health Information and Quality Authority (HIQA) Standards as they apply to the service for example National Standards for Child Protection and Care and comply with associated Tusla – Child and Family Agency protocols for implementing and maintaining these standards as appropriate to the role.

To support, promote and actively participate in sustainable energy, water and waste initiatives to create a more sustainable, low carbon and efficient health service.
The above Job Description is not intended to be a comprehensive list of all duties involved and consequently, the post holder may be required to perform other duties as appropriate to the post which may be assigned to him/her from time to time and to contribute to the development of the post while in office
Skills Required
Applicants must by the closing date of application have the following:
Must be registered in the Social Workers Register maintained by the Social Workers Registration Board at CORU.
And
Maintain live annual registration on the Social Workers Register maintained by the Social Workers Registration Board at CORU.
And
Have 5 years' relevant post – qualification experience.
And
Must have the requisite knowledge and ability (including a high standard of suitability, professional and managerial ability) for the proper discharge of the duties of the office.
Health
A candidate for and any person holding the office must be fully competent and capable of undertaking the duties attached to the office and be in a state of health such as would indicate a reasonable prospect of ability to render regular and efficient service.
Character
Each candidate for and any person holding the office must be of good character.
| | |
| --- | --- |
| Already Registered? Log in here | Join our Talent Pool + submit your application |