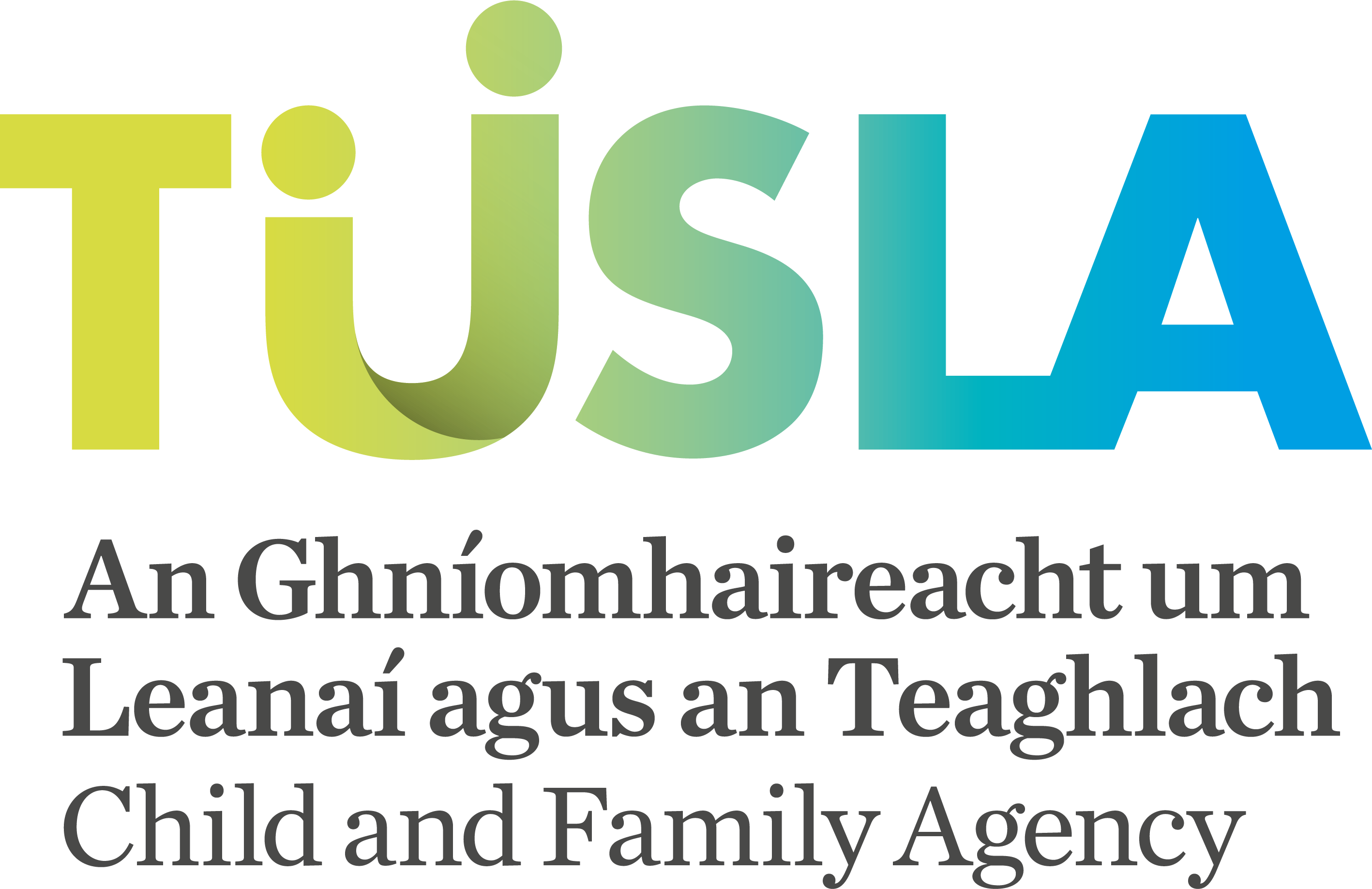 Quality Assurance Officer, Practice Assurance and Service Monitoring (PASM) Team, Quality and Regulation Directorate
The service is a national service assigned to two regional teams, South and West, encompassing Tusla South and West Regions, and East, encompassing Tusla Dublin North-East and Dublin Mid-Leinster Regions. There are two immediate vacancies; one required to cover Cork/Kerry and one to cover the Carlow/Kilkenny/Waterford/Wexford regions. Location of posts are flexible, to be agreed upon appointment and agreement with Line Manager based on office availability, however, office location will be in the assigned region for the post.

Salary: See Description for Details
Other
Permanent

Closing Date: 22/08/2022

Closing Time: 12:00

Recruitment start: 04/08/2022
Job Summary
The Child and Family Agency was established on 1st January 2014 and is responsible for a range of statutory functions including provision of child protection, alternative care, specified regulatory services and a range of family support services. The Agency has commenced a major improvement programme with significant focus on Practice, Culture and Structure.
The Agency currently has responsibility for a budget in excess of €800m and delivers its services through circa 5,000 people in 350 locations across the Country.
The Child and Family Agency has responsibility for the following range of services:
Child Protection and Welfare

Family Support

Alternative Care

Adoption

Tusla Education Support Services (TESS)

Domestic Sexual and General Based Violence (DSGBV)

Children's Service Regulation

Counselling and Therapeutic Supports
Further information is available on www.tusla.ie
About Tusla's Quality and Regulation Directorate
Tusla's Quality and Regulation Directorate is concerned with promoting continuous improvement and effective risk management in services for children and families. Children's Services Regulation and Practice Assurance and Performance Systems are sub-directorates of the Quality and Regulation Directorate and comprise the following teams:
Early Years' Inspectorate: The Early Years' Inspectorate is the independent statutory regulator of Early Years' Services and is responsible for registering and inspecting pre-schools, playgroups, crèches, day care and similar services. Its role is to promote the quality, safety and appropriate care of children by robust regulation of the sector.
Alternative Education Assessment: Children who are educated at home or who attend a non-recognised school (i.e. a school that is not funded by the Department of Educational and Skills) must be registered with Tusla by their parents/guardians. The registration process requires that an assessment or assessments be carried out to determine whether the child is receiving a certain minimum education and therefore can be placed on the statutory register of children educated outside of a recognised school. Children who are educated in an independent school setting can also be placed on the register where it is determined that the school is providing a minimum education to the pupils who are enrolled there.
Alternative Care Regulation: The team monitors and reports on alternative care settings for children who cannot live with their families The service is responsible currently for the registration and inspection of non-statutory residential care settings for young people, as well as the monitoring and audit of non-statutory foster care providers.
School Age Care Regulation: The Child & Family Agency is the independent statutory regulator of School Age Care Services and is responsible for child and youth school age care & similar services. Its role is to promote the quality, safety and appropriate care of children by robust regulation of the sector.
Child Safeguarding Statement Compliance: The agency promotes proactive compliance with the requirement for all relevant children's services to have a child safeguarding statement in place and maintains a register of services who do not following the application of enforcement protocols.
Practice Assurance and Service Monitoring (PASM): The team are responsible for conducting quality audits and reviews of Tulsa services independently of Tusla Operations. The team has a key role in supporting and enabling service improvement within Tusla.
The Practice Assurance and Service Monitoring Team is responsible for the Quality assurance and monitoring of national Tusla services, statutory children's residential services, special care and Tusla child protection and alternative care social work services in accordance with the national childcare standards and regulations.
The purpose of the post is to:
To fulfil the audit, monitoring and quality assurance obligations of the Child and Family Agency in accordance with the Agency's annual audit plan and national audit charter, the annual business plan and corporate plan.
To undertake audits and reviews of services as requested by the Head of Practice Assurance and Performance Systems and/or the Director of Quality and Regulation
To strengthen the quality assurance function of children's residential, child protection and fostering services in the statutory sector and to provide assurance to the Tusla Board and SMT that services are safe, child centred and well led.
To promote best practice in the provision of child protection services and to children in foster care.

To promote, support and enable services to implement a consistent approach to self-evaluation and annual service improvement planning
To provide internal assurance and independent verification within Tusla in relation to compliance with Regulations and National Standards and quality assurance and service improvement activity
Job Objectives
Main Duties and Responsibilities
PASM Team
Using an intelligence led and risk based approach, carry out an annual schedule of audits and reviews of services in accordance with Tusla's annual audit plan.

As a member of a national team, and through the line management structure, to provide expert evidence, analysis and advice to service managers and the Head of Practice Assurance and Performance Systems, in relation to adherence to standards and actions required to improve the quality of services.

To support the development and implementation of the Agency's Quality Improvement Framework, supporting and enabling Service Improvement including advice in relation to annual audit planning, and verification of the self-assessment carried out by services in accordance with the framework.

To provide support and assistance to other members of the quality assurance and monitoring service in the performance of quality reviews and audits of services in accordance with the annual business plan, priorities of the Director of Quality Assurance and the Agency's senior management team.

To undertake audits relating to the verification of progress in relation to service improvement and HIQA action plans, particularly where significant risks have been identified and rapid improvement is required.

Conduct case reviews identifying areas of improvement, good practice and learning

The post holder will be required to produce reports for the relevant services following a monitoring audit or review and request a quality improvement plan (QIP) in response to the findings. At agreed intervals, the QA Officer is expected to satisfy themselves that the QIP is being implemented and bring any issues of concern to the service manager responsible.

Contribute to the production of national reports and provide additional expert analysis as requested. To include the following:

Quarterly Audit report and analysis findings

Annual report

National audits and reviews of services

National information requests

Summary and analysis of HIQA inspection reports relating to their assigned area of responsibility

The post holder is a Designated Officer under the provisions of the Protection for Persons Reporting Child Abuse Act, 1998
Other duties and responsibilities include:
To contribute to ongoing service improvement and the monitoring of risk through involvement in the following:

To identify particular areas of risk and vulnerability in the quality of service provision, as highlighted though the ongoing review of available intelligence and information, monitoring compliance with national standards, internal service reviews, HIQA inspection reports, National Review Panel and Ombudsman reports

.

To ensure identified risks are escalated in accordance with the Quality Assurance Directorate's Risk Escalation Policy

.

To contribute to the identification of issues relating to the implementation of policy, further to the outcome of national reviews as requested by the Director of QA

.

To support the provision of information requests, data collection and performance management requirements.

To prepare reports, as requested, on all aspects of work relevant to Quality Assurance.

To contribute and participate in national working groups and contribute to best practice in the development of national approaches to audit and review methodologies as requested.

To participate in the process of annual audit planning and design of audit plans as a member of the national practice assurance and service monitoring team.

Attendance at national team meetings

Other relevant duties as assigned from time to time by the Quality Assurance and Monitoring Manager
Education and Training:
To maintain continuous personal development and participate in team-based development, education, training and learning.

To complete all mandatory training.

Where appropriate, arrange for the induction and training for assigned staff, as required, to maximise skill resources within the service.

Where appropriate,

provide supervision and assist in the development of knowledge and skills of relevant staff with whom you work.

To participate in performance evaluation / review, identifying areas for improvement and appropriate plans / measures to achieve them.

As a member of the national team, contribute to ensuring policies and procedures exist for the performance of the team's functions.
Health & Safety:
Comply with and contribute to the development of policies, procedures, guidelines and safe professional practice and adhere to relevant legislation, regulations and standards.

Have a working knowledge of the Health Information and Quality Authority (HIQA) Standards as they apply to the service for example National Standards for Child Protection and Care and comply with associated Tusla – Child and Family Agency protocols for implementing and maintaining these standards as appropriate to the role.

To support, promote and actively participate in sustainable energy, water and waste initiatives to create a more sustainable, low carbon and efficient health service.
The above Job Description is not intended to be a comprehensive list of all duties involved and consequently, the post holder may be required to perform other duties as appropriate to the post which may be assigned to him/her from time to time and to contribute to the development of the post while in office.
Please refer to the Candidate Information pack attached to this campaign for full and further detail.
Skills Required
Applicants must by the closing date of application have the following:
Level 8 qualifications in Social Work, Social Care, Psychology, Teaching, Nursing

A minimum five years' relevant experience in child care services.

Experience in working with children in a residential, foster care or other relevant alternative care children's or social care services.

Experience of management of staff in a relevant child care context.

Experience in regulation and or quality assurance systems.

Possess sufficient administrative capacity to discharge the functions of the grade/post.

Each candidate must possess the requisite knowledge and ability (including a high standard of suitability) for the proper discharge of the duties of the office
Health
A candidate for and any person holding the office must be fully competent and capable of undertaking the duties attached to the office and be in a state of health such as would indicate a reasonable prospect of ability to render regular and efficient service.
Character
Each candidate for and any person holding the office must be of good character
| | |
| --- | --- |
| Already Registered? Log in here | Join our Talent Pool + submit your application |