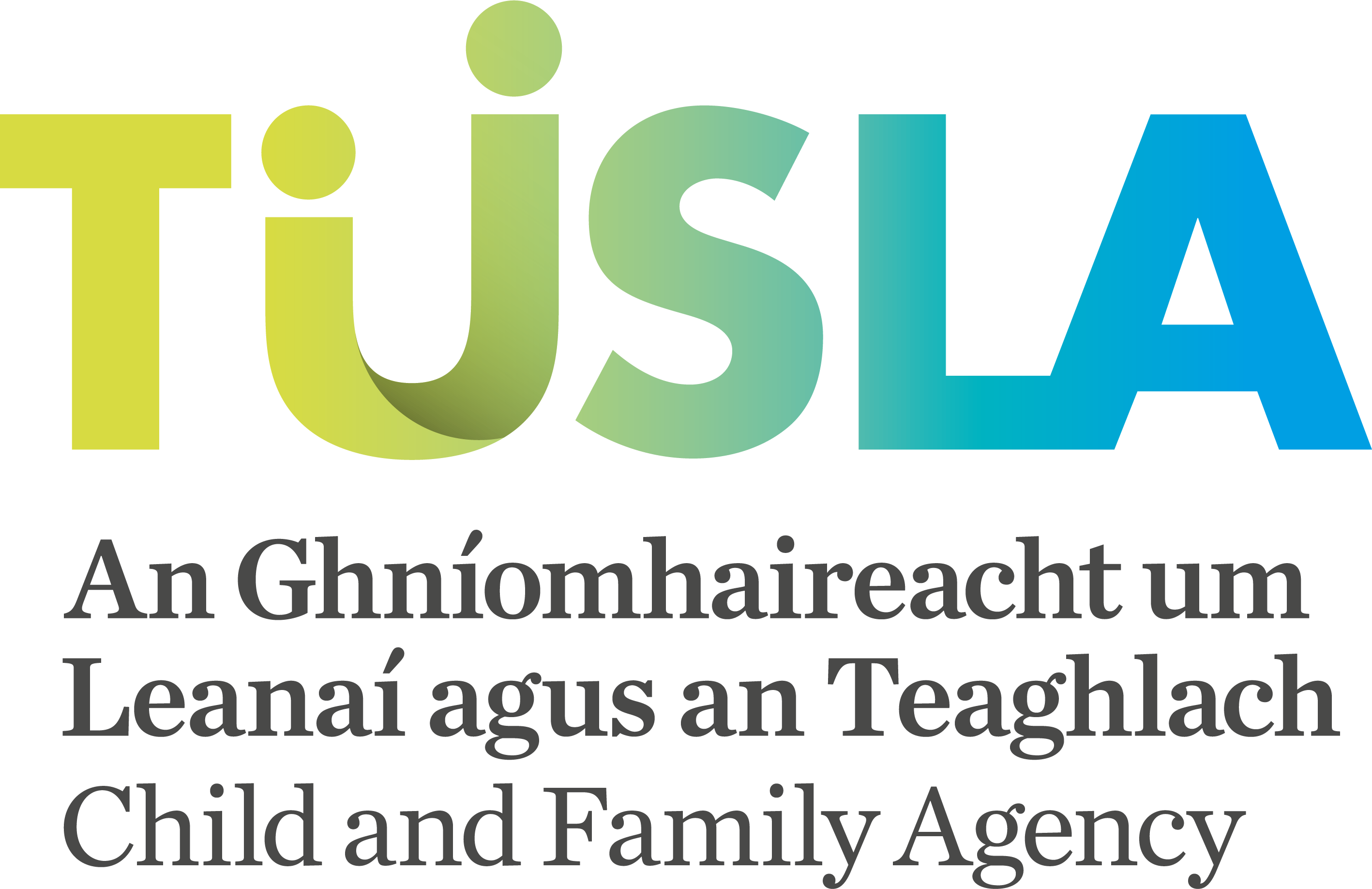 Senior Speech and Language Therapist
South East – Clonmel, Co Tipperary

Salary: See Description for Details
Other
Permanent

Closing Date: 07/02/2023

Closing Time: 12:00

Recruitment start: 12/01/2023
Job Summary
The Child and Family Agency was established on 1st January 2014 and is responsible for a range of statutory functions including provision of child protection, alternative care, specified regulatory services and a range of family support services. The Agency has commenced a major improvement programme with significant focus on Practice, Culture and Structure.
The Agency currently has responsibility for a budget in excess of €800m and delivers its services through circa 5,000 people in 350 locations across the Country.
The Child and Family Agency has responsibility for the following range of services:
Child Protection and Welfare

Family Support

Alternative Care

Adoption

Tusla Education Support Services (TESS)

Domestic Sexual and Gender Based Violence (DSGBV)

Children's Service Regulation

Counselling and Therapeutic Supports
Further information is available on www.tusla.ie
To work as part of a multi-disciplinary team in co-ordinating and developing the service to meet the needs of the service user group and the objectives of the organisation.
To provide a Speech and Language Therapy service to children & young people who are in care as part of the multi-disciplinary team structure.
To be responsible for the provision of a high-quality Speech & Language Therapy services and carry out clinical duties as required both within your own assigned area and in any other area as directed by the Regional Therapy Manager.
Job Objectives
Main Duties and Responsibilities
Professional / Clinical
Work as part of a multi-disciplinary therapeutic team to be responsible for the maintenance of standards of practice of self

and of staff

appointed as the project grows

Be an active member of the multi-disciplinary team, foster and maintain professional working relationships with other team members e.g., child's social worker, to ensure that the needs of the child/young person are met

Be responsible for managing own caseload and for assessment, planning, implementation and evaluation of therapy programmes for service users according to service standards

Ensure the quality of documentation of all assessments, treatment plans, progress notes, reports and discharge summaries are in accordance with local service, professional and legislative standards

Communicate verbally and / or in writing results of assessments, treatment / intervention programmes and recommendations to the team and other relevant professionals e.g., child/young person's social worker, carer, other team members

Attend team meetings, review meetings, case conferences, etc. as designated by the Regional Therapy Manager

Collaborate with service users, family, carers, schools and other staff in goal setting and treatment / intervention planning

Ensure anti-discriminatory practice and cultural competence at individual and service level

Participate in research, and where appropriate, initiate and/or participate in MDT research programmes

Develop good working relationships with residential care teams, foster carers and appropriate HSE services such as CAMHS, Primary Care and Disability

Provide clinical leadership in the day-to-day running of the service by supporting and supervising staff within their own discipline, prioritising and allocating work and promoting positive staff moral

Be responsible for adhering to existing standards and protocols and for supporting

the development and maintenance of standards / strategies for quality improvement and outcome measurement

Seek advice and assistance with any assigned duties in line with principles of evidence-based practice and clinical governance

Ensure that professional standards are maintained in relation to confidentiality / data protection, ethics and legislation

Operate within the scope of Speech & Language practice as per CORU requirements and in accordance with local guidelines

Make it possible for children and young people along with their families to advocate for their own needs or where appropriate advocate on their behalf.

Attendance at court where absolutely necessary for care planning for the child
Education and Training
Participate in mandatory & recommended training programmes within TUSLA

Participate in continuing professional development including in-service training, attending and presenting at conferences / courses relevant to practice, contributing to research etc. as agreed by the Regional Therapy Manager

Engage in professional clinical Speech & Language Therapy supervision with a Speech & Language Therapy Manager/Clinical Specialist or designated person

Engage in peer support & reflective practice with Senior Speech & Language Therapist colleagues

Participate with colleagues and non-Speech & Language Therapy staff / students and attend practice educator courses as appropriate

Provide placements for students with adequate supervision

Ensure newly qualified therapists have adequate induction and clinical supervision and assist in implementing annual staff development and performance review

Manage and provide supervised training placements appropriate to the client group to those in professional Speech and Language Therapy Training

Act as a resource by participating in the education and training of MDT colleagues and other allied professionals as required

Build and communicate an understanding of the role and contribution of TUSLA Therapy services
Administrative
Be responsible for the co-ordination and delivery of service in designated area(s)

Promote good working practice and uniformity of standards of best practice

Promote quality by reviewing and evaluating the Speech & Language Therapy service regularly, identifying changing needs and opportunities to improve services, in collaboration with the Regional Therapy Manager and Clinical Supervisor

Develop and implement service / business plans, quality initiatives, audits etc. and report on outcomes in collaboration with the Regional Therapy Manager

Collect and evaluate data about the service user group and demonstrate the achievement of the objectives of the service

Oversee the upkeep of accurate records in line with best clinical governance, organisational requirements and the Freedom of Information Act, GDPR, and render reports and other information / statistics as required

Promote good team working, and a culture that values diversity

Engage in IT developments as they apply to service user and service administration

Keep up to date with developments within the organisation and the Irish Health Service
KPI's
The identification and development of Key Performance Indicators (KPI's) which are congruent with TUSLA's Service & Business plan targets

In conjunction with the Regional Service Manager assist in the development of a Performance Management system for your profession

The management and delivery of KPI's as a routine and core business objective
Health & Safety
Comply with and contribute to the development of policies, procedures, guidelines and safe professional practice and adhere to relevant legislation, regulations and standards.

Have a working knowledge of the Health Information and Quality Authority (HIQA) Standards as they apply to the service for example National Standards for Child Protection and Care and comply with associated Tusla – Child and Family Agency protocols for implementing and maintaining these standards as appropriate to the role.

To support, promote and actively participate in sustainable energy, water and waste initiatives to create a more sustainable, low carbon and efficient health service.
The above Job Description is not intended to be a comprehensive list of all duties involved and consequently, the post holder may be required to perform other duties as appropriate to the post which may be assigned to him/her from time to time and to contribute to the development of the post while in office.
Skills Required
Applicants must by the closing date of application have the following:
Be registered or be eligible for the registration, on the Speech & Language Therapists Register maintained by the Speech & Language Therapist Registration Board at CORU
And
Have three years full time post qualification clinical experience with a minimum of one year working with children & young people
And
Have the requisite knowledge and ability (including a high standard of suitability and professional ability) for the proper discharge of the duties of the office
And
Provide proof of Statutory Registration on the Speech & Language Therapists Register maintained by the Speech & Language Therapist Registration Board at CORU before a contract of employment can be issued.
Annual registration
On appointment practitioners must maintain annual registration on the Speech & Language Therapists Register maintained by the Speech & Language Therapists Registration at CORU
And
Practitioner must confirm annual registration with CORU to TUSLA by way of the annual Patients Safety Assurance Certificate (PSAC)
Health
A candidate for and any person holding the office must be fully competent and capable of undertaking the duties attached to the office and be in a state of health such as would indicate a reasonable prospect of ability to render regular and efficient service.
Character
Each candidate for and any person holding the office must be of good character.
| | |
| --- | --- |
| Already Registered? Log in here | Join our Talent Pool + submit your application |