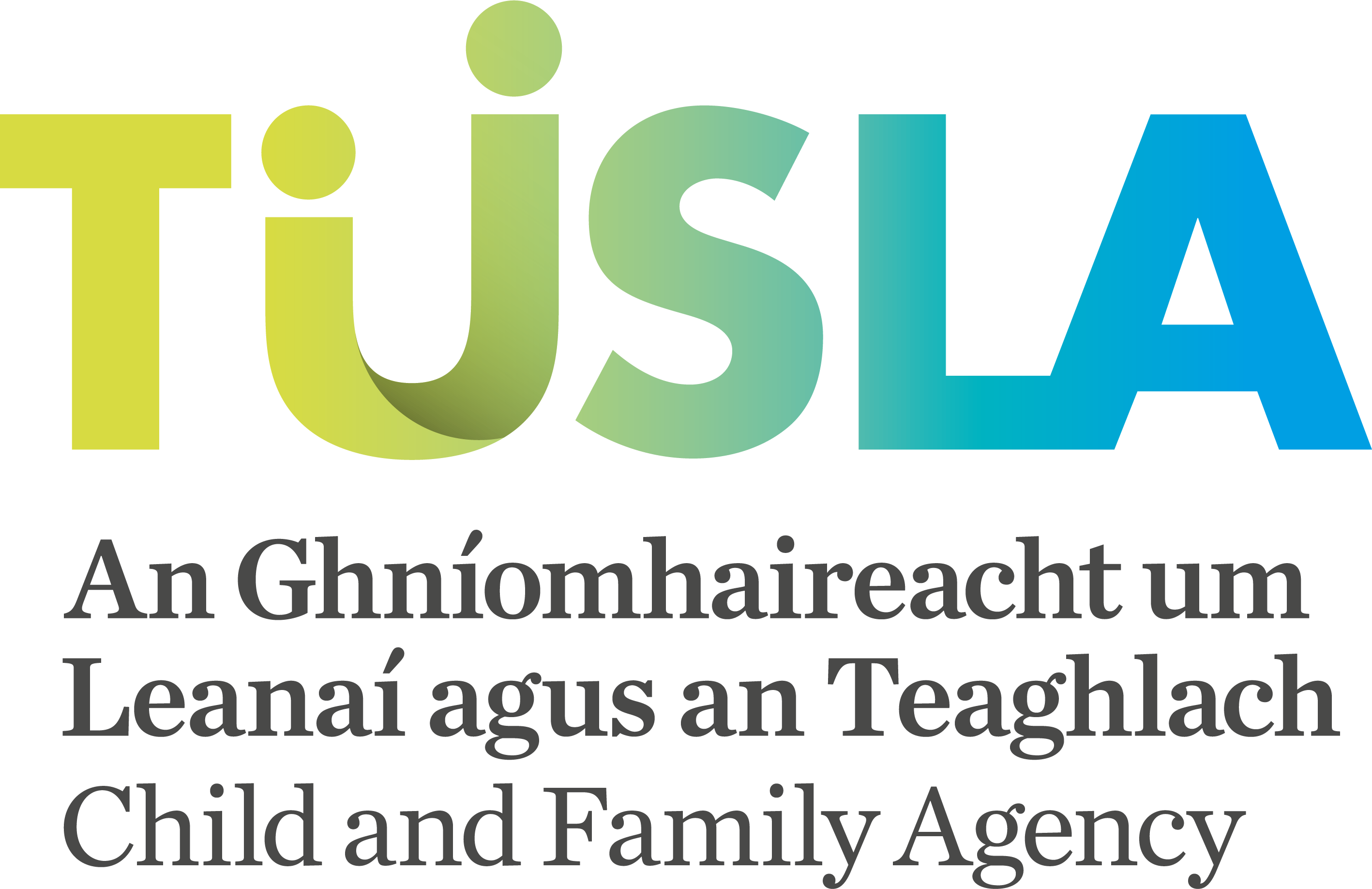 Family Support Practitioner - Cavan Monaghan
Hampton Court, Drumalee, Cavan

Salary: See Description for Details
Other
Permanent

Closing Date: 20/03/2023

Closing Time: 12:00

Recruitment start: 02/03/2023
Job Summary
The Child and Family Agency was established on 1st January 2014 and is responsible for a range of statutory functions including provision of child protection, alternative care, specified regulatory services and a range of family support services. The Agency has commenced a major improvement programme with significant focus on Practice, Culture and Structure.
The Agency currently has responsibility for a budget in excess of €800m and delivers its services through circa 5,000 people in 350 locations across the Country.
The Child and Family Agency has responsibility for the following range of services:
Child Protection and Welfare

Family Support

Alternative Care

Adoption

Tusla Education Support Services (TESS)

Domestic Sexual and General Based Violence (DSGBV)

Children's Service Regulation

Counselling and Therapeutic Supports
Further information is available on www.tusla.ie
Prevention, Partnership and Family Support (PPFS) is a dedicated pillar of service provided by the Child & Family Agency. PPFS is currently developing Child and Family Support Networks as part of its structures to support the implementation of more effective family support service provision and to support the implementation of Meitheal, the Early Intervention National Practice Model for all agencies working with children, young people and their families. It is planned to further implement the Meitheal National Practice Model for early identification of need and practical help-provision to children and families and to consolidate and build stronger working partnerships between TUSLA and other allied professions and agencies to support children, young people and families.
The Family Support Practitioner will work as part of the designated team/service in delivering a quality and effective service. This service will be provided through offering a home-based support to parents and children in the assigned area. The role is specifically family focussed, with the welfare of the child being paramount.
Job Objectives
Main Duties and Responsibilities
The Family Support Practitioner will perform their duties in line with Tusla's professional standards. The Family Support Practitioner will:
Assist in enabling parents/guardians/carers/families to sustain the safe care of their children in the home setting.

Work with a caseload/workload assigned by their line manager. This may involve working closely with a number of families with varying support needs.

The level of work required will take into account the varying complexity of families & travel requirements.

Change and adapt to new programmes and models of service in line with evidence based research & required training.

Deliver agreed intervention programmes as required.

Work in a flexible manner with the family in meeting their changing needs through the use of consultation, plans, reviews and feedback.

Work in partnership with families to increase their skills in such areas as childcare, budgeting, home management, nutrition and health care, through individual or group work.

Aim to enhance positive parenting skills.

Liaise with the person on health/emotional/parenting issues and child abuse and report concerns as appropriate

Assist in linking families with local/appropriate services and agencies. Encourage their attendance at these services.

Work within current legislation, relevant policies and procedures, guidelines and protocols within the designated team/service and the child and family agency-Tusla.

Adhere to the supervision policy.

Contribute to an area-based analysis of unmet need.

Share knowledge with other team members to maintain standards.

Actively participate as a member of the designated team/service.

Attend meetings as appropriate to their allocated work e.g. Meitheal meetings, Family Support planning meetings, Child Protection conferences, strategy meetings, children in care reviews.

Seek the advice of relevant personnel when appropriate/as required.

Promote a culture that values diversity and respect in the workplace.

Participate as Lead practitioners and support workers in the Meitheal process.

Be active members of the local Child & Family Support Networks & the Team Around the Child.

Attend at and furnish written reports to the Courts as required.

In exceptional circumstances, support and/or assist with access visits between children and their parents/families, where the Family Support Worker's work is a key component of the Family Support intervention plan for the child & natural parents. Current practice of individuals to prevail on this issue.
Administrative
The Family Support Practitioner will:
Maintain accurate up to date records and files in accordance with national guidelines, procedures and Children First (2017)

Maintain service user confidentiality

Contribute to ongoing evaluation of the service.

Collaborate with line manager in developing the role of the Family Support Practitioner and the team.
Education & Training
The Family Support Practitioner will:
Engage in personal development planning in collaboration with the line manager.

Engage in in-service training and other relevant training opportunities (including attendance at mandatory programmes).

Review and change work practices in line with training and service developments such as the National Service Delivery Framework.

Engage in I.T. training relevant to their work
Health & Safety
Comply with and contribute to the development of policies, procedures, guidelines and safe professional practice and adhere to relevant legislation, regulations and standards.
Have a working knowledge of the Health Information and Quality Authority (HIQA) Standards as they apply to the service for example National Standards for Child Protection and Care and comply with associated Tusla – Child and Family Agency protocols for implementing and maintaining these standards as appropriate to the role.

To support, promote and actively participate in sustainable energy, water and waste initiatives to create a more sustainable, low carbon and efficient health service.
The above Job Description is not intended to be a comprehensive list of all duties involved and consequently, the post holder may be required to perform other duties as appropriate to the post which may be assigned to him/her from time to time and to contribute to the development of the post while in office.
Skills Required
Applicants must by the closing date of application have the following:
Quality and Qualifications Ireland (QQI) Level 6 (or higher) major academic award in the areas of health promotion, social care, childcare, education, family support, education etc.
or
An equivalent nationally recognised qualification in the areas of health promotion, social care, childcare, education, family support, education etc.
and
the requisite knowledge and ability (including a high standard of suitability and ability) for the proper discharge of the duties of office.
Health
A candidate for and any person holding the office must be fully competent and capable of undertaking the duties attached to the office and be in a state of health such as would indicate a reasonable prospect of ability to render regular and efficient service.
Character
Each candidate for and any person holding the office must be of good character.
| | |
| --- | --- |
| Already Registered? Log in here | Join our Talent Pool + submit your application |