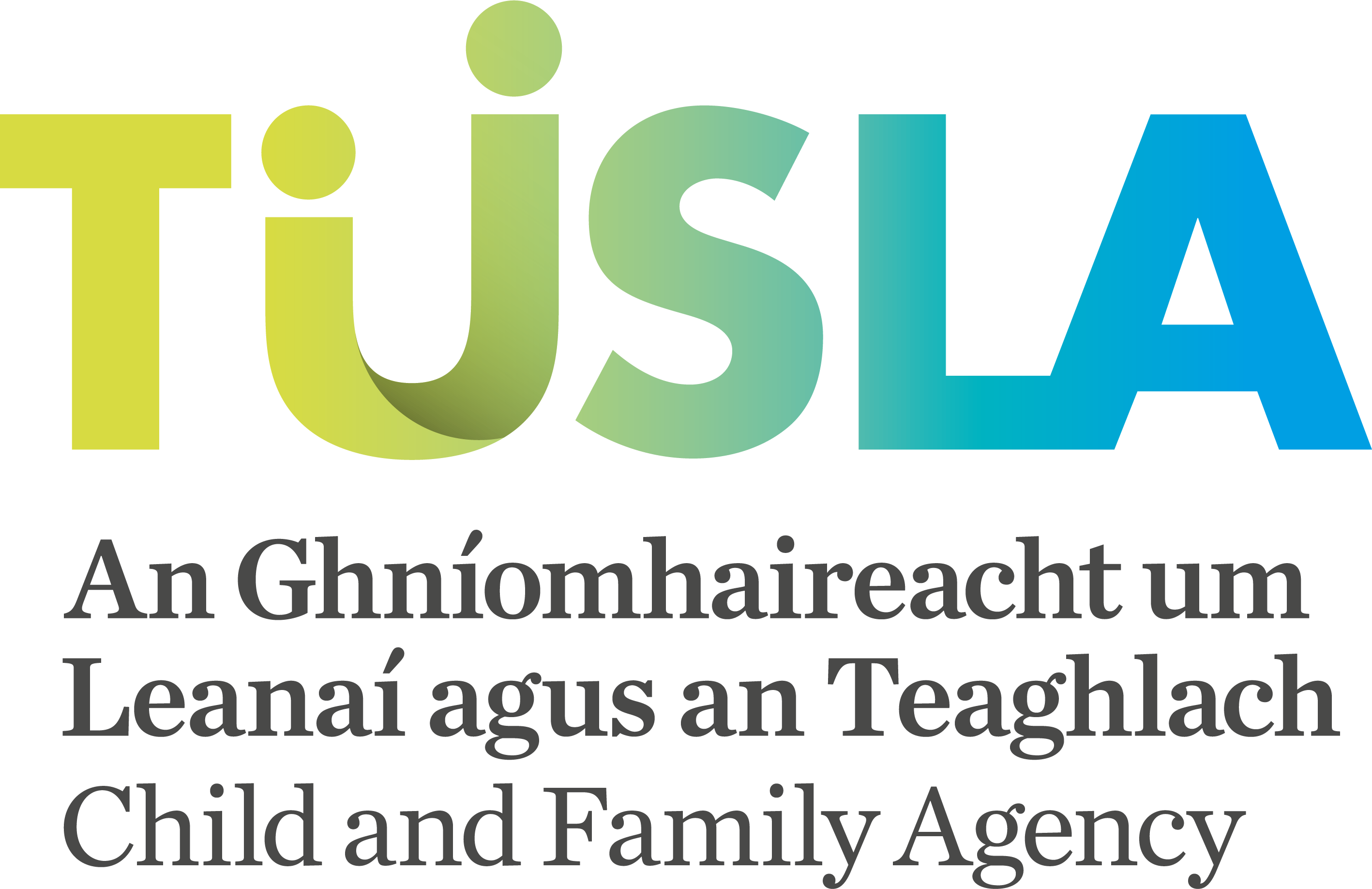 Senior Clinical Psychologist
Sligo Leitrim West Cavan area

Salary: See Description for Details
Other
Permanent

Closing Date: 27/03/2023

Closing Time: 12:00

Recruitment start: 09/03/2023
Job Summary
The Child and Family Agency was established on 1st January 2014 and is responsible for improving wellbeing and outcomes for children. It represents the most comprehensive reform of services for the development, welfare and protection of children and the support of families ever undertaken in Ireland. It is an ambitious move which brings together some 4,000 staff who were previously employed within Children and Family Services of the Health Service Executive, the National Educational Welfare Board and the Family Support Agency.
The Child and Family Agency has responsibility for the following range of services:
Child Welfare and Protection Services, including family support services

Family Resource Centres and associated national programmes

Early years (pre-school) Inspection Services

Educational Welfare responsibilities including School completion programmes and Home School Liaison

Domestic, sexual and gender based violence services

Services related to the psychological welfare of children
Further information is available on www.tusla.ie
Deliver, develop and manage the delivery of a psychology service as part of a multi-disciplinary team in line with Tusla policies and within established professional standards, guidelines and policy.
Job Objectives
Professional / Clinical
The Senior Grade Psychologist will:
Build on the psychology service developed in Airne Villa over the past twenty years

Develop the psychology service in line with best practice as set out in the Barnahus model

Be responsible for the delivery of professional psychology assessment, intervention and consultation appropriate to the post in line with best practice

Carry a clinical caseload appropriate to the post

Provide psychological assessments for the client group based upon the appropriate use, interpretation and integration of data from a variety of sources including psychological tests, self-report measures, direct and indirect observation and interviews with clients, family members and/or carers and the wider professional system.

Formulate and implement plans for psychological therapeutic intervention or management in consultation with the MDT team based on an appropriate conceptual framework, working in home and clinical settings as appropriate

Provide clinical supervision to other Psychology/Psychotherapy staff members

Exercise professional responsibility for the assessment, treatment, monitoring, follow-up and discharge of clients whose problems are managed using psychologically based care plans

Contribute a psychological perspective to case planning and multi-agency case working and review and call multi-professional meetings when appropriate

Provide professional reports as required in accordance with professional standards

Communicate effectively and work in co-operation with team members and others

to ensure integrated service provision

Develop and maintain close liaison with key stakeholders

Ensure co-ordinated interdisciplinary and inter-agency service delivery

Participate in meetings, committees and/or conferences as required

Work within limits of professional competence in line with principles of best practice, professional conduct and clinical governance

Represent and advocate for the psychological needs of service users

Work in and promote an ethical and professional manner at all times

Be aware of and refer the service user to other services as necessary

Initiate and participate in needs assessment and health promotion as appropriate

Deputise for the Principal Psychologist as appropriate / required

Promote a culture that values equality, diversity and respect in the workplace

Operate to the highest ethical standards
Research & Evaluation
The Senior Grade Psychologist will:
Utilise evidence-based literature and research to support effective practice

Undertake project management including audit and service evaluation with colleagues within the service to help develop service provision.

Participate in evaluation of all clinical activity within the post and provide such information as required by the Service Manager for the purpose of service monitoring and evaluation

Conduct, encourage and support service related research and provide research advice as appropriate

Publish research outcomes in professionally recognised journals and share information on outcomes at professional conferences where appropriate

Represent a professional view point in relation to nationally accepted good practice and to ensure a high level of ethical standards and professional conduct

Lead and contribute to developments and innovative practice
Education & Training
The Senior Grade Psychologist will:
Engage in specialised training appropriate to the post with a particular focus on crisis support intervention

Receive regular clinical professional supervision

Provide post-graduate teaching and training to professional postgraduates including Doctoral Psychology trainees

Provide support to the work of non-psychologists in delivery of psychological interventions as appropriate

Provide psychological training, advice and consultation to staff from Tusla and other agencies in areas relevant to direct clinical work and to psychology service provision

Provide professional and clinical supervision of trainee psychologists

Provide advice, consultation and training to staff working with the client group across a range of agencies and settings where appropriate

Attend mandatory training programmes

Be informed of advances in professional knowledge and practice

Be informed of and distribute developments in national policies, strategies and legislation and provide feedback on impact on practice

Take responsibility for continuous professional development and ensure compliance with statutory registration requirements

In collaboration with the Service Manager, attend training courses as informed by service requirements and career & personal development planning

Be responsible for the induction of new staff as appropriate
Management
The Senior Grade Psychologist will:
Provide line management supervision to assigned staff

Manage and co-ordinate service delivery in their area of responsibility

Assign duties and responsibilities as appropriate to ensure effective service delivery

Ensure the maintenance of appropriate service user records and statistics in accordance

with Tusla requirements and local guidelines, Freedom of Information Acts, Data Protection Acts and other relevant legislation

Act as a person mandated under Schedule 2 of the Children First Act 2015.

Provide service reports / data as required

Contribute to the development and implementation of information sharing protocols, audit systems, referral pathways and integrated care arrangements

Contribute to policy development, performance monitoring, business / service planning and budgetary control in conjunction with

Clinical Team Lead/Service Manager and relevant others

Keep abreast of developments in national policies and strategies and international best practice

Maintain an awareness of HR policies and procedures / e

ngage in recruitment processes and other HR functions as required

Assist in ensuring that the psychological service makes the most efficient and effective use of developments in IT

Maintain professional standards with regard to service user and data confidentiality

Keep up to date with organisational developments within Tusla

Have a strong working knowledge of current legislation, policies and procedures pertaining to working with children and their families.

Support, promote and actively participate in sustainable energy, water and waste initiatives to create a more sustainable, low carbon and efficient clinical service.
Health & Safety
The Senior Grade Psychologist will:
Comply with and contribute to the development of

policies, procedures and safe professional practice and adhere to relevant legislation, regulations and standards and ensure their staff compliance

Have a working knowledge of HIQA or Mental Health Commission Standards as they apply to the role for example, Standards for Healthcare, National Standards for the Prevention and Control of Healthcare Associated Infections, Hygiene Standards etc. It is the responsibility of line managers to ensure that the management of safety, health and welfare is successfully integrated into all activities undertaken within their area of responsibility, so far as is reasonably practicable.
The above Job Specification is not intended to be a comprehensive list of all duties involved and consequently, the post holder may be required to perform other duties as appropriate to the post which may be assigned to him/her from the Principal Psychologist/Service Lead from time to time and to contribute to the development of the post while in office.
Please refer to the Candidate Information pack attached to this campaign for full and further detail.
Skills Required
At the closing date applicants must have:
a) (i) a recognised University degree or diploma obtained with first or second class honours in which psychology was taken as a major subject and honours obtained in that subject.
And
(ii) a recognised postgraduate professional psychological qualification appropriate to the area of professional psychology in which the position is designated and recognised by the PSI
And
b) Have at least five years' satisfactory post graduate experience in the area of professional psychology in which the position is designated inclusive of any time spent in pursuing a course leading to the postgraduate qualification and including at least two years' satisfactory experience as a staff grade psychologist
And
c) Possess the requisite knowledge and ability (including a high standard of suitability and management ability) for the proper discharge of the duties of the office.
Health
A candidate for and any person holding the office must be fully competent and capable of undertaking the duties attached to the office and be in a state of health such as would indicate a reasonable prospect of ability to render regular and efficient service.
Character
Each candidate for and any person holding the office must be of good character.
For the purpose of clarity the following definitions apply in the context of recruitment for psychology positions within Tusla:
PSI Placement Accreditation Standards
Clinical Psychology: Each trainee should spend a minimum of 60 days per placement but overall trainees should be on placement for a minimum of 390 days of the total course time.
Counselling Psychology: Trainees should have a minimum of 450 hours supervised client contact experience (accrued over a minimum period of 30 months based on at least 2 placement days per week). Students must gain client experience in at least three settings at least one of which should be in a health care setting.
Educational Psychology: Trainees should complete 120 full days practical work experience in applied settings.
Appropriate Health/Social Care Setting
An appropriate health/social care setting is defined in this context to be a setting which facilitates placement/clinical experience to be gained where the trainees / students have the opportunity to be supervised by an appropriate supervisor who is working within the health setting. The placement should include opportunities to acquire skills in assessment, formulation, intervention, evaluation and reporting with a range of clinical problems in terms of complexity and severity seen within a care group population e.g. Child (0-18) Adult, Disability (lifespan).
Statutory / Public health service setting outside of the Irish State will be considered on a case by case basis.
Post-graduate professional psychology qualification
Post Graduate qualification means satisfactory completion of a PSI accredited professional training programme in clinical, counselling or educational psychology. Applicants with non Irish post graduate qualifications must have their qualification validated by the Department of Health.
Supervised Placement
A common definition of supervised clinical placement was developed based on the diverse accreditation standards pertaining to each qualification. This is defined as a period of clinical time spent under the supervision of an appropriately qualified senior psychologist. The placement must provide the opportunity to work with a range of clinical problems in terms of complexity and severity. To meet the eligibility criteria for psychology posts in the HSE all applicants must demonstrate that they have completed a placement of at least 60 days in a health setting supervised by a practitioner who fulfils PSI supervision accreditation criteria for the professional qualification in question. Counselling psychologists currently calculate placements using both days and hours. In their case, the 60 days in a health setting must comprise a minimum of 150 hours of direct client contact.
Post-qualification
Post Qualification is defined as time in supervised professional practice after acquiring a professional qualification in clinical, counselling or educational psychology.
Appropriate post qualification professional work experience
Sixty days or equivalent (60 days equates to 150 hours of supervised client contact) of clinical experience under the supervision of a more senior grade psychologist (relevant discipline of psychology applies).
| | |
| --- | --- |
| Already Registered? Log in here | Join our Talent Pool + submit your application |